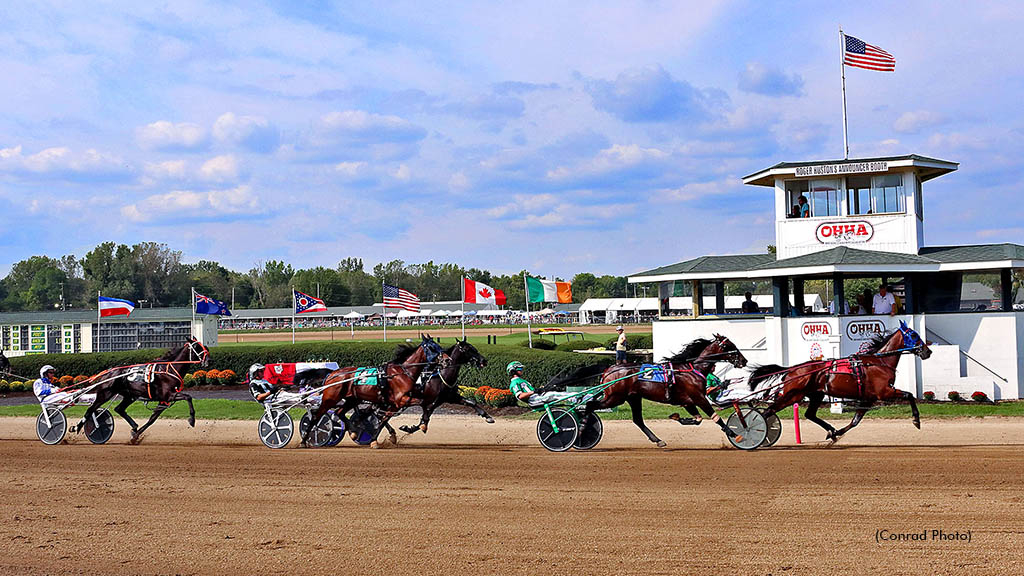 Published:
September 17, 2023 03:12 pm EDT
The connections of 11 three-year-old filly pacers entered the 53rd Jugette to be raced on Wednesday, Sept. 20 at the Delaware County Fair, forcing two eliminations.
The first elimination will feature Vivians Dream and Earthwindfire.
Vivians Dream is a daughter of American Ideal and a winner of $595,756 for Forrest Bartlett. The Kevin Lare trainee was the winner of the $107,000 Empire Breeders Classic on Aug. 27 at Tioga Downs.
Earthwindfire has been first or second in all nine seasonal starts. The sister to Niki Hill and Cattlewash is owned by Melvin Segal, Kentuckiana Racing Stable and Tulip Racing, and has earned $619,365 lifetime. Brett Pelling conditions the daughter of American Ideal.
The second elimination will feature both of the supplemental entries, Odds On Hail Mary and Beautiful Seaside, and two additional Ohio-breds, Hey Hey Mama and Tarapasta.
Odds On Hail Mary is coming off a win in the $252,000 Pennsylvania Sire Stakes Championship on Sept. 3 at Harrah's Philadelphia in a lifetime best and world record 1:48.2. She is conditioned by Linda Toscano for co-owners Let It Ride Stables and O'Sullivan Racing.
 
Beautiful Seaside is a homebred daughter of Downbytheseaside. She has nine wins on the season, including a 1:50.3 mile at Northfield Park. She is owned by Matt E. Rowe and trained by Melby Ober Jr.
The first four finishers in each $25,000 elimination will advance to the second heat, the $255,000 Jugette final.
Wednesday's 22-race card will start at 12 p.m.
 
$25,000 Jugette Elimination #1
Post - Horse - Listed Driver - Trainer
1. Bellisima Hanover - Todd McCarthy - Tony Alagna
2. Vivians Dream - David Miller - Kevin Lare
3. Daffled Hanover - David Miller - Randy Bendis
4. Earthwindfire - Tim Tetrick - Brett Pelling
5. Ucandoit Blue Chip - Scott Zeron - Linda Toscano
 
$25,000 Jugette Elimination #2
Post - Horse - Listed Driver - Trainer
1. Zanatta - Joe Bongiorno - Jennifer Bongiorno
2. Hey Hey Mama - Ronnie Wrenn Jr. - Brian Brown
3. Beautiful Seaside - Brett Miller - Melby Ober Jr.
4. Tarapasta - Aaron Merriman - Todd Luther
5. Southwind Bella - Yannick Gingras - Ron Burke
6. Odds On Hail Mary - Scott Zeron - Linda Toscano
(With files from Litte Brown Jug)