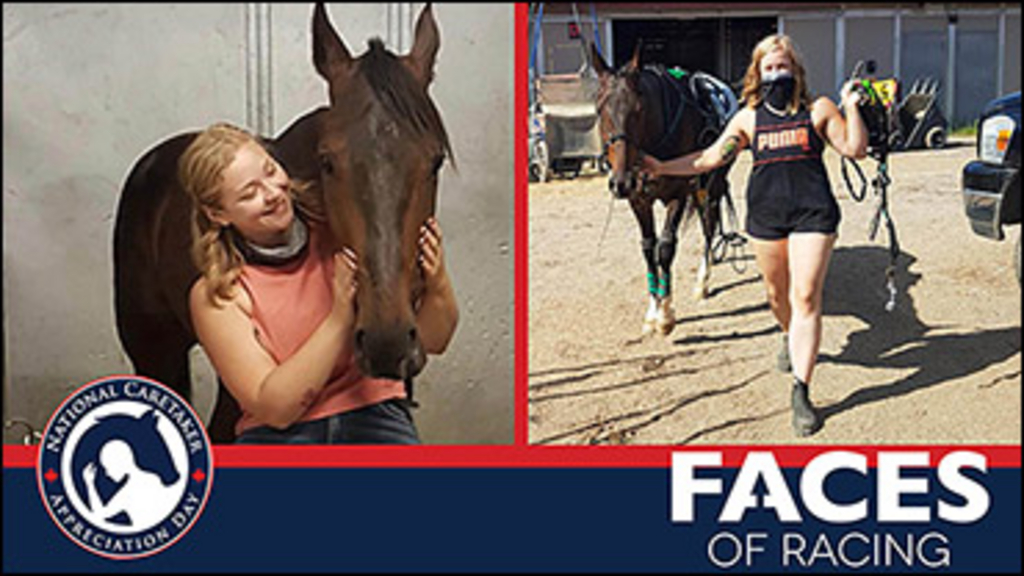 Published:
September 17, 2020 10:24 am EDT
Leading up to the 2020 edition of National Caretaker Appreciation Day virtual events taking place on the weekend of September 18 - 20, Standardbred Canada will profile caretakers from across the country in our Faces of Racing series.
The series concludes with a profile on Shanisty Andres of Airdrie, Alberta who is employed by the Dave Kelly Racing Stable based at Century Downs, near Calgary, Alta.
---
Most people find themselves using Kijiji to purchase new and used items, cars, real estate, vacation rentals, or concert tickets. Shanisty Andres used it to search for a new job.
After searching online for "Jobs with horses" and discovering an ad posting for Barn Help working with Standardbreds, Shanisty was introduced to the harness racing industry. With zero prior experience or knowledge that harness racing even existed, Andres jumped at the opportunity because of her love for animals and horses. Fast forward two years later, she has now added a handful of Alberta circuit trainers to her resume, and is currently employed by the Dave Kelly Racing Stable.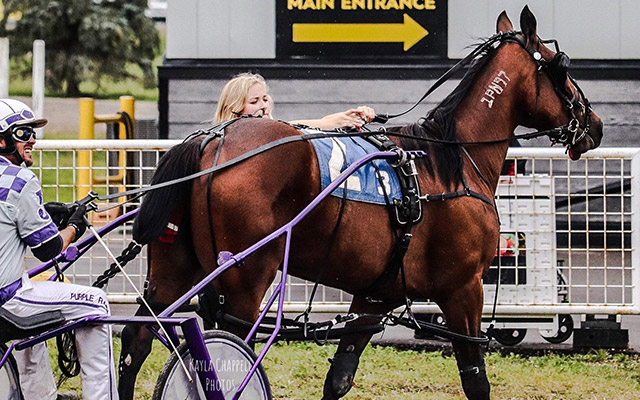 For the short amount of time that Shanisty has been working in the industry, she's had the opportunity to learn the trade from numerous trainers, but admits that her knowledge of Standardbreds has certainly fast-tracked since landing a job with Dave Kelly.
"I don't really have one person in particular for a role model. I have had the opportunity to work for a lot of experienced trainers and each has taught me something," explained Andres. "I would like to give Dave Kelly a shout-out. He has really taken the time to teach me whatever I have been willing to learn, whether it be training, shoeing, or other similar things around the barn."
Andres has been employed with the Kelly Stable for a year and has become an essential part of the team working day in and day out. "Dave has 23 horses right now, so we are the first ones there [at Century Downs] in the morning and the last ones out in the afternoon."
After settling into the Kelly Stable, Andres got the chance to work with the four-year-old pacer Wind Writer, who she now considers her favourite horse. "He had the sweetest personality, I spoiled him so much. I think I liked him more then he liked me, but that's OK!"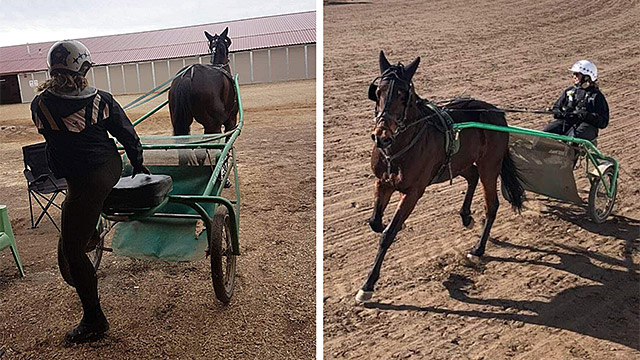 Wind Writer was claimed this past July, which Shanisty confesses is one of the toughest parts of her job. "It's hard when you get attached to them and they get claimed, but you just have to learn to love them and look after them the best you can while they are in your care."
Harness racing is filled with ups and downs and having a horse claimed can be one of the less-than-ideal circumstances, but Andres acknowledges that the work she performs as a caretaker is very rewarding and pays off once the horse goes to the races. "Being a caretaker is hard work. You've got to be willing to put in the time and remember to always put the horse first, no matter what. They don't have to win but it's so rewarding when they try, and you know you helped them get as ready as they could be for the race!"
Since becoming a Standardbred caretaker, Shanisty has learned how versatile and well-rounded the breed is. "I think my favourite part about Standardbreds is how functional they are. They can pull carts and you can ride them. I know there are some horses that retire from racing and go to work on farms. The possibilities are endless," she explained. "These horses, for the most part, are all bred to go fast. It's our job as horsemen and women to help them reach their full potential and to pay attention to their body language and attitude. I think the most important thing is not to look at them as a dollar sign but as a horse. The horse doesn't know whether you paid $3,000 for it or $30,000. It's your job to help it reach its best, either way."
Shanisty is motivated to continue working as a caretaker in the industry and to continue learning to ensure she is the best caretaker she can be. "I want to be the best horsewoman I can possibly be, and the only way to do that is to keep an open mind, have a good work ethic, patience and a sense of humour -- you can never take yourself too seriously!"