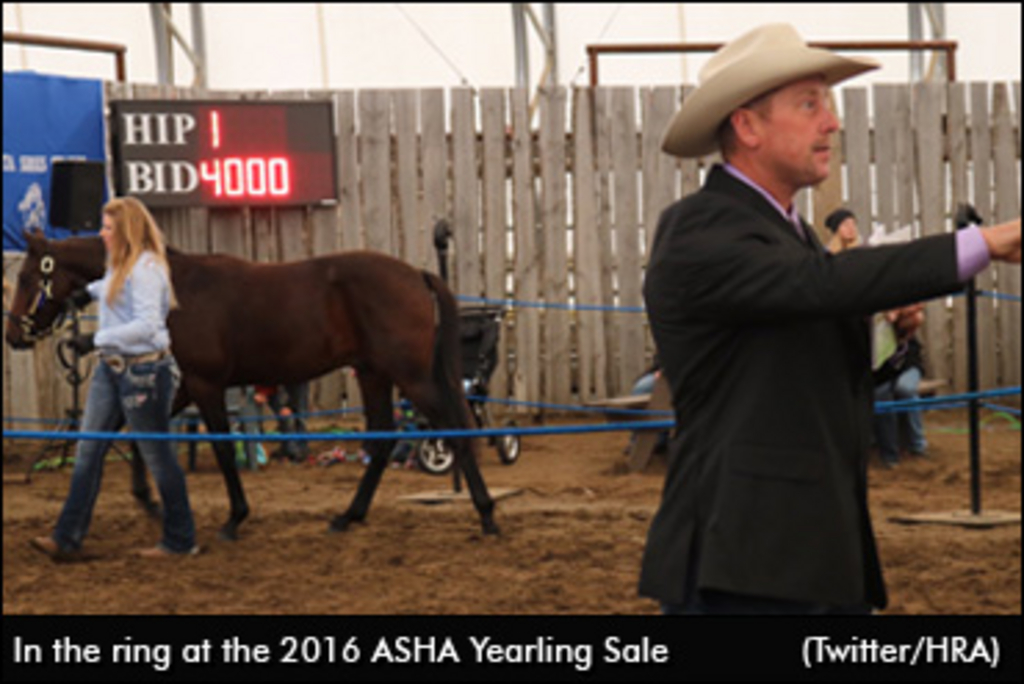 Published:
September 12, 2016 10:34 am EDT
While the two- and three-year-old Alberta breds are vying for spots in the Super Finals at Century Downs on Oct. 29th, the next class was on display Sunday afternoon at the annual ASHA Yearling Sale in Olds. And a very good looking class it is.
Fifty-four yearlings paraded around the sales ring at the Olds Regional Exhibition Megadome. When the gavel dropped for the final time, the total was $590,800 and the average was $10,940.
"I was really pleased," said Fred Gillis, executive director of ASHA. "With the Alberta economy down a bit, I wasn't sure how we would do. But these are good numbers."
The top price of $34,000 was paid by long-time Edmonton owner, Lorne Duffield. He got Hip #28, Tap The Keg, a son of Camystic out of Tapioca Hanover. The yearling was consigned by Bill Andrew, proprietor of Meridian Farms.
Breeders Al Neurauter, Surdale Farms (Kelly MacMillan), Ken and Jim Newton were pleased when sire Custard The Dragon proved to be the most popular sire. Thirteen of his colts and fillies were auctioned and eight of them generated proceeds of $12,000 or more. Edmonton owner Don Byrne, was able to make a rare visit to the auction, and made off with a Custard The Dragon daughter, Noisy Nora, and a son, Nogardeo. Keith Clark and partners paid $28,000 for Relentless Dragon. JJJ Stables got yet another Custard The Dragon colt, Dragon Slayer, for $26,500.
Test Flight and Mystery Chase proved to be popular as well with 10 selections each and Vertical Horizon was next with nine. Mystery Chase had no fewer than two colts in Saturday's Alberta Marksmen final and four fillies in the Alberta Diamond final at Century Downs, so buyers were paying attention and hoping that his genes will continue to produce winners.
Among the consignors was Dr. Larry Hanson, who made the trek from Regina with three yearlings. He's contributed to the sale in the past and expects to do so again in the future.
"People have learned that when I bring yearlings to the sale, I bring them to sell them," he told me. "After Horse Racing Alberta signed the new deal with the Province, I decided that I would add at least one more mare to my group, so I expect to have more yearlings for next year's sale. I currently have five mares in foal to a mix of Alberta and Ontario sires. I try to breed something that's not currently available in the market. To do that, I have to be looking two or three years down the road, which is why the new agreement with the provincial government is important because it helps to stabilize racing in Alberta for the next decade."
Dr. Hanson got a total of $37,500 for his yearlings, one of which was sired by Mystery Chase.
Long-time Alberta breeder Jim Rhodes consigned nine yearlings to the sale and managed to sell seven of them. He stands Mystery Chase and Vertical Horizon at his property in High River. He also has a dozen broodmares and expects to add more as he works to improve the quality of his herd.
"I'm also a little more optimistic about the future of the industry in Alberta," he told me. "The last decade or so has been difficult and I haven't spent a lot of money upgrading my mare band. But I think now we'll see what can be done to improve the quality."
One of the Rhodes' yearlings, Cheers for Pres, was one of three yearlings that are a part of the partnership between ASHA and the Alberta 4-H program. Cheers for Pres was prepared for the sale by Nyla Wright of Longview and sold for $3,000 to Randy Ducharme. Sierra Macdonald spent several months caring for Call Sign, one of two yearlings placed in the program by Bill Andrew's Meridian Farm. That yearling sold for $3,700 to Calgary trainer, Brent Bodor. A second yearling from Meridian, Wink Away, was in the care of Cheyenne Widdecke of Delburn, Alta., and brought a price of $3,700 at the auction. The 4-H members get their expenses and a percentage of the sale price as compensation for the time and effort they have put in to prepare the yearlings.
"I got access to Wink Away at the end of December," said Cheyenne. "I'm into western riding and have been part of the Blindman 4-H Light Horse Club for the past seven years. I wanted to learn more about other aspects of the horse industry and this was a great way to do that. I've got a heavy exam load in Grade 12 this coming year. But if it wasn't for that, I would take another yearling and do this again."
Sierra Macdonald said much the same thing. "Call Sign was a real challenge at the beginning," noted Sierra. "She wasn't very well behaved and it took some time before we clicked. She's a lot better now and I would think about taking another yearling next year. I'm really busy with a bunch of activities including eventing. But I learned a lot through this program."
There are 335 4-H clubs in Alberta with nearly 6,000 members. Arron Madsen, who runs the Alberta 4-H Foundation, says he's glad to see the program with ASHA back in action after it lapsed for a few years.
"It's such a good way for our members to broaden their knowledge of the horse industry in Alberta," said Madsen. "It allows our young people to learn about a wide variety of skills: from dietary supplements to foot care. It's a great way for members to develop their leadership skills, which is one of the goals of 4-H. I want to thank the breeders who were involved as well as Leora Crothers and Amanda Barron who helped with the program. And I especially want to thank Colleen Haining and Michelle Aschim of ASHA for all their work to co-ordinate the program."
Another developing aspect of ASHA has been its push to become more community-oriented in a variety of ways. Bill Andrew contributed Blink And Gone, a yearling filly by Wink N Atcha, which went for $10,000 to Cochrane's Don Richardson. The proceeds will be distributed among five local organizations: Olds & District Hospice Society, Airdrie & District Victims Assistance Society, Autism Speaks Canada, Didsbury Fire Rescue, and the Olds & District Christmas Angels Society.
Richardson also had a hand in a raffle which offered a prize of $2,500 towards the cost of purchasing a yearling at the sale. The ticket was won by Wildrose MLA, Leela Aheer, who represents the Chestermere-Rocky View riding which includes Century Downs. She promptly donated the proceeds to the Autism Society and to the ALS Society of Alberta. ALS was in the spotlight because long time horseman, Tim Blair, is a patient. He and his family were on hand Sunday at the sale. The day before, the family joined members of the World Pro Chuckwagon Association at Century Downs. A number of the drivers took part in two entertaining and competitive exhibition harness races which helped to generate interest for the silent auction to benefit Tim, who suffers from ALS. Codey McCurrach and Jim Nevada won the two races and there's already interest in making this an annual event. It was a special moment when Tim Blair's wheelchair was moved into the winner's circle so that he could be part of the photo for Jim Nevada's photo-finish victory in the second race.
All in all, a great weekend. Some dollars and exposure for worthy charities, some dollars for breeders who've already made a big investment in future racing stock. And maybe, a champion or two for new owners of Alberta-bred yearlings. That's as good as it gets.
To view the sale results, click here.
(with files from ASHA)