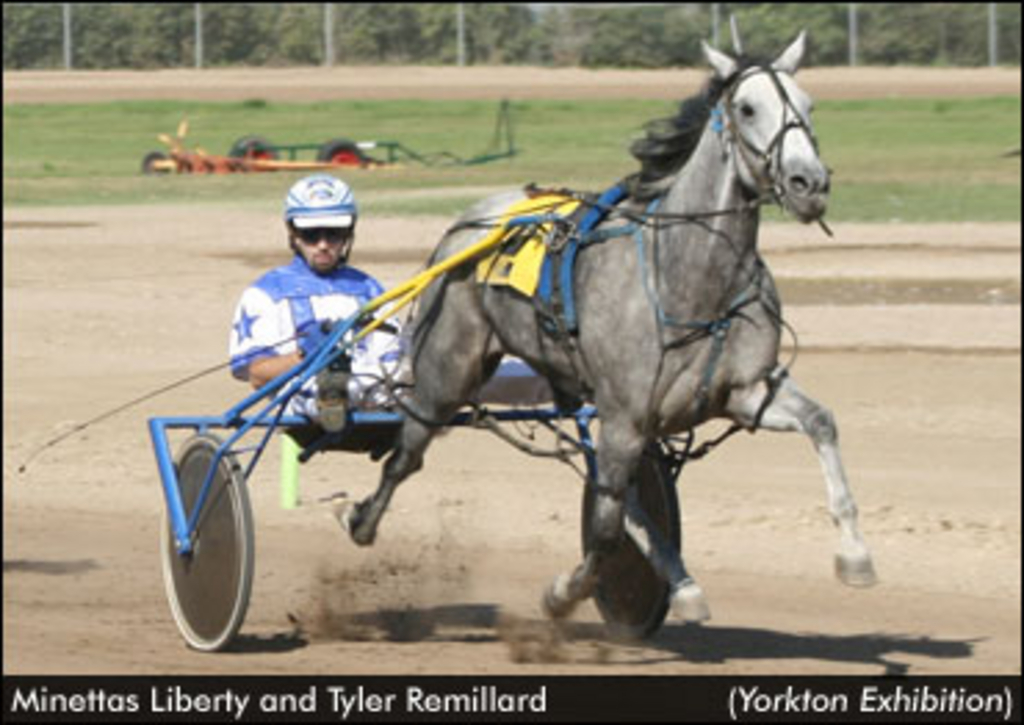 Published:
September 10, 2011 11:10 pm EDT
The standardbred race season came to an end at Cornerstone Raceway in Yorkton Saturday afternoon with the final card of the summer.
And when the final mile of the meet had been paced, the duo of Richard Remillard and son Tyler had made it to the winner's circle five times in nine races, including all three feature events
.
Richard Remillard edged his son out with three wins, including the second half of the Alpine Holdings Feature, the $2,500 Open Pace, with Tajwon in 1:58.4, over Glenn LeDrew and Black Mac, and Clayton Braybrook with Outlaw Spider.
Richard Remillard said Tajwon is "a nice horse, my favourite," adding the seven-year-old gelding has raced well, with Saturday's win his fourth in five starts.
"I'm so happy the Welcher's [Bill and Ruth] gave me a chance to train their horse this summer," he said. "He was an easy horse to train. He's one of the best horses here."
That said, Remillard said at times Tajwon can over think things and end up beating himself, but in recent weeks has been on top of his game.
Richard Remillard also captured the $3,000 Summer Sizzle Series Final for $2,000 claimers, piloting Red Star Best to the top spot in 1:59.4 over Kirk Rogers and Invincible Yankee, and Ed Tracey and Right On Willie.
"He's good on the front end," said Remillard of Red Star Best. "He left hard and never looked back."
Remillard tipped his hat to trainer Shaun Worthen for having the nine-year-old gelding ready, and classed right.
"It helps when the horses I drive are right where they belong," he said.
Tyler Remillard won the opening half of the Alpine Holdings Feature, the $2,500 Fillies & Mares Open Pace, with Minettas Liberty in 2:03.1 over Braybrook with Starlite Diva, and LeDrew with Marlowe.
The younger Remillard, who has raced in British Columbia this summer, said Minettas Liberty got away well and while she couldn't clear the field, she tucked in behind the leader.
"She got a perfect trip. She won easy," he said, adding a good horse will make such a trip work in their favour.
As for facing each other the track, the Remillards admit it has happened rarely, the last time being in Yorkton the summer Tyler earned his license.
"I enjoyed going against my son," said Richard, adding it has been three years since the pair matched-up, noting at that time Tyler "beat me every start."
Tyler said there is always a bit of family competitiveness at play.
"It's great to beat him head-to-head, that's for sure...There's nothing more that I want than to beat him," he said, adding it's really student against teacher. "He got me into this industry."
For results from Saturday's harness racing card, click on the following link: Saturday Results - Yorkton Exhibtion.
(Trot Insider exclusive by Calvin Daniels)