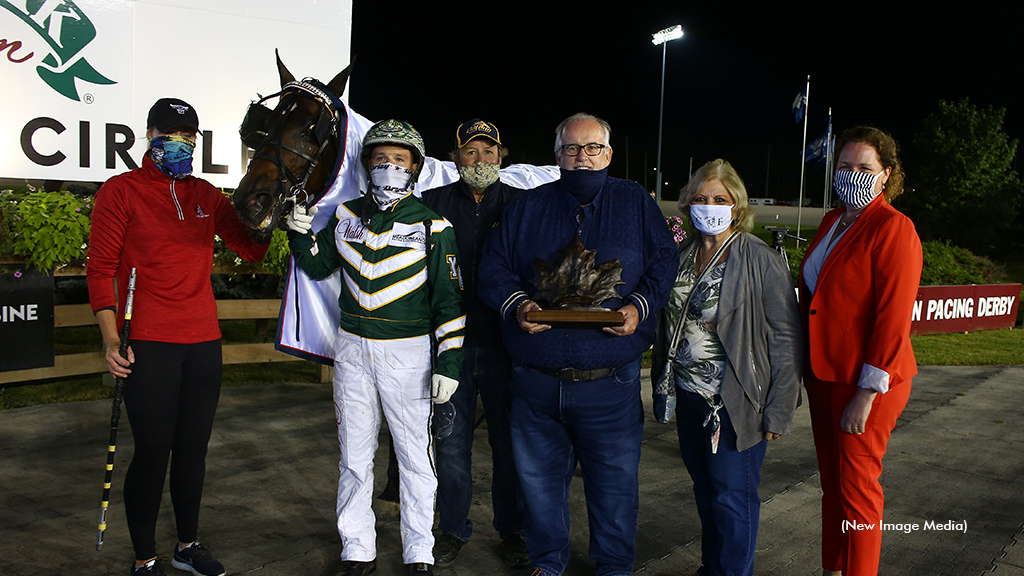 Published:
September 1, 2022 02:53 pm EDT
Fresh off a win in last week's Open at Woodbine Mohawk Park, seven-year-old mare Atlanta returns to the Ontario oval Saturday for her fourth lifetime appearance in the Maple Leaf Trot. Atlanta won the prestigious event for older trotters in 2020 and was second in 2019.
Over the past 40 years, only four horses — San Pail, Mr Muscleman, No Sex Please and Bridger — have won the Maple Leaf more than once. All four are Hall of Famers in either the U.S. or Canada.
Of course, Atlanta is in the midst of her own award-winning career. She has captured 35 of 72 lifetime races and earned $3.53 million. Her earnings rank fourth among all female trotters in history, trailing only Moni Maker, Peace Corps and Bee A Magician. Her best win time of 1:49 is tied with Manchego for the fastest ever by a female trotter.
"She's a perfect horse," trainer Ron Burke said about Atlanta, who has multiple Dan Patch Awards, including 2018 Trotter of the Year, plus an O'Brien Award to her credit. "She's just wonderful. She just has the best attitude. I don't know if I've ever had a horse with a better attitude."
This year, Atlanta has hit the board in eight of nine races, winning four and finishing second in three. In June, she won the Armbro Flight at Mohawk for the second time in her career, and her winning clocking of 1:52.2 is tied for the fastest of the season by a female trotter in Canada. Last week, she won the Open at Mohawk in 1:52.3.
Atlanta, a daughter of Chapter Seven-Hemi Blue Chip, will start Saturday's $610,000 Maple Leaf Trot from post eight with Yannick Gingras in the sulky.
"She needed the start," said Burke. "I was very happy with her. I would have liked her to draw inside a little more, but you don't get to pick where you draw."
As for the mare's season overall, Burke said, "Mostly it's been good. The horses have gotten a little better and she's gotten a little older, but in her last couple races I feel like she's getting it all together and will finish up strong."
Atlanta is the 4-1 third choice on the Maple Leaf morning line, behind the Ake Svanstedt-trained duo of Alrajah One IT at 8-5 and Ecurie D DK at 7-2.
Alrajah One IT is unbeaten in three starts in North America, having scored in the Crawford Farms Open Trot, Spirit Of Massachusetts and John Cashman Memorial. For his career, the six-year-old Italian-born stallion has 16 victories in 37 starts and $1.51 million in purses.
"Ake's horse is obviously very good," said Burke. "We've got to step our game up and maybe he's got to come back to us a little bit."
Burke, who in addition to winning the 2020 Maple Leaf with Atlanta received the trophy in 2017 with Hannelore Hanover, also sends out five-year-old stallion Its Academic in this year's race. It's Academic has finished second in three of his past four starts and is within $15,000 of $1 million lifetime. The son of Uncle Peter-Annapolis is 15-1 on the morning line.
"He's probably never been better," said Burke. "He'll be competitive. He's been competitive in all these races recently. He's the same way [as Atlanta]; a great attitude, great gait. I really couldn't like the horse any more than I do like him. He's really a nice horse."
Saturday's Mohawk card also features the $650,000 Canadian Pacing Derby for older pacers. Bulldog Hanover, the winner of eight consecutive starts and history's fastest Standardbred with a time of 1:45.4, is the 6-5 favourite. He won one of last week's CPD eliminations, with Jimmy Freight taking the other.
Burke has Lous Pearlman and Workin Ona Mystery, both 15-1, in the final.
"It's like Bulldog Hanover and Jimmy Freight, and then the rest of us," said Burke, a three-time Canadian Pacing Derby winner. "All of us have to step our games up. Usually, you're trying to find two-fifths of a second, but against those two, especially 'Bulldog,' you're trying to find a whole second or more to be competitive right now. [Bulldog Hanover] has made a believer out of me that he's just super special right now.
"[Lous Pearlman and Workin Ona Mystery] are racing as well as they can race, I think. It's just that right now that's not good enough. We have to show up and race them, and I'm going to try to make some money. If something goes wrong, maybe we can upset them, but right now they're just better than us."
Racing begins at 7 p.m. (EDT) Saturday at Mohawk. For free programs, visit the track's website.
To view Saturday's complete harness racing entries, click the following link: Saturday Entries - Woodbine Mohawk Park.
(USTA)