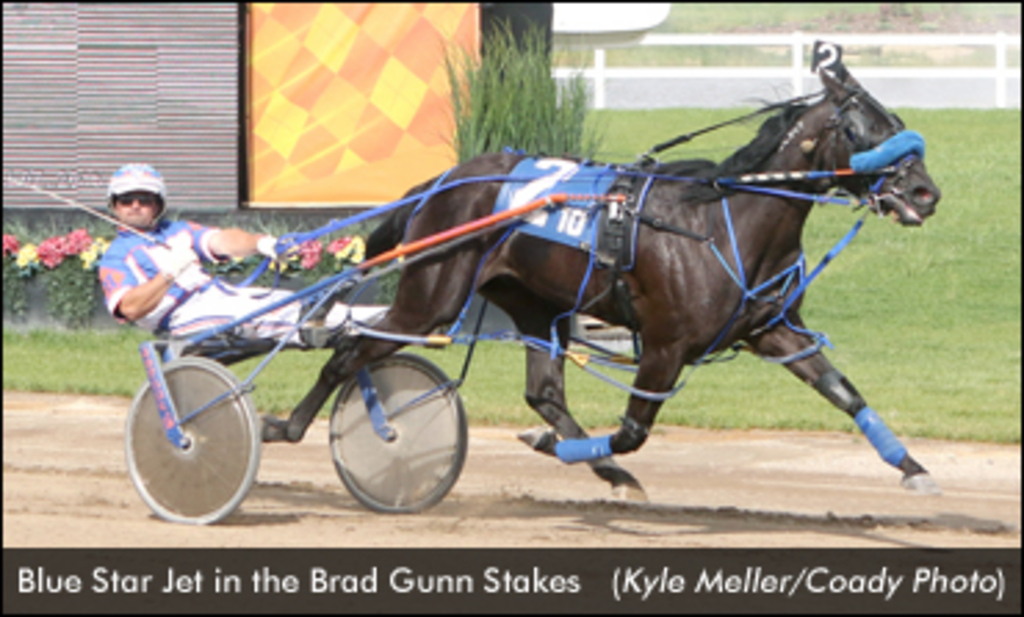 Published:
August 7, 2016 08:31 pm EDT
Blue Star Jet dominated the field of sophomore pacing colts and geldings in the $70,000 Brad Gunn Stakes while Monstrous out-duelled Outlawsurshotshark in the matching Ralph Klein filly final, which headlined Century Downs' Mid-Summer Classic card of harness racing on Sunday, August 7.
Blue Star Jet was quick to take the control of the Brad Gunn field off the gate from post two and led at every call before drawing away to a seven-length victory for the father-son, training-driving duo of Rod and Mike Hennessy.
Blue Star Jet pocketed the 6-5 favoured elimination winner Outlaw Turn N Burn (J.F. Gagne) through a :28.4 first quarter and the 2-1 second choice proceeded to the half in :58.1 before Outlaw Turn N Burn was flushed out by the advancing Blue Star Maverick (Brandon Campbell).
However, Blue Star Jet began to open up on top to three-quarters in 1:25.1 and continued to pace away down the stretch to the crushing 1:54 victory. Outlaw Turn N Burn finished second while Wrangler Cash (Kelly Hoerdt), who was parked out early before finding a spot in fourth along the pylons, came on for third.
Knowing he was a wrapped up winner down the lane, Mike Hennessy gave his best impression of his favourite driver, Brett Miller, with an arm pump to celebrate the victory.
"I didn't know if I would get away that easy, but the way he felt behind the gate and the way he looked, I was thinking the other guys saw what was going down," said Mike of his decision to leave with the winning gelding. "I choked him off last time -- I let someone go in the [Plainsman] final -- so there was going to be nobody getting let go when he was pulling like that today. They were getting hung if they were leaving, that's just the way it was going to happen.
"J.F. tipped and I was kind of surprised he tipped there, but it was my other entrymate coming first up so he may have got a little nervous," continued the reinsman. "Once he was out and I opened up a little on them, I knew the horse that was behind me that was following him wasn't going to have a lot left anymore. And you know, this horse, he can throw :28 for a piece at the end even when he goes that much in the third quarter, and I think that was the mistake last week: we slowed down a little more and let J.F. get a little brave. This horse can suck the guts out of one if they want to try to follow sometimes."
A runner-up to Outlaw Turn N Burn in their elimination last weekend, Rod was confident in his Blue Burner-Movin Uptown gelding heading into the final with the addition of Lasix.
"We've had a problem with him. He's a very nervous horse and first time Lasix calmed him down a little bit and made him more controllable for Mike," said Rod. "He wasn't a complete runaway -- like this horse can run away even if you don't leave with him, he gets pretty excited. Going in front of the grandstand the first time, I said, 'Mike slow it up, they won't catch you when you move him' and that was true.
"I wasn't worried one bit," he added. "This horse is on his game and if he couldn't get home off of those fractions, well then something's wrong with him. No, he was good."
The Falun, Alta. trainer shares ownership of Blue Star Jet with Lorne Duffield of Edmonton. The victory was the sophomore pacer's eighth in 17 career starts, and while he's earned multiple stakes wins, the Brad Gunn was his richest and fastest yet. Blue Star Jet's bankroll climbed over $110,000 and he lowered his own track record for three-year-old pacing geldings by four-fifths of a second.
"It's very special," said Rod of the Mid-Summer Classic Day victory. "He's a horse that I picked out from the yearling sale for 10 or 12 thousand. He's been a great yearling for us, he's got a great family and it was great to see Mike win with him."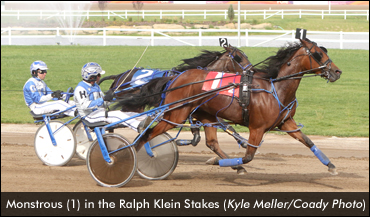 Closing out the stakes program, Monstrous tracked the cover of 3-5 favourite Outlawsurshotshark in the co-featured Ralph Klein and wore her down in a battle to the wire for driver Ed Hensley and trainer Darryl Cutting.
Outsiders Somewhere A Place (Serge Masse) and Divas Dragonfly (Jamie Gray) battled for the early lead through a 28-second opener with Divas Dragonfly eventually relenting. Meanwhile, insiders Outlawsurshotshark (Travis Cullen) and Monstrous avoided the early scuffle as they followed in third and fourth, but began to advance when the dust settled up front.
As Somewhere A Place led they way to the half in :57.3, Outlawsurshotshark tipped first over and gradually worked to take over the lead down the backstretch with Monstrous in pursuit to three-quarters in 1:26. Monstrous gained a slight advantage turning for home and persevered in a race to the finish despite Outlawsurshotshark's valiant attempt to stay with her down the lane. Monstrous prevailed by three-quarters of a length over Outlawsurshotshark in a career-best clocking of 1:55.2 while Cenalta Artistry (Rene Goulet) came on for third, finishing over seven lengths behind.
"She had been a little bit temperamental behind the gate lately so the rail was a nice spot and she was much better tonight," commented Hensley after the victory. "I got her away nice and, when a couple left on the outside, it was nice to have Trav leave and I was able to follow him and then flush him kind of early. I just stalked him and then he cleared up the back and she did the rest.
"The first time I drove her, she had a serious gear and she's been good every start that I drove her," added Hensley.
The Allamerican Navajo filly, who was the 9-5 second wagering choice after finishing second to Outlawsurshotshark in their elimination, paid $5.60 to win.
"I was pretty confident in her. She's a real special filly and she tries every time she goes out," said Cutting. "I was just a little concerned about Ed saying she's been temperamental behind the gate. She's been a real handful to get launched the last few starts so I was just leaving it in Ed's hands and I told him if we didn't get there it was going to be his fault," he laughed, adding, "I know Ed from way back when I grew up in Fraser Downs. He drove for Al Anderson and he won tonnes of races. He was the guy I was looking for when I was looking for a driver this year."
Owned and bred by Warren Fuller of Sherwood Park, Alta., Monstrous earned her sixth career win from 15 starts and boosted her bankroll to $117,364. She also boasts Bev Sears and Wild Rose stakes wins on her sophomore record.
Sunday's undercard was loaded with two-year-olds competing in their first leg of the Alberta Sires Stakes.
Outlaw Fireball stole the show among a quartet of $14,600 Alberta Starlet divisions as she equalled the 1:56.1 track record for two-year-old pacing fillies.
Outlaw Fireball tracked Pickles On Top (Travis Cullen) through fractions of :28.3, :59.2 and 1:26.4 before launching from the pocket and defeating the pacesetter by one length with a :28.4 final frame for the driving and training duo of J.F. Gagne and Marjorie Dumont. Sideline Secrets (Ed Hensley) followed in third.
An Emerald Stakes winner last month, the Blue Burner-Watchasgirlsgoby filly now boasts back-to-back victories from three career starts. She was bred by Outlaw Stable and is owned by Gagne, Peter Van Seggelen, Carl Warnaar, and Tapron Holdings Ltd.
Driver Gerry Hudon, trainer Harold Haining and owner Donald Richardson teamed up for a Starlet stakes double with Meridian Farms-bred fillies Wedding Dance (Mystery Chase-Westart Love) and Triple Thick Shake (Mystery Chase-The Three Of Us).
Wedding Dance took the lead at the quarter-pole and drew away to a three and three-quarter length victory in 1:57.2 when challenged by Shesamysterytome in her division while Triple Thick Shake circled a field of seven despite a brief bobble on the backstretch to earn her first career win in 2:00 by more than three lengths.
The other filly division went to Lil Bit O Jingle (Blue Burner-Rain Drop Hanover), who charged first over from sixth after the opening quarter in a power move to take the lead and went on to win in 1:58.1 over Outlaw Imahotvixen for trainer/driver Travis Cullen and owners/breeders Kurt and Kathy Schmidt.
The colts and geldings also competed in three divisions of the Rising Star, ranging in purses from $18,767 to $19,067.
Senga Nitro (Blue Burner-Nells Sweet Future) remained undefeated in three career starts for trainer/driver Ryan Grundy and owner/breeder Kenneth Gunn as he rallied three-wide off cover to win his division by two and three-quarter lengths in 1:57.1.
Retros Mystery (Mystery Chase-Retro) earned his third straight victory (from four career starts) after rebuffing a challenge from the pocket-pulling Amysterytome down the backstretch to win by one length over that foe in 1:57.2. Hensley was in the sulky for trainer Rod Starkewski and owner/breeder Robert James.
Making his second career start, Ima Dude (Lil Dude Starrbuck-Ethel Seelster) converted off a pocket trip and defeated pacesetter Mateo in the final strides by a quarter-length for a 1:57.3 maiden-breaking victory. The Surdale Farms-bred colt is campaigned by trainer/driver Brandon Campbell and owners Jodi Loftus, Steven Robinson and Timothy Kane.
To view Sunday's harness racing results, click on the following link: Sunday Results - Century Downs.