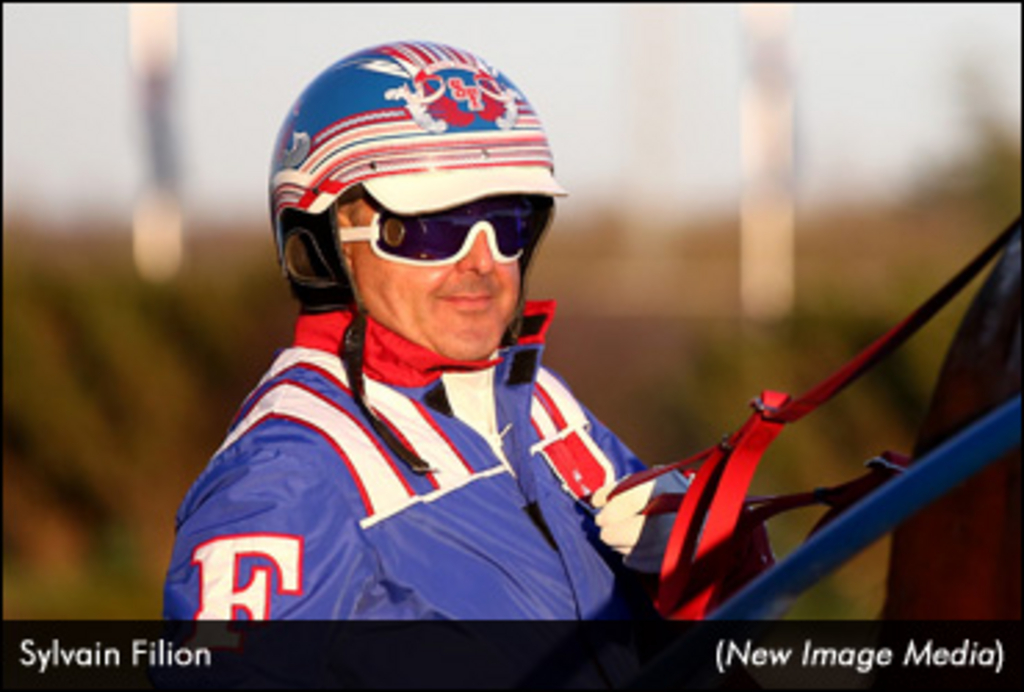 Published:
August 6, 2017 07:21 pm EDT
Multiple O'Brien Award winner Sylvain Filion has captured many stakes races, but a pair of Battles have eluded him thus far. Filion will try to claim his first victories in the Industry Day feature events at Grand River Raceway on Monday (August 7) when he steers Stock from post eight in the $200,200 Battle of Waterloo and Azure Seelster from the rail in the $139,250 Battle of the Belles.
"Before the draw, I thought I had a really good shot, but after the draw, I said 'Well, I have an outside shot now,'" Filion said about Stock. "If there's one that can overcome post eight, that's him."
A two-year-old colt by Sportswriter from The Panderosa mare Whycantiforgetyou, Stock enters the Battle of Waterloo undefeated in three starts, earning $20,825 for Quebec-based owners Sotirios Anastasopoulos and Ecurie Gaetan Bono Inc. Conditioned by Dany Fontaine, Stock moves into the final off a track-record 1:54.2 effort in the elimination.
"That was a huge mile for him," Filion said. "He got shuffled and still came back to win. I took him three-wide, fought hard, and he paced through to the wire."
Debuting at Mohawk in a division of the Grassroots on July 10, Stock was locked at the pylons until shaking free and pacing to a 1:55 victory with a :27.3 final quarter.
"I drove him [in that start] at Mohawk," Filion said. "I had a two-hole trip and I was waiting for some room down the lane; I was full of pace, and since we got some room, he just flew home.
"He's a Gold [division] horse," Filion also said. "He showed it last week and we always thought someday he could be a Gold horse and he obviously showed it [in the elimination]."
Stock has shown an affinity to racing on the front over his three starts, most notably in his second outing when he won by 10 lengths in 1:58.1 at Hippodrome 3R as the 1-2 favourite.
"At Three Rivers, he raced on the front and there wasn't much competition for him there and he drew away by 10 lengths; it was a walk in the park for him.
"I would say he's good any which way. His best quality is that he's very versatile -- he doesn't need to race on the lead from post eight; he can race from off the pace, in a hole or whatever."
The Battle of Waterloo is the only stakes event aside from the Ontario Sires Stakes on Stock's freshman dance card.
"They probably just wanted to race him lightly as a two-year-old and depending how he does they'll stake him more at three."
Azure Seelster, a Shadow Play filly from the Real Artist mare Winbak Alice, draws into the Battle of the Belles having won two of her three starts, earning $14,400 for owners Les Ecuries Dorleans Inc., 9099 3833 Quebec Inc., and 2745 5815 Quebec Inc.
"She was the type of filly that used to make breaks behind the gate," Filion said. "[Her trainer] Jacques Dupont did a hell of a job -- he played around with the shoeing on her and it seems like he has the right shoeing on her now.
"At Georgian, the first time I drove her, she made a break around the first turn, but she still won the race and showed a lot of grit and a lot of talent that night. Obviously she had to qualify after that [since she broke at Mohawk the start before], and that's when [Dupont] changed the shoeing on her. I knew she was going to be ready for the Battle of the Belle elims."
Having her gait issues seemingly corrected, Filion sent Azure Seelster to the front to win her elimination for the Battle of the Belles going wire to wire.
"I was a bit concerned [with her] going into the first turn, but [Jacques] trained her on a half and told me she was real good and he was right. She was pacing smoothly; she raced pretty good."
Despite her breaks, Azure Seelster has raced well on the lead in her last two starts, and has the opportunity to pull off a similar trip from the rail.
"She can probably race any which way," Filion said. "She's a little aggressive, but last week she could've raced in a hole easily if I wanted her to, but I just decided to put her forward. From the rail, I'll have options and I'll see how it goes -- I don't want to get caught in a speed battle, either."
Industry Day at Grand River Raceway is an annual festivity that celebrates harness racing in Ontario and offers an engaging experience for racing fans with both the horses and the horsemen.
"Ever since we've had our daughter, we count on going there every year and she has a ball there," Filion said. "She was looking forward to it and I told her if I get one qualified, we'll be there for sure. I'm real happy to be able to be there for that day. Hopefully the fans will be able to enjoy the racing—there'll be good racing that day. Hopefully the weather will be on our side, too."
The Industry Day undercard also includes three divisions of three-year-old pacing colts in the Grassroots series of the Ontario Sires Stakes; a Commemorative Mile to celebrate 250 years of horse racing in Canada; a memorial race for former Grand River Raceway Simulcast Manager Yvon Giguere.
As always, Industry Day offers many other delights:
• All-Access Kids' Pass is available onsite for $5 and includes face painting, balloon artists, bouncy castles, pony rides and a petting zoo (1 p.m. – 4:30 p.m.).
• Enter to win one of 12 prizes valued at more than $3,000 including a $250 wager for the Battle of Waterloo, designer purses and watches and a Kid Trax Dodge Viper.
• Enter to win a $500 credit towards the purchase of a share of a racehorse with thestable.ca, complements of HPIbet.
• Free flip-flops complements of Ontario Racing.
• Pick The Winner contest for the Battle of Waterloo, presented by Standardbred Canada. The winner receives a $50 I Love Canadian Harness Racing prize pack.
• Meet 'N Greet with Ontario Standardbred Adoption Society ambassador Ruff Me Up (1 p.m. – 3 p.m.).
• Half-Time Show (after Race #5) featuring prize tosses and the 13th annual Drivers' Edition of the Bouncy Pony Stakes.
• 'Good Luck' banner for guests to sign, wishing driver James MacDonald best wishes as he represents Canada in the upcoming World Driving Championship. Standardbred Canada will present MacDonald with the banner following Race 8.
• Best of Show competition presented by the Ontario Harness Horse Association. Fifteen cash prizes totaling $1,500 are awarded to the caretakers of horses racing on Industry Day.
Greg Blanchard from The Raceway at Western Fair District and Mark McKelvie from the Woodbine Entertainment Group return to provide commentary for the broadcast, which will kick off at 1 p.m.
• Complete event details
• Industry Day Race Program
• Live streaming video (starts at 1:00 p.m. EST on Aug. 7)
(A Trot Insider Exclusive by Ray Cotolo)