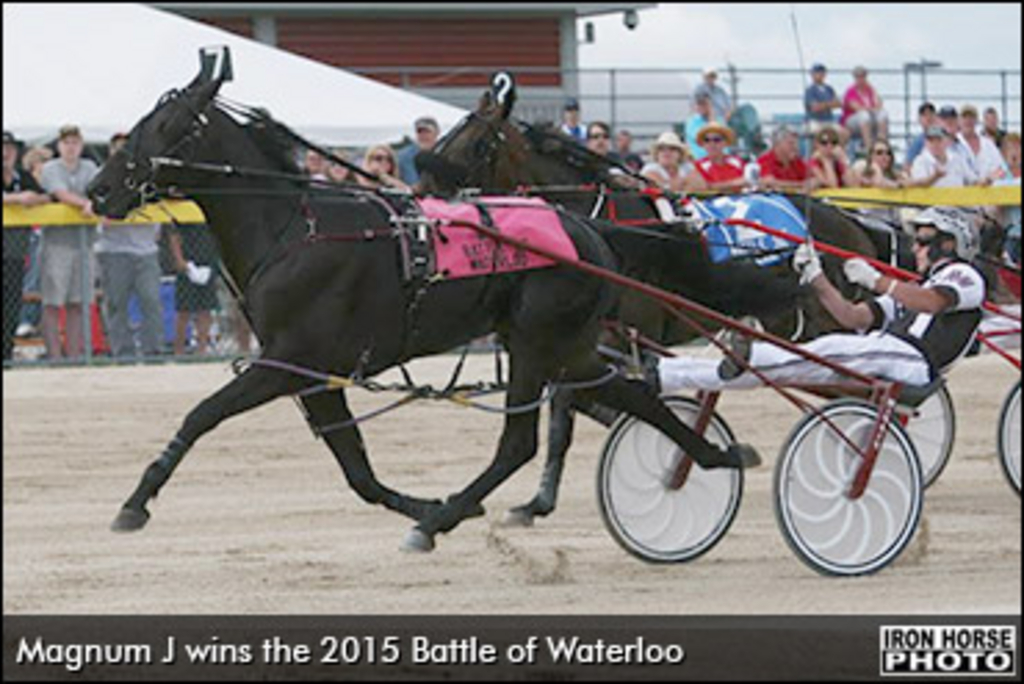 Published:
August 3, 2015 02:09 pm EDT

The father-son tandem of Doug & Gregg Mcnair connected for their third Battle Of Waterloo win on Monday afternoon at Grand River Raceway, winning the $227,397 final with Magnum J.
An early break by rail horse Think On It (Trevor Henry) forced favoured Semi Automatic (James MacDonald) into the two path from the trailing tier. A second horse then broke in front of Semi Automatic, forcing the favourite to get away in sixth in the early going.
While all that confusion was happening near the back, Doug McNair was keeping his colt out of confusion and pointed him to the lead. McNair and Magnum J cleared Carolina Hurricane (Sylvain Filion) as the first quarter was reached in :28.1.
MacDonald had Semi Automatic on the move at the three-eighths mark and that flushed Imsporty (Jody Jamieson) from fourth. Jamieson made a brisk rush in front of the grandstand, with the first half clicked off in :57.3. Semi Automatic wasn't able to keep up with that move and gapped the cover at the half and through the turn.
Down the backside, Imsporty couldn't get past the pacesetter's saddle pad. As the third fraction flashed up in 1:26, McNair kept his pupil on point. The final turn marked the end of Imsporty's bid but Stonebridge Beach (Stephane Pouliot) angled three-wide in the bend and made a strong challenge. Magnum J would not be denied, first across the wire in 1:55.3 ahead of Stonebridge Beach and Carolina Hurricane.
"I said to Dad there just before the race that there wasn't a whole lot of speed leaving the gate and you can stand on him pretty hard leaving the gate, and he responds well to that," driver Doug McNair noted in his post-race interview. "With the fractions, it shows he just comes right back to you as soon as you fire him out of there. He's a pretty handy horse."
Most surprising to McNair was not that he was challenged in the stretch, but who was doing it -- longshot runner-up Stonebridge Beach.
"Halfway down the lane I was actually waiting on James. I was surprised to see that other horse. He's obviously a nice horse too but the main horse I was looking for was James. I figured if he wasn't to me at the head of the stretch I wasn't going to see him."
Doug noted that Industry Day is definitely one of his favourite racing days of the year, and winning this race is still a huge thrill.
"To win it again in front of a bunch of friends and family, it's a really great day."
Team McNair now has three Battle of Waterloo trophies, after combining to win the event with Trail Boss in 2008 and Three Of Clubs in 2013.
Gregg McNair purchased Magnum J (Big Jim - Jamirotoy) for $10,000 from the Forest City Yearling Sale. The elder McNair noted that Magnum J didn't flash his talent immediately.
"In the middle of February he was going about the worst of any of the horses in the barn, and he finally hit the pace and there were only a couple more [training sessions]. You could tell he could go some then," said Gregg. "He's a fast horse and he likes to do it."
McNair owns Magnum J with Tony Lawrence and William D Brown, Hanover, Ont. The win with Magnum J also completed a training hat trick for Gregg and a driving hat trick for Doug on the 11-race card.
$141,246 Battle of the Belles Final
Driver Jody Jamieson ensured Free Show lived up to her name as the rookie pacing filly was responsible for a dominant and impressive performance in the $141,246 Battle of the Belles Final.
Jamieson wheeled Free Show out of post four and managed early position on the front ahead of Betty Hill (Johnathan Drury) and Golden Idol (James MacDonald) through a relaxed :28 opening quarter. Mattjestic Tempo (Doug McNair) settled into fourth ahead of elim winner Tempus Seelster (Travis Henry), and that duo started the first over attack just past the opening quarter.
Free Show continued to roll through fractions of :58 and 1:27.2, at which point the first over bids began to soften. Jamieson and Free Show started to accelerate around the far turn and weren't in any danger down the stretch with powerful strides and the wire reached in 1:56.3. The win margin was more than three lengths, with Betty Hill and Golden Idol completing the top three.
Free Show has never been worse than second in four lifetime starts, now boasting a 2-2-0 summary. Owned by Hutt Racing Stable of Paoli, Penn., Free Show (Badlands Hanover - Free Admission) is trained by David Menary. Jamieson and Menary also teamed up for a Battle of the Belles win in 2012 with Macharoundtheclock.
Ontario Sires Stakes - Leg #3 for Three-Year-Old Pacing Fillies
Ms Mac N Cheese gave betting favourites a sweep of the Ontario Sires Stakes events, winning the second Ontario Sires Stakes Gold leg for three-year-old pacing fillies.
Sylvain Filion gunned Ms Mac N Cheese out from Post Four for early position, but was forced to sit the pocket by an equaly-ambitious Sports Chic (Jody Jamieson). The first panel flashed up in :27.2 and the pace slowed heading in front of the grandstand. That was Randy waples' cue to fire Cast No Shadow from the back the pack first up and thus pinning favoured Mc Mac N Cheese to the pylons at the :57.2 half.
Cast No Shadow kept applying first over pressure through the 1:26 third panel and into the stretch drive, prompting Filion to look to the passing lane with Ms Nac N Cheese. His charge responded with enough late kick to forge past Sports Chic for the 1:55.3 by a length. Ride Away Shark (Phil Hudon) closed from the clouds to complete the triactor.
Richard Moreau trains Ms Mac N Cheese (Badlands Hanover - Mr Delis Filly) for David Ratchford of North Sydney, N.S. In eight sophomore starts, Ms Mac N Cheese hasn't missed the board with a 5-2-1 seasonal summary.
Solar Sister and driver Doug McNair had almost everything their way in the first OSS division, looping to the lead around second choice Wrangler Magic (Sylvain Filion) at the opening quarter mark in a brisk :26.3. The duo then carved out fractions of :54.4 and 1:24 before pacing home in 29.2 to trip the timer first in 1:53.2. An inquiry examined whether or not Solar Sister was in violation of the passing lane rules. The Ontario Racing Commission ruled that Solar Sister "did not violate the passing lane regulations" and stood as the winner over Wrangler Magic while Stonebridge Quest (Trevor Henry) completed the triactor.
Trained by Gregg McNair, Solar Sister is a homebred owned by David Willmot of King City and Clay Horner of Toronto, Ont. The regally-bred daughter of Mach Three - Cabrini Hanover is now 6-for-9 on the season and eclipsed the $500,000 plateau in lifetime earnings with the victory, her third straight in OSS competition.
$15,000 Battle of the Belles Consolation
McNair came right back in the next race, the Battle of the Belles Consolation, and managed a pocket-popping win and a maiden-breaking score with Stonebridge Pearl in 1:57.3 for trainer Gregg McNair. The trainer co-owns Stonebridge Pearl (Mach Three - Stonebridge Appeal) with Terry & Jake Davidson of Walkerton, Ont.
Miss Babe Delight (Mario Baillargeon) navigated up the passing lane for place over pacesetter and favourite Twin B Virtue (Jody Jamieson), who stayed for third.
$7,500 Preferred 3 Pace
It was close on the morning line and it was close on the toteboard when the $7,500 Preferred 3 Pace went to post as Bali and Poker Hat took much of the support and attention.
Bali (Shane Weber) sat fourth in the early going with betting favourite Poker Hat (Doug McNair) on his back. A first up move by Bali gave Poker Hat cover for the back half of the mile but Poker Hat wasn't able to get past Bali, a 1:55.4 winner by three parts of a length. Bestofthebunch (Paul MacKenzie) was best of the rest of the best company, completing the triactor.
Emilie Auger trains and co-owns Bali (Dali-Belvekia) along with Denise Auger of Trois-Rivieres, Que. The four-year-old gelding notched his 10th career lifetime win and second on the season.
$12,500 Doug Gamsby Memorial Trot
Extracurricular was a gate-to-wire winner in the $12,500 Doug Gamsby Memorial Trot, paying tribute to an individual who was crucial in the development of the Elora half-mile oval.
Driven by Sylvain Filion, Extracurricular made the front from the five hole and played catch me if you can from that point on, with fractions of :28, :57.3 and 1:27.3 before comfortably hitting the wire first in 1:58.2.
Stormont Kate (Bruce Richardson) sat the pocket and grabbed runner-up honours with Buddy Hally (Doug McNair) edging out favoured Lexis D J (Bob McClure) for show.
Stephane Larocque trains Extracurricular (Revenue S - Outside Interest) for Darren Mahoney of Whitby, Ont. At the age of nine, the trotting gelding is enjoying the second most lucrative season of his eight-year racing career.
$10,000 Fillies & Mares Preferred 2
Eat Me Up made a brush to the front at the half and would not be denied in the $10,000 Fillies & Mares Preferred 2.
Trevor Henry landed Eat Me Up into fourth while Drivingthedragon N (Jonathan Drury) made the front from the rail and managed the opening panel in :27.3. Henry pulled Eat Me Up just past that opening panel heading into the final turn and made the lead with a :57 half. The outer flow was ready to pressure as Windsong Glamorous came first up to apply pressure through three-quarters in 1:26. That pressure, much to Henry's chagrin, was not going away and kept strong throughout the stretch drive. Eat Me Up stayed strong and tripped the timer in 1:55.4 over Windsong Glamorous and Drivingthedragon N, who launched a passing lane bid in vain.
Eat Me Up (Mach Three - Presidentialintern) now has 20 lifetime wins for four on the season, her second best seasonal win total in five campaigns. She's trained by Richard Moreau for owners Annalisa Klunowski of Toronto, Ont. and 9099 3833 Quebec Inc. of Sorel-Tracy, Que.
$12,500 Paul Kurtz Memorial Pace
In the $12,500 Paul Kurtz Memorial Pace, another race honouring an individual vital to the genesis of Grand River Raceway, Ryan Holliday had his mind made up on placing Regal Babe on the front end. That strategy truly paid off in ways which Holliday couldn't imagine.
Holliday hustled Regal Babe out from the four hole and had the field somewhat stretched out at the :27.4 opening quarter. Cluster Hanover (Jody Jamieson) made a break from the pocket around the far turn and touched off a chain reaction of breakers that scattered the backfield. Favoured Savage Seelster (Robert Shepherd) was forced wide around the breaker but managed to guide back to the wood and get into striking position in third by the :57.2 half.
As the shortened field hit the third station in 1:26.2, Savage Seelster was out and pressuring Regal Babe but Holliday kept the pacesetter on point and engineered the 1:56.1 victory by just over a length. Monte Crisco (Sylvain Filion) grabbed third.
Trained by Don Lindsey, who co-owns along with Paul Kleinpaste of Orangeville, Ont. and Will Alempijevic of Portland, Ore., Regal Babe (Stonebridge Regal - Nascar Babe) notched the fourth win of his four-year-old campaign with the win, his ninth lifetime.
For full results from Monday's Industry Day card at Grand River Raceway, click the following link: Monday Results - Grand River Raceway.