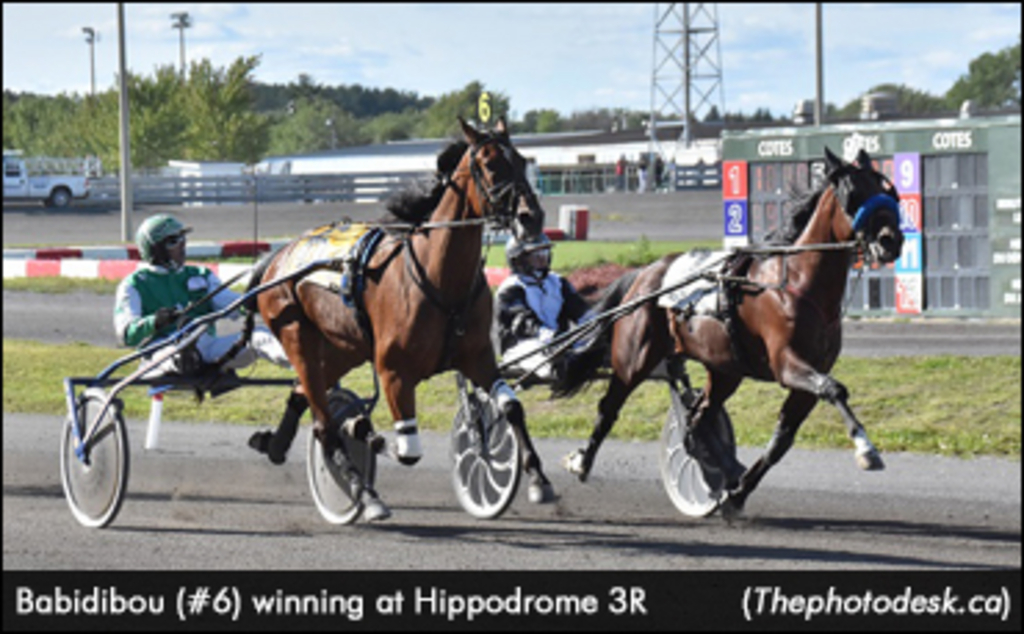 Published:
August 28, 2020 08:30 pm EDT
Last year's two-year-old Quebec-Bred champion Babidibou was able to outkick race favourite Frido PV to the wire in capturing Friday's $10,000 division of the Breeders Trophy Series at the Hippodrome 3R.
It took a lifetime-best record for Babidibou and driver Stephane Gendron to beat Frido PV in the second race, second leg of the series for three-year-old colt trotters.
Frido PV (Richard Simard) cut all the fractions and they were fast in the one-mile event. Leaving from post three, Frido PV took the field to the opening quarter-mile in :27.3, the half in :56.3 and the three-quarters in 1:26.2 before Gendron pulled from third-place to go after the race leader.
Those two ended up locking horns as the field came down the stretch with Babidibou eking out a neck triumph at the wire in 1:57.2, with the pocket-sitting Laval Titan (Pascal Berube) third.
The win was the third in six starts this year for reigning champion Babidibou, a gelded son of Royalty For Life. He is trained by Maxime Velaye for co-owners Isidoro Russo of Montreal and Guy Corbeil of Mirabel, Que. He paid $6.90 to win.
The $10,000 filly division featured nine starters in the fourth race with the red-hot stable of Denitza Petrova taking top honours.
As expected, Anotherdeal and driver Sylvain Lacaille were the first ones on the lead from post seven with Kinnder High Class and driver Pierre-Luc Roy making the most of the rail to sit the pocket trip early in second-place.
Roy wasted no time in moving Kinnder High Class to the lead after an opening half-mile in 1:00.4. For the rest of the race, no one could pass Kinnder High Class as Lindas Pride (Richard Simard) tried coming first-over, but by the three-quarters in 1:30.4, they ended up dropping into the two-hole spot.
On the final turn, Roy let Kinnder High Class have her head and she trotted away from the field, winning with ease by nearly three lengths in 2:00.3. Lindas Pride was second with the race favourite, HP Starlette (Stephane Brosseau), third.
Also sired by Royalty For Life, Kinnder High Class earned her fourth win in six starts this year. She was bred and is owned and trained by Dentiza Petrova of Melbourne, Que. The winner paid $5.40.
Unbeaten Enavant ($2.50), the winningest horse at H3R this season, notched his seventh straight win at H3R on Friday taking the seventh race pace in 1:54.4 with Stephane Gendron driving for trainer Maxime Velaye and owners Determination and Guy Corbeil.
Track Notes: Stephane Gendron had the hot hands Friday scoring a driving triple. Both Maxime Velaye and Francis Richard had training double. Live harness racing resumes at H3R on Sunday with first race post time at 1 p.m. The second round of the Future Stars Series for two-year-old pacers will be contested with four divisions, two for colts and two for fillies. For a free race program, visit hippodrome3r.ca.
To view Friday's harness racing results, click on the following link: Friday Results - Hippodrome 3R
(With files from Quebec Jockey Club)