Published:
August 28, 2016 07:50 pm EDT
The centerpiece of Batavia Downs Family Fun Day on Sunday (August 28) was the annual Wiener Dog races and this year, 2,400 live patrons came out to watch a great program of live harness racing while anticipating the nine qualifying Weiner heats that followed.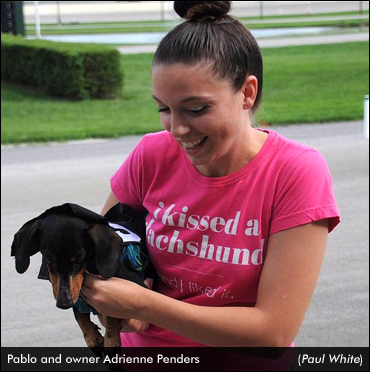 After the qualifying events were held and the final field was set, nine dogs went postward in the two-pylon sprint as the rail trackside was literally five-deep with spectators.
Track announcer Joe Zambito gave the word and they released the hounds for the race. After the pack thundered down the stretch and the dust had settled, Pablo was a convincing winner with Nibbles beating out Minnie in a close photo for second.
It was the third time Pablo had competed in this event and the third time was a charm for him and his owner.
"He's always been competitive and always done well in the race, but he never won it," said Pablo's owner Adrienne Penders. "This year, he finally got it done."
Nibbles is owned by Tammy Anderson and Minnie is owned by Lori Laine.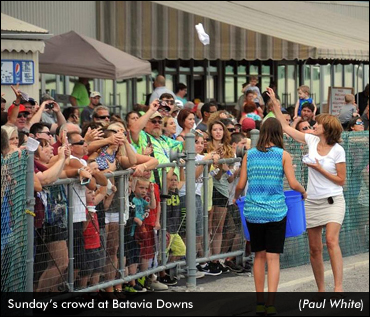 Last year's champion Piglet, won his qualifying heat this afternoon, but failed to hit the board in the final despite a hearty attempt.
"Once again, Family Fun Day was a great success," said Todd Haight, Director/General Manager of Live Racing. "The stands were full with kids of all ages and everyone had a great time at Batavia Downs. The Wiener Dogs put on another great show and we would like to thank everyone who brought their dogs out to compete and to Genesee Feeds of Batavia, who sponsors the event every year."
Each of the nine qualifying heat winners received a $25 free play voucher to Batavia Downs Gaming. The winning owner of the final was presented a $100 free play voucher, the second-place finisher received $75 in free play, and the third-place finisher will enjoy $50 in free play. All three owners will also get two complimentary buffets each in the Batavia Downs clubhouse.
The 2-9-3 doggie-tri combination was reported to return 25 Milk-Bones among trackside punters.
Cummings Dominates On The Track
The weather wasn't the only thing that was hot at Batavia Downs on Sunday afternoon...Kevin Cummings was as well. The Downs leading driver, who is currently sporting 37 wins at the meet, reached that total on the strength of today's performance.
Cummings won with Windemere Maggie ($4.20) and Ona Dream ($7.20) to complete the early Daily Double ($24.60). After that, he finished the card scoring with Sea Deuce ($4.10), Lexis Amigo (5.40) and B Evas Lucky Lad ($8.60).
Cummings' third winner, Sea Deuce, took the afternoon's $7,200 feature pace in 1:56.3. Sea Deuce went wire-to-wire in victory, coming home strong in :28.2 to hold off the pocket-sitting Mystical Valentine (Jack Flanigen) in the process. The win was the sixth of the year for the six-year-old gelded son of Armbro Deuce that is owned by Cummings and trained by Priscilla Mooney.
Not to be outdone, Dave McNeight III (who is currently second is dash wins behind Cummings) and Ray Fisher Jr. also reached the winner's enclosure twice.
Live racing resumes at Batavia Downs on Wednesday night (August 31) at 6:15 p.m. and will feature two divisions of the New York Sire Stakes three-year-old trotting colts and geldings who will vie for $119,300 in purses.
(With files from Batavia Downs)