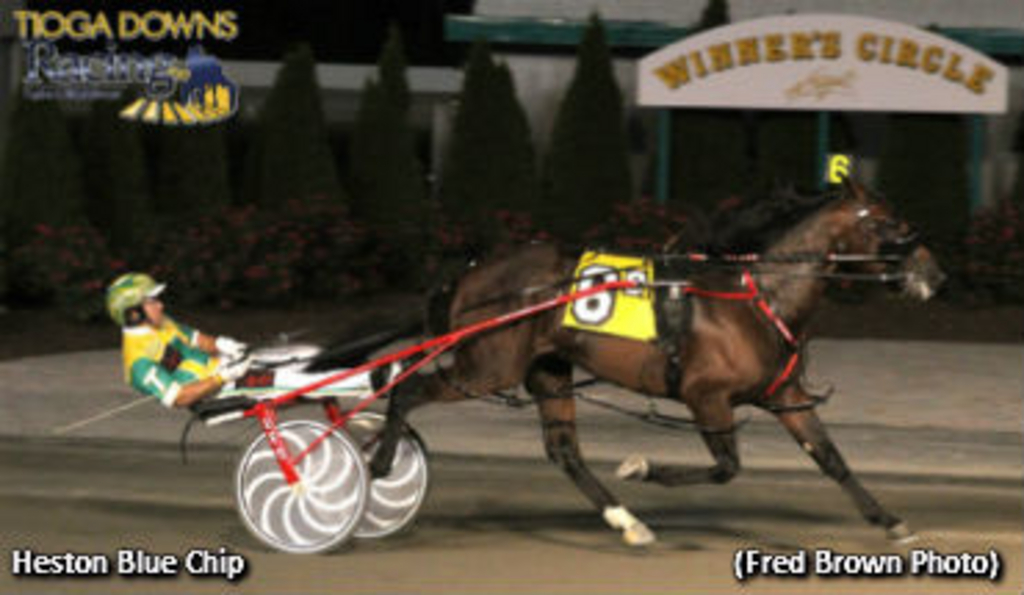 Published:
August 26, 2012 10:25 pm EDT

The elimination for the first jewel of harness racing's Triple Crown was contested on Sunday evening at Tioga Downs, and Heston Blue Chip came up huge once again for trainer Linda Toscano.
Tim Tetrick was in no hurry with Heston Blue Chip, who was allowed to settle into the four-hole while Simply Business and Ron Pierce led the field past the opening panel in :26.1. Tetrick put the pedal to the metal in the second quarter, however, and Heston Blue Chip worked his way to the top right at the mid-way point in :54.3. He was still in charge of setting the speed at the three-quarter station in 1:21.4, and his :27.3 closing quarter was more than enough to seal the deal over Steelhead Hanover and State Treasurer.
Bettors Edge and Simply Business, who were fourth and fifth, respectively, took home the final two cheques in the $107,572 elimination. Dynamic Youth and Pet Rock, who were sixth and seventh, respectively, also earned tickets to next week's Cane Pace final. They'll join A Rocknroll Dance and Time To Roll, who accepted byes, in the $322,716 Cane Pace final on Monday, September 3.
"Hes a really nice horse who goes out every week and can pace in 48 or 49 and he'll be blown out by the time he reaches the paddock," said driver Tim Tetrick. "I can't say enough good things about this horse he is such a pleasure to drive, it's like driving a Cadillac out there."
Ken Jacobs of Baldwinsville, NY owns Heston Blue Chip, who has already found his way to the winner's circle nine times this season from 10 trips postward. The son of American Ideal-Shot Togo Bluechip, who is now 20-for-23 in his career, pushed his lifetime earnings to $813,574 with the victory.
Sunday evening's program also featured the third leg of the Miss Versatility Trotting Series, and Beatgoeson Hanover pulled off a 24-1 upset for driver Andrew McCarthy and trainer Richard 'Nifty' Norman.
Beatgoeson Hanover rallied from out of the clouds and posted the 1:54.1 win after Unefoisdansmavie and race favourite Cedar Dove took turns on the lead through fractions of :27, :56.3 and 1:25.1. Action Broadway was second best, with Pembroke Heat Wave grabbed third prize in the eight-mare affair.
Neven Botica of Perth, AUL owns the four-year-old daughter of Andover Hall-Beat The Wheel. The victory was her fourth of the season and the 17th of her career. To date, she's put away close to $800,000 in lifetime earnings.
(With quotes from Tioga Downs)