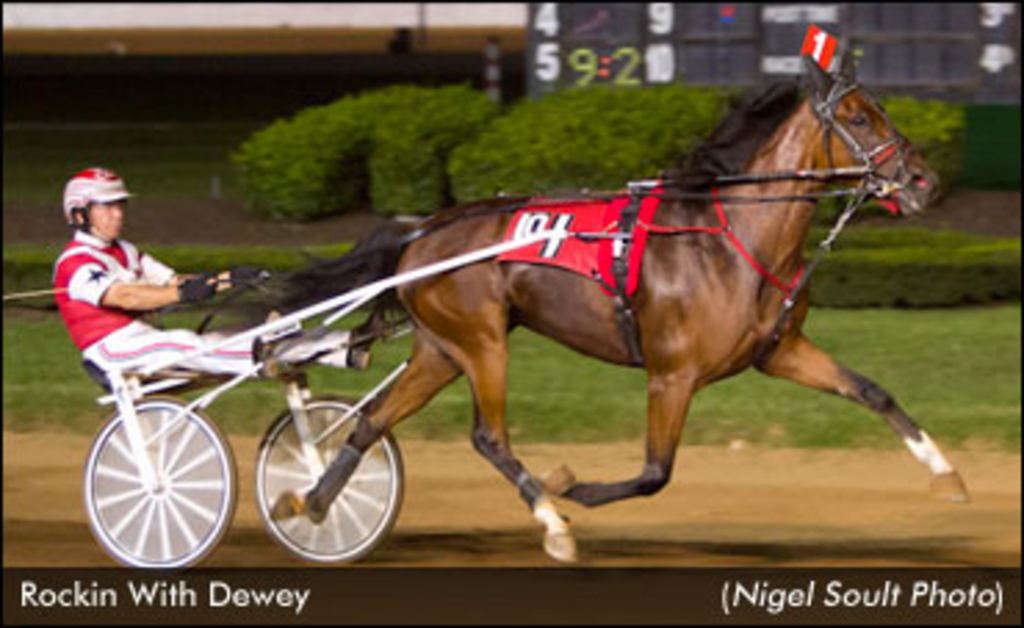 Published:
August 25, 2013 12:11 am EDT
It was a big night for trotting sire Deweycheatumnhowe and pacing sire Ponder on Saturday at The Red Mile as the pair of stallions saw their progeny sweep the six divisions of the second round of Kentucky Sires Stakes (KYSS) for three-year-olds.
The three-year-old male trotters kicked things off with a pair of $15,000 divisions comprising the early Daily Double and it was a pair of Ray Schnittker-trained and driven colts who emerged victorious.
The first division saw the 1-9 favourite Lauderdale take control early and reach the half in a moderate :29, but then he suddenly went offstride and taken to the outside by driver Corey Callahan. Schnittker had gotten away sixth with Caveat Emptor, but he seized the opportunity to charge fast toward the front, taking control past the half. Caveat Emptor had enough left to hold off Deweykidumnhowe and Lewayne Miller by three-quarters of a length in 1:55.1, with Dewey Luvs Britt and Mike Lachance third.
"He started to look sideways and tried to pull himself up," Callahan later explained of the ill-timed break by Lauderdale. "He's tried to do that before on me."
A son of Deweycheatumnhowe-Venus Hall, Caveat Emptor won for just the second time in 10 starts this year, increasing his career earnings to $209,238. Schnittker also shares ownership with Caveat Emptor Stable. With more than 93 percent of the show pool wagered on the off-the-board Lauderdale, that led to inflated show payoffs of $57.40, $32 and $29,40 on the top three finishers, respectively.
Schnittker came right back to direct favoured Dewycolorintheline to a six and a quarter length win in 1:54.2 in the second KYSS division for sophomore colt trotters. Longshot Bas Hanover was second for Chris Page, with defending KYSS champion Mystic Dew third for Jeff Smith.
The win was the second of the year and first for Dewycolorintheline in three starts since he captured the Yonkers Trot on July 27 at Yonkers Raceway. The son of Deweycheatumhowe-Magenta Hall is owned by Schnittker and Dewycolorintheline Stable. His career earnings now stand at $337,707.
Ma Chere Hall went the fastest of two $15,000 divisions for three-year-old filly trotters with a 1:53.2 effort for driver Corey Callahan. The daughter of Deweycheatumnhowe-Margarita Hall was able to fend off True Day Dream and Miller for the victory, with Andie Sophia and Peter Wrenn third.
A homebred of Walnut Hall Ltd. now owned in partnership with Aldebaran Park Inc. and Joe Sbrocco, Ma Chere Hall is trained by Jonas Czneryson. The win was her fourth of the year in eight starts -- and second straight in KYSS competition -- increasing her career earnings to $226,408.
Lachance directed Rockin With Dewey to a 1:54.4 victory in the other KYSS split for filly trotters. Fanfan Dream was second for Kyle Bolon, with Little Bitty Lies and Miller third.
Ben Baillargeon trains the winning daughter of Deweycheatumnhowe-Silky Celine and shares ownership with Diane Ingham. The win was her fifth of the year in 13 starts, boosting her career earnings to $88,678.
Bandolito and trainer-driver-owner Daryl Bier captured his second straight KYSS contest while stretching his winning streak to eight with a career-best 1:49.3 effort in the lone $30,000 division for three-year-old colt pacers. Bier patiently sat second with the 3-5 favourite between Blatantly Best but he rallied his charge past in the stretch for the two length victory over the Lachance-driven Phenomenon. Exit Cam and driver Page was third as Blatantly Best and Miller faded to fourth.
A son of Ponder-Sodys Home Brew, Bandolito did not race last year at two. He now has career earnings of $63,940 for Bier, Charles Dombeck and David Bier.
Callahan also displayed patience with Diligent Prospect in the single $30,000 division for three-year-old filly pacers and he was rewarded with a 1:52.2 victory. Tucked in the two-hole behind the leading favourite So Nice, driven by Wrenn, Diligent Prospect rallied past in midstretch for the victory -- her first in 21 career starts. KZ Beach Girl and Page settled for third.
A daughter of Ponder-Odds On The Hat, Diligent Prospect is trained by Pete Foley. While winless in her career, Diligent Prospect was able to post seven second-place finishes and three thirds while earning more than $100,000. Her maiden-breaking score brought her career bankroll to $120,571 for owners James McLaughlin, Lynne Foley, Gabe Prewitt and Shane Foley.
Up next for Kentucky's best two and three-year-olds is the $2 million Super Night scheduled for Sunday, Sept. 1 at The Red Mile, with each of the eight finals carrying a purse of $250,000.
(The Red Mile)