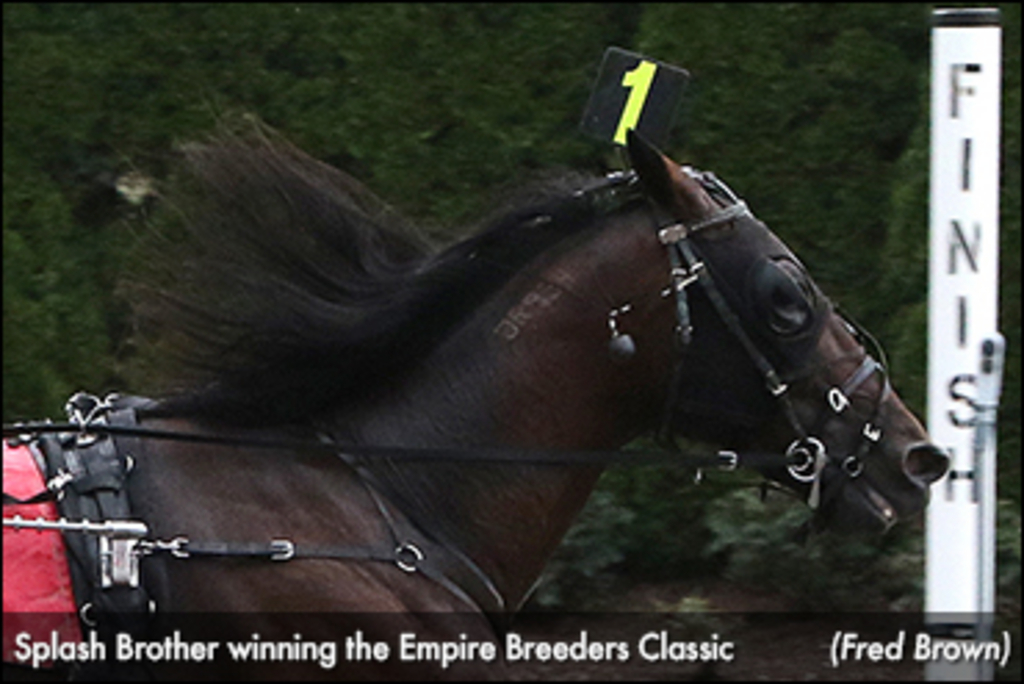 Published:
August 23, 2020 04:34 pm EDT
Splash Brother ($9.30) rode cover up the backstretch and vaulted to a 1:50 victory in the $240,600 Empire Breeders Classic for three-year-old pacing colts and geldings on Sunday (Aug. 23) at Tioga Downs.
Tyler Buter was patient in the early stages with Splash Brother, electing to draft comfortably in mid-division while 2-1 favourite Groovy Joe worked to clear Save Me A Dance just past a :26.1 opening quarter. On approach to the clubhouse turn, Splash Brother angled second-over behind a stoutly-advancing Blank Stare and drafted a brewing duel to the half in :54.4.
Blank Stare towed Splash Brother into contention as he forced Groovy Joe to quicken up the far side, and with a quarter mile to go, Buter swung Splash Brother three-wide to engulf the duelling leaders. The So Surreal gelding switched into overdrive upon cornering for home, scooting clear by 2-1/4 lengths. Major Betts followed the winner's cover and lifted to narrowly beat Blank Stare for runner-up honours.
Trainer Ray Schnittker — long a fixture on the New York stakes circuit — shares ownership in four-time winner Splash Brother with Nolamaura Racing, Steven Arland and Tammy Flannery.
In the $223,500 Empire Breeders Classic for three-year-old pacing fillies, Hen Party ($4.40) sustained a first-over attack and pushed past even-money favourite So Rude for a decisive 1:49.2 victory.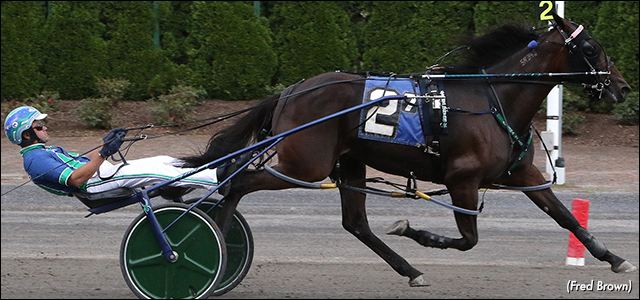 The daughter of Roll With Joe yielded to third while So Rude and Galleria Gal disputed a :26.2 opening quarter. So Rude cleared to control the terms, but faced a stern challenge from Hen Party — whom Andy McCarthy angled off the pegs with a circuit to go — through middle splits of :55.1 and 1:22. After forcing a blistering :26.4 third quarter, Hen Party had plenty left off the home turn, striking the front and sprinting off powerfully to win by 3-3/4 lengths. Galleria Gal vacated the pocket at head-stretch and saved second at 72-1, and Dragon Roll lifted late to finish third over the fading So Rude.
Tony Alagna trains Hen Party for Crawford Farms Racing. She has now won five of seven starts this season, including three New York Sire Stakes preliminaries in addition to her sweep of the Empire Breeders Classic.
A trio of New York Sire Stakes events for freshman trotting fillies supported a strong undercard.
Aela Jamieson ($6.00) and Andy Miller charged late to win the $34,200 first division.
Dream Chapter jumped out to the early lead, but Tranaquility K took control just before hitting the first quarter in :27.4. Dream Chapter reclaimed the lead and reached the in :58.1. On the backstretch, Me Three advanced first-over with Aela Jamieson following cover to three-quarters in 1:26.4.
Turning for home, Aela Jamieson emerged into second and it became a two-horse race. Dream Chapter dug in, but Aela Jamieson rallied to win in a lifetime best of 1:55.1. Dream Chapter had to settle for second; Illuminata came up to finish third.
Aela Jamieson, a Chapter Seven-Blk Thai Optional filly, is trained by Julie Miller for owners Andy Miller Stable, Dumain Haven Farm and Little E LLC. It was her second career win in four lifetime starts.
Moni For Lindy ($11.20) and Scott Zeron used a three-wide stretch rally to capture the $33,600 second division.
Insured AM S rated a :57.2 half before facing pressure from Splash Blue Chip on the backstretch. Splash Blue Chip took a slight lead at three-quarters in 1:26.4, with Moni For Lindy following live cover. On the far turn, Insured AM S battled back and went shoulder to shoulder with Splash Blue Chip. Moni For Lindy charged three-wide and took over in deep stretch to win in 1:55.3. Splash Blue Chip finished second; Insured AM S was third.
Moni For Lindy, a Credit Winner-Live Moni filly, is owned by Moni Maker Stable and trained by Domenico Cecere. It was her first career victory.
Destined To Dance ($3.50) waltzed to her fifth straight win by capturing the $33,600 third division.
Iteration controlled a :56.2 half before Destined To Dance, in line to Tyler Buter, made her move from fourth and worked into second as Iteration led to three-quarters in 1:25.2.
Destined To Dance and Iteration battled all the way down the stretch, but in the end Destined To Dance was too strong, winning in a divisional track record of 1:54.4. Soukup Blue Chip flew home late for second over Iteration.
Destined To Dance, a daughter of Chapter Seven and Go Go Dancer, is trained by John Butenschoen for owners Crawford Farms Racing, Rich Preziotti and Heritage Standardbreds. It was her fifth straight win in six lifetime starts.
(with files from Tioga Downs)