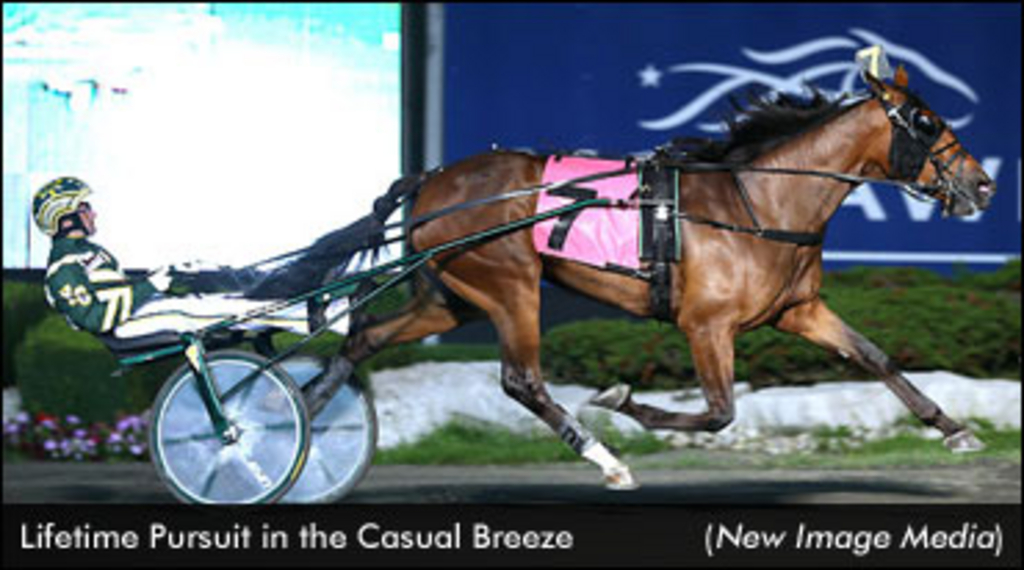 Published:
August 22, 2014 10:10 pm EDT

World champion Lifetime Pursuit tied the 1:52.1 track and Canadian record for three-year-old trotting fillies co-held by Check Me Out and Bee A Magician in her debut North of the border in the Casual Breeze Stakes on Friday night at Mohawk Racetrack.
Lifetime Pursuit's winning time also shaved three-fifths of a second off the stakes record, which was set by Action Broadway in 2010. Jimmy Takter trains the Brittany Farms homebred, a daughter of Cantab Hall and Queens Of Grace.
Cantabs Fortune (Rick Zeron) led the field through fractions of :27.4 and :56.4 with Tosca (Per Henriksen) following in second with Lifetime Pursuit away third. Driver Yannick Gingras made his move with the favoured filly down the backstretch and brushed to the lead, opening up a quick three lengths heading to the third quarter mark in 1:24.2. Lifetime Pursuit continued to expand her lead into the stretch to nearly five lengths en route to the record win. Designed To Be (Jody Jamieson) came on for second over Cantabs Fortune.
"I could have moved back to the lead, but I think she's better chasing down horses," said Gingras of his strategy early in the race. "Rick's filly looked a little keyed up when I came out of the first turn so I just figured I'd wait there until somebody came and then make my move.
"She can really scoot," he added.
Lifetime Pursuit has won half of her 10 starts this year and has been undefeated since her world record 1:50.4 win in the Hambletonian Oaks on Aug. 2 at The Meadowlands. She's banked $437,891 in purses after a $270,370 freshman campaign that included six wins in 11 starts.
"She's been good all year, but she's really stepped it up since Hambletonian Oaks Day. She was scary good that day and she's still as sharp now as she was then. There's no doubt she's gotten better the last three starts...but she's been good all along," said Gingras, ranking her "right up there with Maven" among the top trotting mares that he's driven.
Lifetime Pursuit paid $2.90 to win as the overwhelming 1-5 favourite.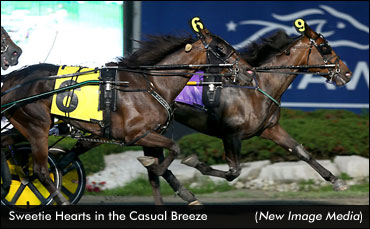 Overcoming an outside post nine start, Sweetie Hearts pulled off a 49-1 shocker in the first division of the Casual Breeze Stakes.
Driver Randy Waples hustled outsider Sweetie Hearts off the gate in the first division and fired across the track to establish the early lead into a :27.2 first quarter with post eight starter Demanding Sam (Sylvain Filion) also leaving to drop into the pocket. Meanwhile, My Inspiration (Jody Jamieson) was on the move early from third with favourite Donatella Hanover (Yannick Gingras) caught three-wide before opting to tuck into the four-hole.
My Inspiration took over command as the fillies neared the half-mile mark in :56.3, but Gingras went on the attack down the backstretch with Donatella Hanover and moved up to pressure the new leader as they rolled by three-quarters in 1:25.3. As My Inspiration's lead dwindled and Donatella Hanover edged by in the stretch, Sweetie Hearts was looking for racing room. She came through around My Inspiration and collared Donatella Hanover along the pylons for the 1:54.2 career-best triumph with a late-closing Danica (Chris Christoforou) rallying into third.
Sweetie Hearts paid a whopping $100.70 to win.
"She's a great mare and she gets stronger as the year goes," said trainer Ron Parsons after the race. "I think you're going to get a lot cheaper price on her in the next few weeks."
Robert Key's homebred Angus Hall-Sweetheart K filly swept the three-leg Autumn Series to end her freshman campaign with four wins in nine starts and $56,557 in purses.
"When I got her from Paul Reid [late in the year], he told me 'you're getting a nice filly, but just take your time and put the right driver on and she'll be good.' And that's what she did, she got good later on. She went a big race in the [Goldsmith Maid] and we shut her down and then brought her back [this Spring]. She's just starting to get her 'mojo' about her."
This season Sweetie Hearts has won three of her 11 starts. Friday's win was her second in a row, following an Ontario Sires Stakes Gold Series score on Aug. 13 at Grand River Raceway, and boosted her sophomore earnings to $157,807.
In regular racing action, American In Paris and driver Chris Christoforou edged out millionairess Voelz Hanover for the neck victory in this week's $30,000 Fillies & Mares Preferred Pace.
Voelz Hanover (Randy Waples) blasted to the lead after an outside post seven start and carved out fractions of :27, :56.4 and 1:25 before being out-sprinted in the stretch by the pocket-pulling American In Paris. Kicking home in :26.3, American In Paris collared the pacesetter in the final strides for 1:52 triumph. Early trailer Hope For Paddy (James MacDonald) closed well for third, finishing one length behind in the top pair. Just over four lengths covered the entire field.
American In Paris paid $7.20 to win as the 5-2 second choice to I Luv The Nitelife, who was shuffled to last by the three-quarters and finished sixth in the final quarter sprint.
Murray Brethour trains American In Paris, a four-year-old American Ideal-Sendingforth mare owned by Doug Millard of Woodstock, Ont.
To view Friday's harness racing results, click on the following link: Friday Results - Mohawk Racetrack.