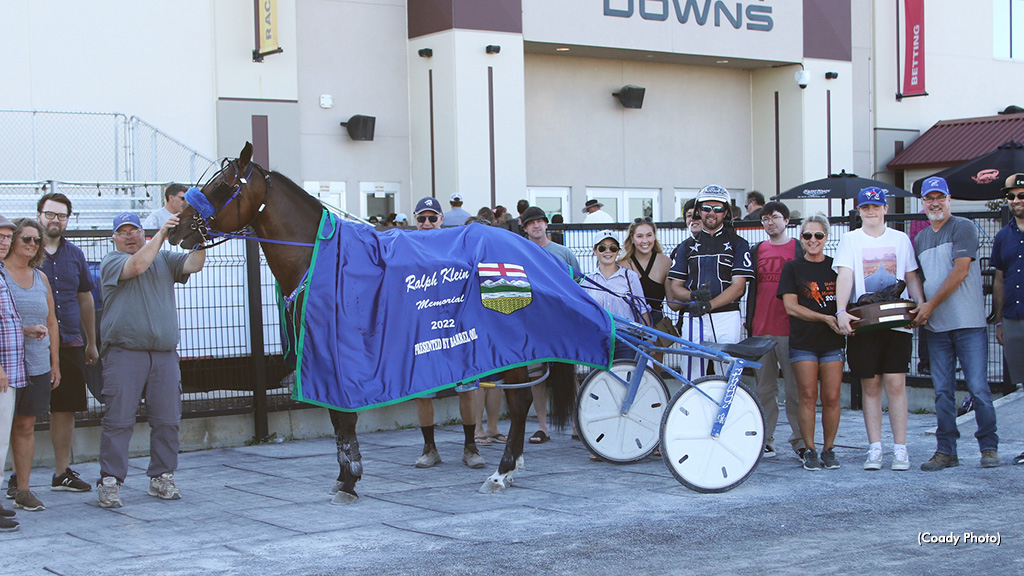 Published:
August 13, 2022 10:39 pm EDT
Alberta's finest sparred on Saturday afternoon (Aug. 13) at Century Downs for its Mid-Summer Classic Card including reinsman Nate Sobey, who scored five wins on the 11-race card while also sweeping the finals of the $91,920 Gord and Illa Rumpel Memorial and the $77,740 Ralph Klein Memorial.
In the Gord and Illa Rumpel Memorial, Sobey not only scored the win behind his trainee Divine Art, but he also secured second and fourth with Daisy Corvette and The Ideal Huntress respectively.
Divine Art pushed for the lead off the wings with Shoot The Whiskey also hustling towards the outside to take a narrow lead before a :27.2 first quarter. Sobey then slid Divine Art to the point passing the stands first time while keeping the tempo hot to a :55.4 half. The daughter of Outrageous Art maintained her speed to the backside as Chaste Forever pressed first over to three-quarters in 1:22.4 and dug into the pacesetter circling the final turn. But Divine Art spun for home expanding her advantage as Chaste Forever faltered while Daisy Corvette kicked off cover from second over with late pace. Daisy Corvette settled for second behind her stablemate by 1-1/4 lengths with Chaste Forever holding third from The Ideal Huntress, who charged from fifth over for fourth.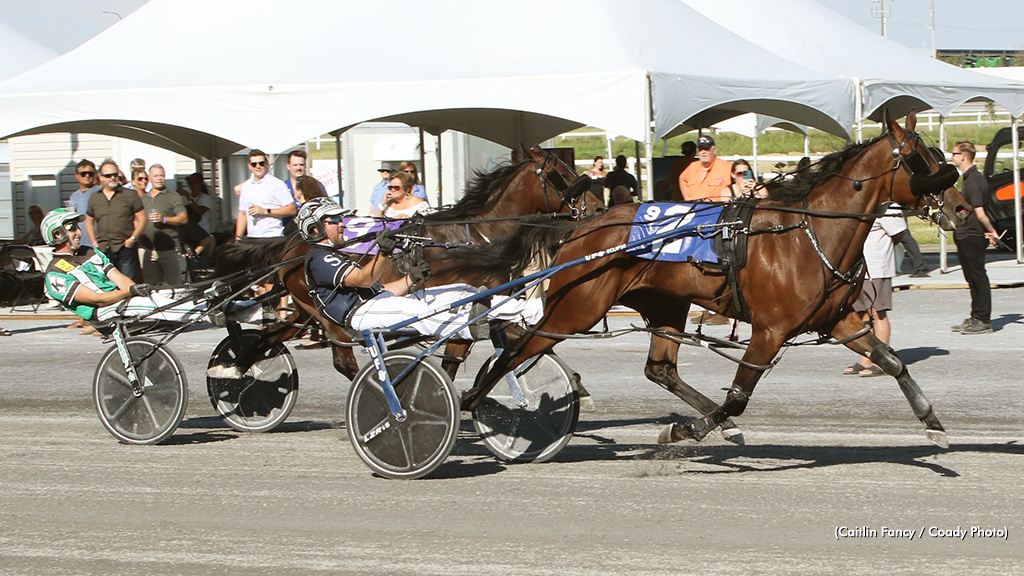 ​
Winning her ninth race from 15 starts, Divine Art has now amassed $167,627 in purses for owners Robert T. Jones, breeder Diane Bertrand and John Hind. She returned $2.90 to win.
The five-win day for Sobey wrapped in the evening's finale, the $77,740 Ralph Klein Memorial. He piloted Rod Starkewski trainee Vegas Gambler to a mild upset over favourite Ernesto Delacruz in 1:53.4.
Parked past a :28 first quarter, Vegas Gambler took the lead but quickly endured a shuffle where Lets Tie One On took over the lead and Redstone Arsenal advanced uncovered to challenge with Ernesto Delacruz in tow. Vegas Gambler raced fourth to a :56 half and stayed put as the heat steamed on the engine for Lets Tie One On, who faced a challenge from Ernesto Delacruz as Redstone Arsenal tired through the field.
Lets Tie One On held a narrow lead by three-quarters in 1:24 and edged away with the inside advantage coming for home. Yet, Lets Tie One On folded from the action in the lane as Ernesto Delacruz surged forward along with a fresh-legged Vegas Gambler. Ernesto Delacruz battled to the finish but could not withstand Vegas Gambler's bid to the finish, giving way by three-quarter lengths at the finish with Lets Tie One On holding third and Joe Rich taking fourth.
Vegas Gambler notched his ninth win from 19 starts this season and added to his account now worth $147,276 for owners Rod Starkewski and Clauzette Byckal. He paid $10.30 to win.
Sobey's hot afternoon began with a coast-to-coast victory in the $13,500 Preferred Pace with Icy Blue Scooter. The nine-year-old Blue Scooter gelding grabbed the lead to a :28 first quarter and held firm on the point through middle fractions of :57.1 and 1:24.2 to then hold off a pocket surge from Shark Week to win by a head in 1:52.2. Sobey co-owns Icy Blue Scooter ($3.70), who won his 39th race from 180 starts and has now earned $329,463, with Diane Bertrand and Robert Gilhespy. Sobey's pupils Matts A Mystician ($3) and Chocolate Terror ($4.50) added to his afternoon to also give him four training wins on the day.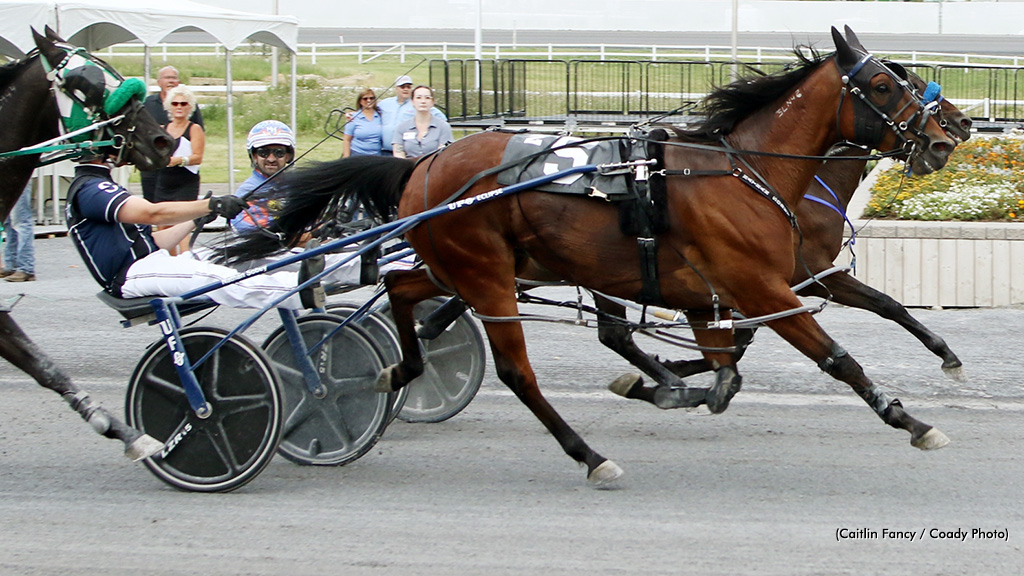 ​
Dave Kelly destroyed his competition behind Jamie Gray trainee Cora Cora Cora in the $70,000 ASHA Filly Pace Final, romping to a 1:56.3 win.
Kelly floated the daughter of Captive Audience to sit fourth as odds-on favourite Promise Kept cleared the lead after a :28.2 first quarter. With the tempo slow to a :58.1 half, Kelly angled Cora Cora Cora off the pegs and blitzed Promise Kept into the backside to take over control. She extended to a two-length lead passing three-quarters in 1:27.1 and only widened her margin through the final turn. Cora Cora Cora coasted home a going-away winner by 9-3/4 lengths over Promise Kept, with Captivatethecrowd finishing another three lengths behind in third and Handcuffed fading to fourth.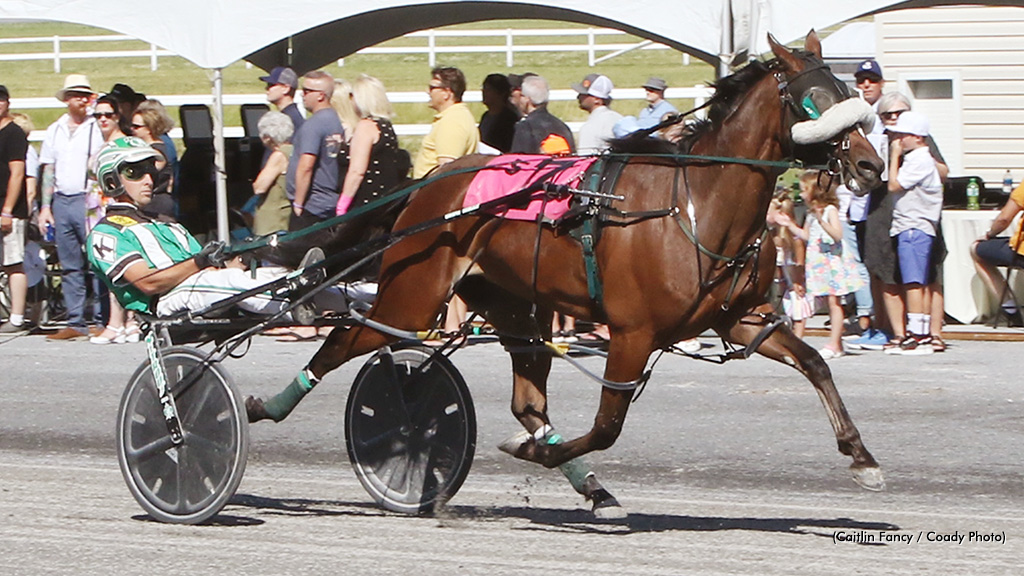 ​
Cora Cora Cora competes for owner Brightstar Stable and won her first race from three starts, now earning $37,000 in her career. She paid $9.50 to win.
Trainer-driver Brandon Campbell catapulted home with Virtual Horizon to win the $70,000 Century Casinos Pace, a race for two-year-old pacing colts and geldings.
Campbell protected position from the pylon post with Virtual Horizon to race fourth as Reach Out rolled to a loose lead approaching a :27.4 first quarter. Horses started to seep off the pegs into a :58.2 half, with Handsome Dan leading the outer tier toward Reach Out with Virtual Horizon drafting cover. The pace quickened with Handsome Dan challenging Reach Out to three-quarters, timed in 1:26.4, and Reach Out soon began a retreat to the final turn. Handsome Dan rounded for home a narrow leader with Virtual Horizon looming wide off a helmet and promptly vaulting for the front off the turn. Virtual Horizon cruised towards the finish a 3-1/4-length winner over Ponder No Longer, the odds-on favourite who came from third over for second, with Over The Horizon taking third and Handsome Dan fading to fourth.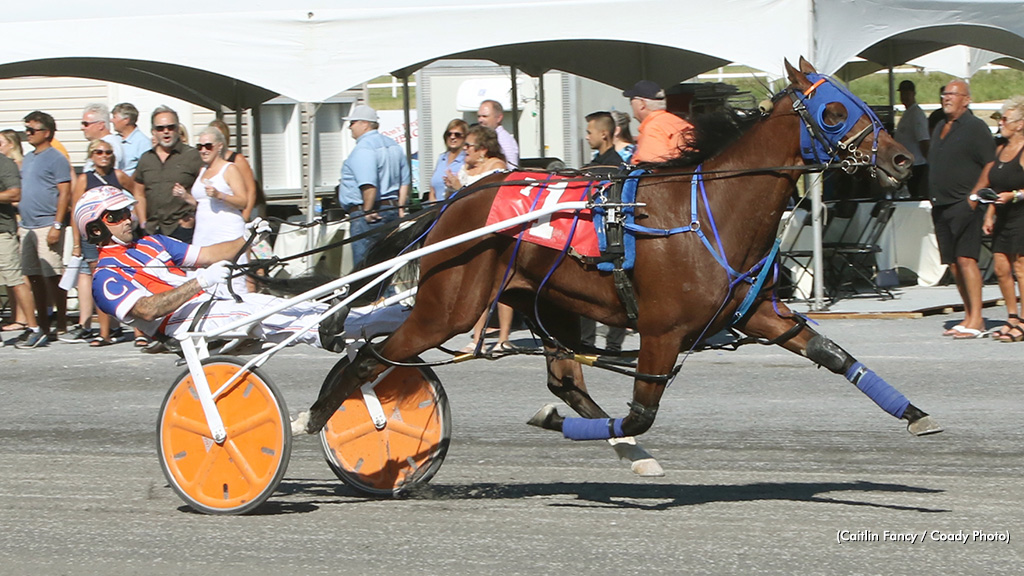 ​
Virtual Horizon races for owners Jodi Loftus, George Rogers and Raymond Henry. He won his first race from two starts and has now earned $36,200. He paid $9.70 to win.
Pacing gals also competed earlier in the undercard co-feature, the $13,500 Fillies and Mares Preferred Pace. Stash The Cookies ($3.70) delivered as the odds-on choice after sitting pocket through opening fractions of :26.2 and :55.3, and swooping to the top to three-quarters in 1:22.3 to finish the mile in 1:51.2 – a track record for aged pacing mares. The six-year-old daughter of Sunfire Blue Chip, winning her 19th race from 64 starts and now earning $203,604, beat the previous mark of 1:52.1 set by Graceful Horizon in May 2022. Trainer Logan Gillis steered the mare to victory for owner Derek Gilbert.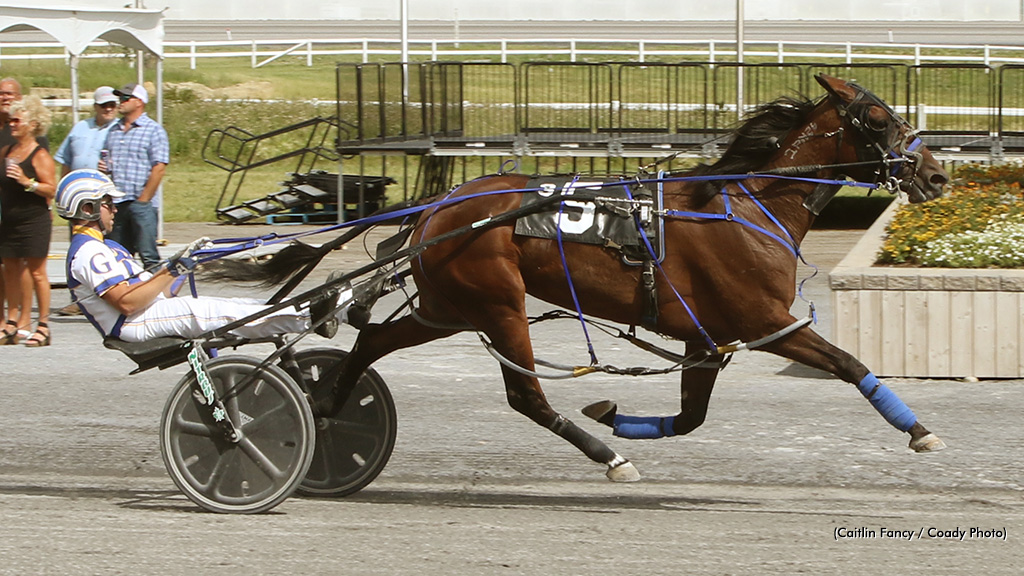 ​
To view Saturday's harness racing results, click the following link: Saturday Results – Century Downs.