Published:
August 11, 2020 11:03 pm EDT
The featured event on the Tuesday (Aug. 11) harness racing program at Running Aces was the $9,500 Open Handicap Trot, with a field of eight talented square-gaiters going into battle.
The talk of the tote-board was Bordogna, who was looking to extend an eight-race winning streak and was sent off at 4-5 from the outside post.
Mandeville fired fast from post 7 and Bordogna fired even faster from post 8, surging to the lead well before the quarter and seating Mandeville into the pocket with a sharp opening quarter of :27.1. Banker Volo also showed early speed to sit third.
Bordogna trotted strong on the lead and was not pressured through the middle stages, posting :56.1 and 1:24.3 for a middle half in :57.2. Mandeville enjoyed the garden seat throughout while Pridecrest came first-over. As they straightened for home Mandeville shook free from the pocket with plenty of trot and was able to surge past Bordogna for a one-and-a-quarter length tally in a career-best winning time of 1:54, which was just one-fifth of a second off of the overall track trotting record. Pridecrest (the record holder) edged Banker Volo for the third spot.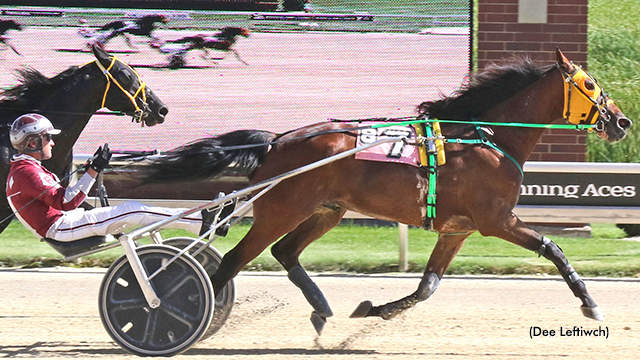 Mandeville is an eight-year-old gelding by Majestic Son and has now won 27 career races, while bankrolling $244,919. The winning owner-trainer is Gerald Longo. Nick Roland drove the $6.40 winner.
The Tuesday program also featured the Minnesota-Sired two-year-old events for both trotters and pacers.
The $9,200 "B" division for the pacing freshmen went to Doubleontherocks (Nick Roland, $4.40), who scored a one-and-a-quarter length victory on career debut with a mile in 1:58.1 over Shes A Showstopper and Twisted Bliss. The winner is a filly by Lettherockbegin, owned by Nikki Hudson and trained by Jessica Johnson.
The $15,000 freshman trot went to The Royal Queen (Rick Magee, $5.60) for her fourth-straight win, winning this one in a career mark of 2:01.2 over Rush To The Bank and Its So Fluffy. The winner is a filly by Tom Ridge, owned and trained by Justin Anfinson.
The $13,800 freshman "A" pace went to Twilight Sunset (Rick Magee, $3.40) for his second-straight win in two starts. The colt by Twilight Bonfire edged by Mayday Maggie late for a 1:56 win, with Mibwest Kid home in third. The winner is owned by Janna Lee Rucker and trained by Dr. Ken Rucker.
Driver Nick Roland led the program with a Grand Slam of four winners, while Rick Magee, Darrell Wright and Dean Magee each scored driving doubles. Trainers Jessica Johnson and Edward Hernandez each registered a double on the day.
Live Racing returns to Running Aces on Saturday (Aug. 15) with first post at 1:00 p.m. (CDT).
(Running Aces)