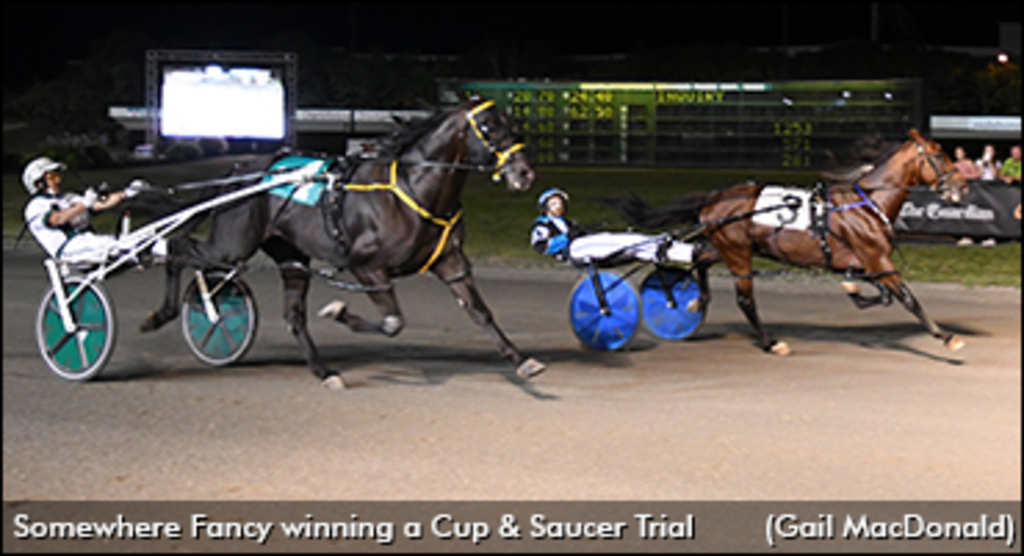 Published:
August 11, 2018 09:37 pm EDT

Driver Simon Allard launched to the top with 6-5 second-choice Somewhere Fancy and won the first $12,500 trial for the Gold Cup & Saucer going wire to wire in 1:51.4 on Saturday, Aug. 11 at Charlottetown Driving Park.
With Paparazzi Hanover breaking at the rail before the start, Somewhere Fancy shot for an uncontested lead over 4-5 favourite Rockin In Heaven opting for the pocket moving to the quarter. Paparazzi Hanover, who caught the field moving to the backstretch, tipped first over from seventh following a :28.1 opening quarter and supplied cover to Rose Run Quest and Jackson K Down through a :57.1 half.
Somewhere Fancy remained unchallenged on the front while Paparazzi Hanover began to retreat and forced Rose Run Quest to tip three wide heading to three-quarters. Past that station in 1:25.3, Somewhere Fancy and Rockin In Heaven opened a wide margin on Fool Me Once chasing in third. Rockin In Heaven pulled pocket in the final sixteenth in pursuit of Somewhere Fancy but the Rene Allard trainee held sway under the line. Fool Me Once held third while Rose Run Quest finished fourth.
A seven-year-old by Somebeachsomewhere out of the Artsplace mare Fanciful Hanover, Somewhere Fancy, owned by John Mehlenbacher, won his eighth race in 22 starts this season and his 35th in 150 overall, earning $597,165. He paid $4.60 to win.
"[John Mehlenbacher and I] talked about sending him last year [but] we just didn't think he was on top of his game at the time," Rene Allard said. "But this year, he was really coming into form late and we've kind of been shooting to have him ready for this. The trip worked out; we thought before the race if he could get a really cheap half he could get it done."
Somewhere Fancy, posting modest fractions on the lead, capped the mile with a :26.1 final quarter.
"We had actually been racing him kind of easy," Simon Allard said. "His last race he [also finished the mile fast] in the passing lane. I never really asked him last week and he's so sharp right now. Rene was right - [Somewhere Fancy]'s set for this this year."
On the undercard of the first "Saucer" Trial, Do Over Hanover tripped out to a 1:53.1 victory in the $5,000 Atlantic Canada Invitational Pace over odds-on favourite Euchred.
Euchred parked Keep Coming through a :27.1 first quarter before Keep Coming tucked into the pocket moving to the stretch first time. Do Over Hanover, positioned fifth, edged first over heading to the half, timed in :55.2, and marched to within two lengths of the lead approaching three-quarters. Euchred maintained a one-and-a-half length lead by three-quarters in 1:24.3 as Do Over Hanover drew closer to the top circling into the stretch and eventually stuck a half-length in front of Euchred at the wire as Tobinator, from third over, finished third five lengths away.
A five-year-old gelding by Western Ideal from the Jennas Beach Boy mare Driven To Sin, Do Over Hanover, owned by Red Isle Racing, Donald Mac Rae and Allard racing Inc., won his fourth race in 19 starts this season and his 24th in 67 overall, earning $269,999. Jason Hughes drove the Chris Mackay trainee and paid $8.60 to win.
Nabber Again popped pocket and advanced to a one-and-a-quarter length victory in the $2,350 Preferred 2 Pace in 1:55.2. The R. Jospeh Squires-trained gelding by Western Terror stalked Adkins Hanover through fractions of :28.1 and :57.1 before driver Michael McGuigan pulled from second and took control past three-quarters in 1:26.1. Adkins Hanover dropped back at the rail as 2-1 favourite Nogreatmischief, from first over, took second moving into the stretch. I C True Grit, from second over, rallied off cover to take second while Nogreatmischief finished third.
Owned by John and Albert Mac Gillivray and R. Joseph Squires, Nabber Again, a nine-year-old from the Abercrombie mare Forabber N Abber, won his fifth race in 26 starts this season and his 26th in 238 overall, earning $253,409. He paid $6.70 to win.
Prettyndangerous won the $2,350 Fillies and Mares Open Pace going wire to wire in 1:54.2. Driver Travis Cullen positioned the Bo Ford trainee on the top through a :28.1 opening quarter while Traces Of Purple parked first over. Sodwana Bay then pulled first over after Prettyndangerous through a :57.1 half and 1:25.1 three-quarters and the odds-on favourite continued to dig into Prettyndangerous through the stretch, finishing a neck off the winner at the wire. Dustlanemissmolly, off a pocket trip, finished third.
A five-year-old mare by Armbro Deuce from the Matts Scooter mare Program Manager, Prettyndangerous, owned by Bo Myles Ford and Arnold Myers, won his third race in 12 starts this season and his 31st in 158 overall, earning $118,851. He paid $12.20 to win.
To view Saturday's harness racing results, click on the following link: Saturday Results - Charlottetown Driving Park.