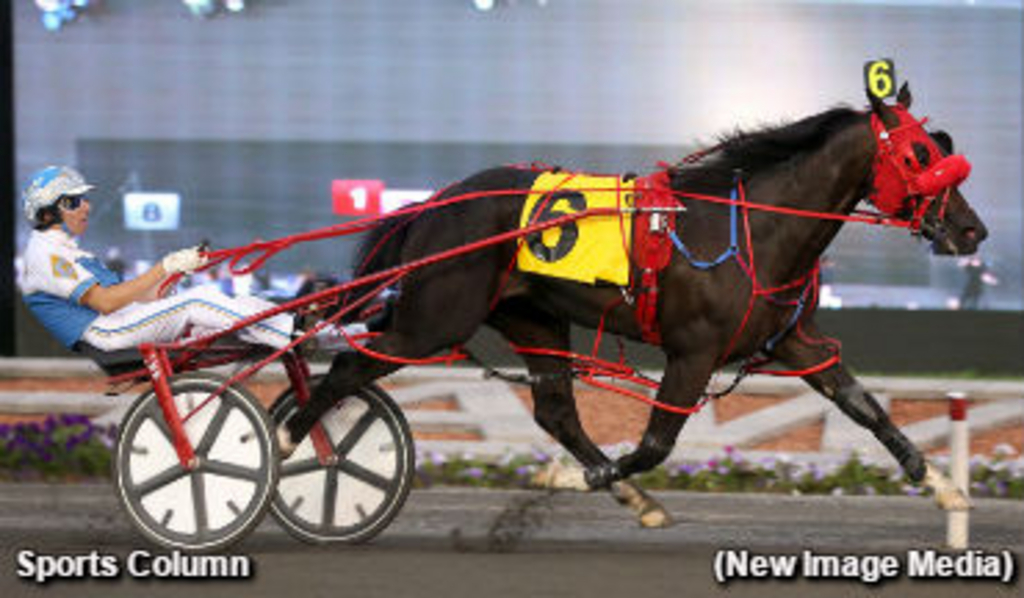 Published:
August 11, 2016 11:39 pm EDT

Two-year-olds of all shapes – and gaits – and sizes were out in full force Thursday evening at Mohawk Racetrack, as the Campbellville oval hosted OSS divisions – both Gold Series and Grassroots – in addition to the second leg of the Define The World Series.
Sports Column captured the first of two $105,000 OSS Gold Series divisions for two-year-old pacing colts and geldings, and he did so in style.
The son of Sportswriter-Lady Leslie got away fifth and sat fifth until past the opening half. Yogi Bayama, Happy Trio and Richard Hill mixed it up in the first half of the contest through panels of :27.1 and :55.2. Christoforou hit the throttle past the half with Sports Column, and the colt was up to grab a short lead while racing parked past the three-quarter pole in 1:24.3. He then used a :29-second closing quarter to win by four lengths over Yogi Bayama in 1:53.3. Manceiver was third.
Trainer Blake MacIntosh co-owns the talented youngster with Hutt Racing Stable and Daniel Plouffe. In six tries the rookie has earned four wins and a pair of second-place finishes in addition to earnings of $222,000.
Streakavana was an odds-on winner in the other division for the tandem of driver Sylvain Filion and trainer Scott McEneny. The gelding left out from Post 9 and ducked into an early four-hole while Calvin K shot to the front and chopped out the first quarter in :27.3. Streakavana rushed off the rail in the backstretch and sprinted to the lead, and once he cleared he took the field through middle splits of :56.1 and 1:25.2. A :27.4 closing quarter earned him the win by a length over Calvin K in 1:53.1. Machin A Trick was a bang-up third.
Purchased privately following his pari-mutuel debut, Streakavana is now 3-for-3 since the acquisition by partners Brad Grant and Teresa Davidson. The two-time Gold Series winner owns a 3-1-0 record from just four trips postward and his bank account stands at $117,500.
White Dancer scored in the first of four $18,000 OSS Grassroots divisions for two-year-old pacing fillies. Chris Christoforou was in no hurry with the homebred, who got away sixth and held that position through first-half fractions of :27.3 and :57.3. That speed was supplied by Dudesalady, who still held the top spot past the three-quarter pole in 1:27.3. White Dancer, who advanced to be second-over at that point, tipped off cover in the lane and powered home in :27.3 to win by a nose over Dudesalady in 1:55.4. Treasures Pearl was third.
Dustin Jones trains the daughter of Big Jim-Dancing In the Park for Emerald Highlands Farm of Mount Vernon, OH. It was the second lifetime win in four attempts for the grey miss who bumped her bankroll to $13,250 with the win.
P L Kahluaa, who recently moved into the barn of WEG's leading trainer in 2016, Richard Moreau, and she was an impressive winner in come-from-behind fashion in the debut for the new conditioner. Sylvain Filion got away fourth and held that spot while P L Kaleidoscope sliced out fractions of :26.4 and :56.1. P L Kahluaa was third and tracking cover past the three-quarter pole in 1:26.1, but when Filion fed her racetrack in the lane the filly blasted past foes and stormed home in :27.4 to win by 1-1/4 lengths over Odysseus in 1:54.2. Sports Beauty rallied to take home the show dough.
The daughter of Sportswriter-B R Dot Cam, who was a $6,000 purchase from last year's Lexington Select Yearling Sale, has now stashed away $14,784 for 9303 3868 Quebec Inc of Blainville, QC.
Daenerys Hanover was gapped off at the start in her Grassroots division, but it didn't stop her from steamrolling past rivals late en route to posting a 1:55.2 win. Paul MacDonell got away seventh with the maiden, and together they watched Amulet Seelster lay down panels of :27.4, :57.2 and 1:26.4. Daenerys Hanover moved up on cover just before the half, and when swung out late he used a :28-second closing kick to win by a neck over Sports Leader. Todays Sports rounded out the Triactor ticket.
Sent off at odds of 9-1, the Sean Mehlenbacher-trained daughter of Camluck-Dragon Moon notched her first win in two tries. John Mehlenbacher of Burlington, Ont. purchased the youngster for $12,000 from last year's Harrisburg Yearling Sale.
Shewearsthepants used come-from-behind tactics to take home the hardware in the final division for Team McNair. Trained by Gregg and driven by Doug, the daughter of Big Jim-Simply Liz got away sixth before making a big move in the backstretch on the way to the half. She was second and parked at the mid-way point in :57.4, but she motored to the lead and had a lead of more than five lengths at the three-quarter pole in 1:25.1. She built up a double-digit lead before being wrapped-up and cruising home to win by 5-3/4 lengths over Snappy Dresser in 1:55.1. Fashion Writer took home third prize.
Sent off as the 4-5 choice, the Anatolia Farm LLC's homebred notched the second win of her career while improving her overall record to 2-0-2 from five starts. She's banked more than $20,000 to date.
The second leg of the Define The World Series featured a single division worth $14,000, and Jake turned a two-hole trip into a maiden-breaking win for driver Sylvain Filion.
The Luc Blais trainee stalked stablemate AWOL Hanover through fractions of :29, :59 and 1:28.1 before popping the pocket and using a :27.4 closing quarter to gain the lead and post the win by a head over race favourite Seven And Seven in 1:56.2. AWOL Hanover faded to finish a well-beaten third.
Sent off at odds of 6-1, the son of Muscle Hill-Poster Pin Up improved his rookie record to 1-0-1 from two starts for Determination of Montreal, QC. The youngster was a $100,000 purchase from last year's Harrisburg Yearling Sale. He's the full-brother to Lookslikeachpndale (1:53.3 - $189,488), who races for the same connections.
To view results for Thursday's card of harness racing, click the following link: Thursday Results – Mohawk Racetrack.