Published:
August 1, 2012 11:16 am EDT
Over the past few weeks, more and more stories have been coming out in the mainstream media in regard to the Ontario Liberal Government's gaming modernization process pitting neighbouring municipalities against each other for potential gaming revenue. At least one MPP, Todd Smith, has had enough.
Smith chose the Belleville Intelligencer to let his disdain for the process be known to all.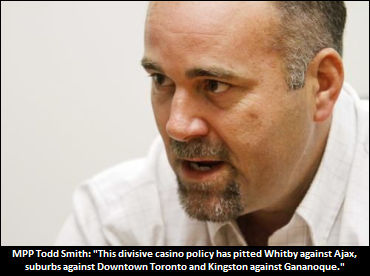 Utilizing an opinion column, Smith has called out the Ontario Liberals for signing off on a gaming application process which "has pitted communities against each other, including Belleville and Quinte West."
Smith goes on to say that "this divisive casino policy has pitted Whitby against Ajax, suburbs against Downtown Toronto and Kingston against Gananoque."
One thing that Smith does not leave out is that, while the dog-eat-dog application process is ongoing, the Ontario Liberal Government is in the process of shuttering its most profitable gaming pact to date, the highly successful and mutually beneficial slots-at-racetracks program. The cancellation of the program will directly affect in upwards of 60,000 Ontarians, who rely on the SAR Program to keep them employed and allow them to pay their taxes.
"All of them (Ontario horsepeople) are taxpayers who contribute to their local economies," Smith wrote. "I have met with dozens of them and they still can not understand why they have been ambushed by their government."
In addition to pointing out the issue on a macro level, Smith also shrank his scope to how the situation is affecting Belleville and the long-delayed Quinte Exhibition and Raceway.
Citing economic and social impact data that the municipality had to collect (since the Ontario Government didn't provide any), Smith explained that "Council (Belleville City Council) has elected to open the doors to potential casino developers. They voted to bring jobs to the city, they voted to bring investment to the city and they voted to bring revenue to the city. With the expectations of a new home for Quinte Exhibition and Raceway dissolved, council did what they believe is best for Belleville."
(With files from the Belleville Intelligencer)
Related Stories