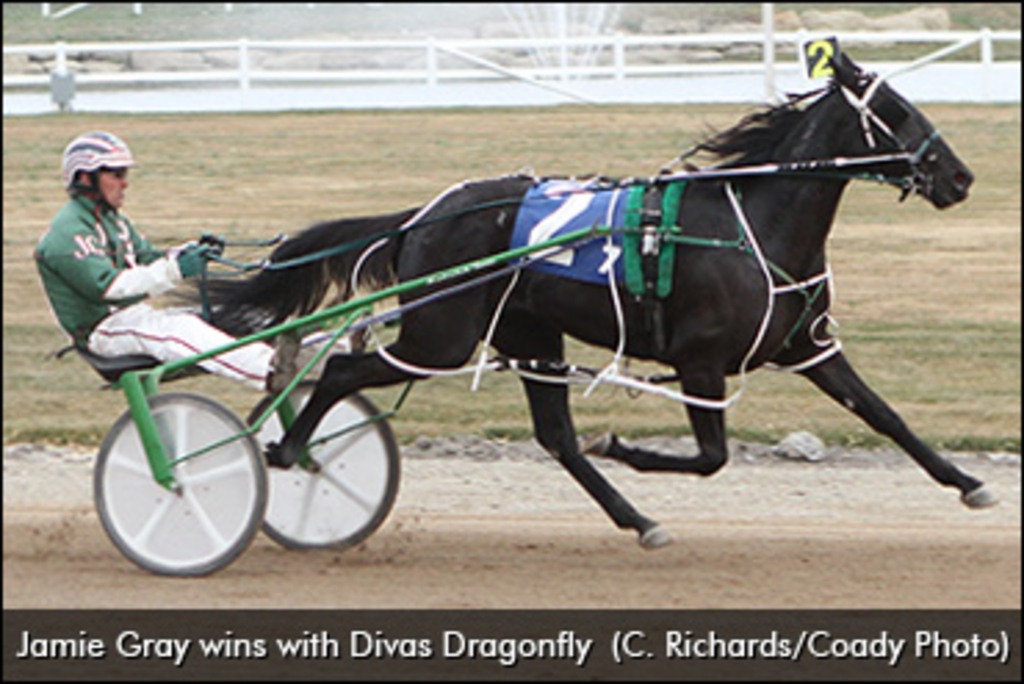 Published:
July 5, 2020 11:12 am EDT

"About six or seven years ago, I said, 'There's got to be more than life than getting up and going to work.'"
Not long after buying his first guitar and learning his first few chords, longtime Alberta horseman Jamie Gray quickly developed a knack for songwriting. And what started as something to do just for himself and the people he loves has blossomed far beyond Gray's wildest dreams.
"I walked into a music shop and I said that I wanted to play an instrument, and I had it in my mind either the piano, guitar or harmonica," Gray told Trot Insider. "And the guy goes, 'Well, let's start with the guitar.' I bought a guitar online for $100 — my daughter did, actually. I took six months of lessons from this 23-year-old kid, and after six months, I figured, 'Okay, I'm good enough now to pluck away at it.'"
While Gray's knowledge of the guitar and music theory may have been rudimentary at first, it was enough to give him an outlet to share a lifetime of stories with the people closest to him.
"I was very limited in what I could play -- I shoe all my own horses, so my fingers don't bend like they should ... I can't play barre chords. Anyway, I'm plucking away and I got an idea for writing a song, and I started building songs. I wrote three songs, and then my daughter had a child, and a line sparked. Something just came to me out of the blue and I thought, 'That'd be a good line for a song!' I wrote it down right away because I'd forget it as soon as I thought of it."
My baby girl has a baby boy

Throughout your lives, there'll be lots of joy
Those two lines ultimately grew into My Baby Girl (Has a Baby Boy), a heartfelt ballad that Gray recently had professionally recorded. Gray, a Saskatchewan native who briefly worked in Ontario for John Hayes Jr. and Dave Wall before settling near Edmonton, building a farm, and raising a family with his wife Shelley, dedicated the song to his older daughter Riley and her young son.
"It's basically the eyes of a father giving his daughter perspective of what to expect -- as much as you can put into a song -- as that boy grows," he shared. "When I finished writing it, I played it for my wife's sister and daughter, and her daughter has a 16-year-old son. When I was done playing it for them, they both were crying. And I'm like, 'What? What are you crying for?' But the song made her think of her son going to be leaving home soon. And I never even thought of that when I was writing it. All I thought about was what to expect, and when he gets old enough, let his hand go and let him become a man, you know, and don't worry, he's not going to run off."
Even the producer and lead vocalist on the song, John Johnson, found that it related to his own experiences.
"The guy who sang it said, 'I'm only 49, but I have a daughter that's 21, and I can really relate to this song,'" Gray shared.
Given that Gray's lyrics come from the heart and draw from his own experiences as a dad, husband and friend, it's no wonder that his songs have elicited such emotional responses from a growing audience of listeners. But one response to My Baby Girl stood far apart from the others.
"When I was done with (My Baby Girl), my other daughter, Brie, goes, 'Well, what about me?'" Gray recalled. "I go, 'That's fair.'"
Drawing from Brie's resilience on the rugby pitch and her progress toward becoming an addictions counsellor, Gray penned Queen of My Own Castle. And the stylistic contrast between it and My Baby Girl -- "Queen" has an decidedly edgier, grittier country rock flair -- parallels the difference between Gray's daughters perfectly.
"It actually came boom, boom, boom to me ... the lyrics came really easy after I started," Gray said, reflecting on his younger daughter's physical and mental toughness. "She played rugby for 10 years, had three knee surgeries, concussions, and still loves the game and wants to play it. I've seen her in so much pain. I said to her, 'If you were a racehorse, you'd be in the Mares Open,' because she can hold her pain in. So I started writing the lyrics about how much pain she could take -- doesn't complain about it, doesn't cry about it. She's tough. She puts her mind to something and gets it done; that's just the way it is. One thing I know about her: She gives 100 per cent."
In addition to the pair of songs available for streaming on Spotify, Gray is close to having enough material for a full-length album.
"I've got probably five more (songs) written," Gray said, reaffirming the deeply personal nature of his lyrics.
"I wrote one for Steve Wiseman," a California-based horseman who was diagnosed with cancer earlier this year but returned to the bike -- and the winner's circle -- just last month. "We just did it ourselves instead of having it professionally done," recounted Gray. "We wrote it and recorded it in the race office. I wanted to get it to him, so it wasn't as good as it could be done. It's not a sad song; it's more of an uplifting song. I sent it to his wife, Kathie, and she messaged me back that it lit up his face."
Another song, called You Said I Do, discusses marriage.
"It's not a lecture, but advice that there's more to marriage than saying 'I do' if you want it to last," Gray explained.
As Gray has grown as a songwriter, his aspirations for his songs have grown as well.
"When I initially wrote them, it was just something nice I could do for my kids," he said. "I've had them for three years, and I just got them recorded. When I played them for certain people, I was getting different reactions from everybody. Some people were like, 'That could be a good wedding song.' So after I got the songs produced, I thought, 'Man, that was really good,' and my daughter was over the moon with it. She started putting it out there -- she put it on Facebook -- and the response was incredible. And then my goal changed.
"If we got it on media enough and if somebody was to hear it -- somebody who knows somebody -- get that song to them and get them to record it. Obviously, this is the most optimistic view, but if they were to get into some high-profile hands, I would collect royalties and split them between the two daughters. That's my goal."
Whatever the end result of his music may be -- widespread air play across Canada, warm reception from the Standardbred community, or somewhere in between -- this journey is one Jamie Gray most certainly will enjoy.