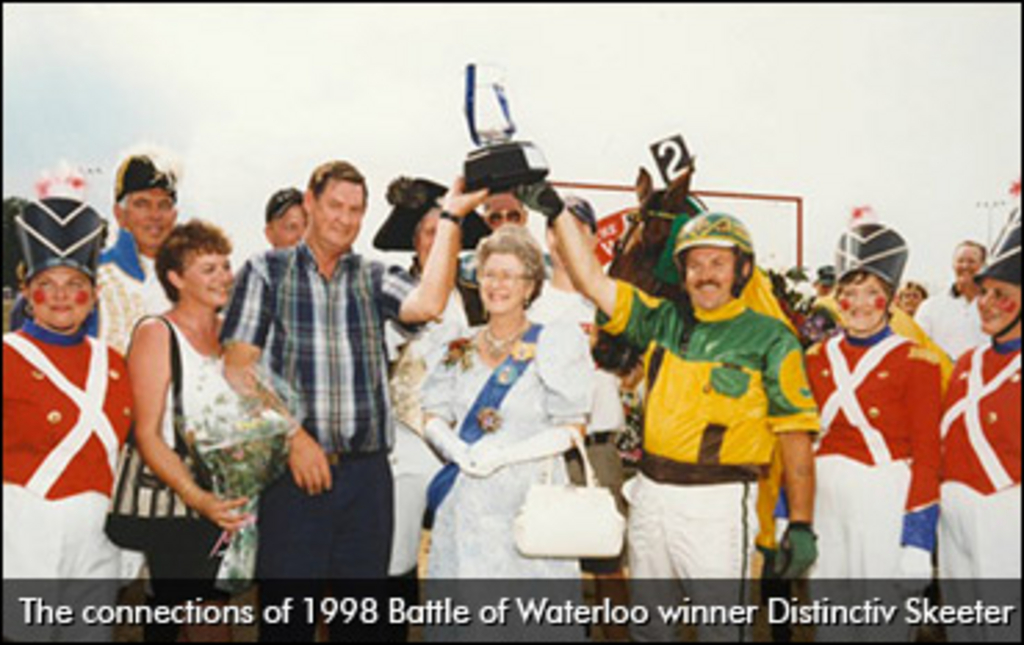 Published:
July 30, 2015 08:40 am EDT

It began on a meagre budget as a way to help a struggling racetrack build an identity. Twenty-five years later, Industry Day has grown into one of the best events on the Canadian harness racing calendar. The annual fete that has been instrumental in helping put Grand River Raceway on the map.
On Monday, Aug. 3, the Elora, Ont. track will mark the silver anniversary of Industry Day, a celebration of the business of harness racing that began in 1990 at the track's predecessor, Elmira Raceway.
Dr. Ted Clarke, general manager of Grand River Raceway, said Industry Day was the brainchild of the late Ken Middleton, Sr., Elmira Raceway's former race secretary, who "was instrumental in those early discussions."
At the time, Elmira Raceway was just three years removed from shutting down because it didn't have enough money to operate. Clarke said Industry Day would never have happened without what was then a controversial decision in January of 1990 to begin taking the simulcast signal for one race program a week from Greenwood Raceway in Toronto.
"It was the first time there had been common pool wagering in the province," Clarke said. "Greenwood sent its signal in January on Saturday afternoons. We only ran one program a week, but it was extremely successful and it changed the menu that was before us, so to speak. We had to opportunity to take some of the revenue gained from that and try to do things that would build the success of that operation. So, one of the things that came up was, 'We really need a day that identifies Elmira Raceway that can be that signature event.'"
Clarke said Industry Day, "started with a cost structure that wasn't too extravagant but depended, largely, on people who volunteered their activities."
Early Industry Days featured well-attended seminars on a variety of important industry topics. Clarke remembers breeder Jack McNiven of Killean Acres giving a talk on how to prepare yearlings for the auction ring. Trainer Doug Arthur spoke about selecting yearlings at a sale.
"At that time many people hadn't spent a lot of time associating with the best practices of the industry. In some cases, if you had a bit of an advantage in your ability to select a yearling over somebody else, it wasn't exactly knowledge that you might willingly share, because it was your advantage. So, we sort of went out on a limb a little bit and had, what I thought were pretty good, semi-educational seminars and certainly knowledge sharing," Clarke said.
In 1998, Elmira Raceway launched the Battle of Waterloo, and added it to the Industry Day celebration. The track's marquee stakes race proved to be an instant hit. It's estimated 8,000 people were at Industry Day that year to see Distinctiv Seelster and trainer/driver Carl Jamieson win the inaugural Battle.
The race for two-year-old Ontario-sired pacing colts will have its 18th edition on Aug. 3, along with a companion race for two-year-old Ontario-sired pacing fillies called the Battle of the Belles that was added to Industry Day in 2009.
Clarke said Industry Day even had an influence on the design of Grand River Raceway, which opened in 2003.
"As part of the design, there was a lot of topsoil on this site that had to be stripped when we started into the redevelopment. Rather than truck it away, we simply piled it in piles around the track and created the berms on which people now can sit and watch the races. It was, again, making use of what we had and it created a circumstance that at least for that day is the right venue," said Clarke, who was also a proponent of keeping Grand River a smaller, half-mile oval like Elmira Raceway that is more fan friendly.
In time, the seminars faded from the lineup and the Battle of Waterloo and Battle of the Belles became the main attraction to Industry Day, which has always been an afternoon card held on the Civic Holiday Monday in August. Over time, Industry Day became a family friendly day complete with a long list of activities for kids, which has proven especially popular in recent years since the Grand River Agricultural Society that owns and operates the track no longer holds a fall fair.
This year, Industry Day will feature the usual face painting, balloon artists, bouncy castles and pony rides for the kids and two backstretch beer tents for the adults. Kelly Spencer, Grand River's manager of marketing and communications, has a range of fun activities and special giveaways planned to celebrate the 25th anniversary, including $5,000 in prizes such as Callaway Golf Clubs, Kate Spade and Tony Burch purses, a barbecue and a lawn mower. This year will also mark the 11th edition of the popular Bouncy Pony Stakes where trainers and drivers race each other by bouncing down the track on inflatable ponies.
Eliminations for the two Battle races were held this past Monday, with two eliminations needed to determine the eight finalists for the $207,397 final of the Battle of Waterloo and three required to whittle the field to eight for the $140,246 final of the Battle of the Belles.
Post time is 1:30 p.m. for the 12-race Industry Day card that also features Ontario Sires Stakes Gold Series legs for three-year-old pacing fillies and a Racing Under Saddle event.
Clarke, who was part of the management team in 1990 at Elmira Raceway when Industry Day started, said he can't believe how much the harness racing industry has changed in a quarter century. Twenty-five years ago, even beaming in one card of racing a week from another track was considered controversial. Today, patrons can easily wager on horse racing from around the world by using their smart phones.
"I had a birthday [on Sunday], so I'm aware of the time that's passed," Clarke said last week. "The time has gone very quickly and I'm sure everybody else my age would say the same thing. But, it's been fun."
To view the entries for Grand River's Industry Day card, click one of the following links: Monday Entries - Grand River Raceway -- Industry Day Program Pages
(with files from OHR)