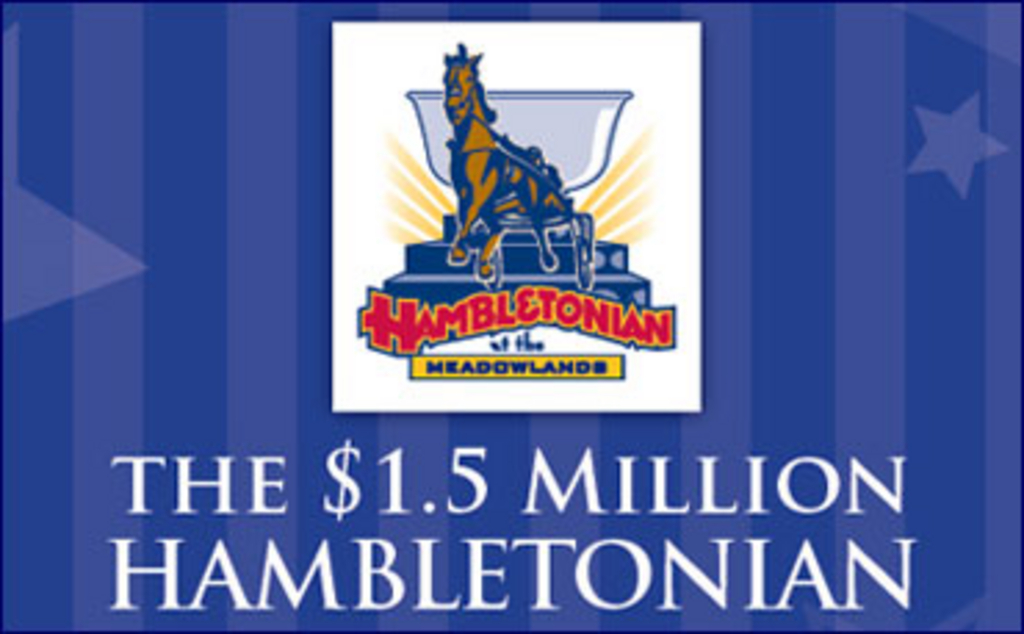 Published:
July 26, 2011 12:12 pm EDT
A total of 18 three-year-old trotting colts and geldings are now in pursuit of harness racing's greatest prize, the $1.5-million Hambletonian at the Meadowlands
Racetrack.
The contenders were drawn into a pair of $70,000 eliminations, which will be raced Saturday, July 30 at the East Rutherford, New Jersey oval. The top five finishers from each elimination will advance to the prestigious Hambletonian, which will be raced on Saturday, August 6. The connections of elimination winners will earn the right to choose their horse's post positions for the Hambletonian at a live draw, which will take place on Tuesday, August 2.
Canadian sensation Blue Porsche, Stanley Dancer Memorial winners Chapter Seven and Manofmanymissions, and 2010 Dan Patch Award winner Pastor Stephen lead the competition for a Hambletonian starting spot.
Blue Porsche is perfect in three starts this season for trainer Blair Burgess, who won the Hambletonian in 2003 with Amigo Hall and 2006 with Glidemaster, Blue Porsche's sire. Blue Porsche won the $347,000 Goodtimes Stakes at Mohawk Racetrack in his last start, thus upping his career totals to eights wins in 12 starts and $606,161 in earnings.
Chapter Seven, who drew into the first elim with Blue Porsche, made his three-year-old debut a victorious one in the Stanley Dancer Memorial on July 16. The son of Windsongs Legacy, trained by Linda Toscano, has won eight of nine career starts, including the Matron Stakes at Dover Downs last year.
Manofmanymissions, the other Stanley Dancer winner, will begin his Hambletonian quest in the second elim. Last year's Breeders Crown champion has finished first or second in three of four starts this season for trainer Erv Miller.
Jimmy Takter pupil Pastor Stephen, the 2010 divisional champion, looks to rebound from a miscue in the Dancer in the second elim as well. The otherwise-consistent son of Cantab Hall has been first or second in 15 of 17 career starts for a bankroll of $852,966.
A pair of eliminations for the $750,000 Hambletonian Oaks, the companion event for fillies, will also be contested on the July 30 card. Crys Dream, the 2010 divisional champion, and Jezzy, a winner of eight straight races this year, lead the list of 19 fillies.
First-race post time for Saturday's 12-race card is 7:00 p.m. The card will also include a $25,000 prep race for the Mistletoe Shalee for three-year-old pacing fillies. Outdoor festivities include a farmers' market, rum tasting, music by a DJ, moonbounce and giant slide.
Hambletonian
Elim. No. 1 (Race 5)
PP - Horse - Listed Driver
1 - Whit - Ti. Tetrick
2 - Big Sky Storm - R. Pierce
3 - Orlando - C. Manzi
4 - Luckycharm Hanover - D. Miller
5 - Celebrity Bombay - B. Sears
6 - Chapter Seven - M. Lachance
7 - Fawkes - Y. Gingras
8 - Broad Bahn - G. Brennan
9 - Blue Porsche - T. Ritchie
Hambletonian
Elim. No. 2 (Race 6)
PP - Horse - Listed Driver
1 - Whiskey Tax - Ti. Tetrick
2 - Magnum Kosmos - D. Palone
3 - Pastor Stephen - R. Pierce
4 - Big Rigs - Ti. Tetrick
5 - Bambino Hall - D. Palone
6 - Opening Night - B. Sears
7 - Manofmanymissions - A. Miller
8 - Charlie De Vie - Ti. Tetrick
9 - Live Jazz - Ti. Tetrick
Hambletonian Oaks
Elim. No. 1 (Race 3)
PP - Horse - Listed Driver
1 - Martiniontherocks - R. Pierce
2 - Hey Mister - B. Sears
3 - Crys Dream - L. Ouellette
4 - Sashay - Y. Gingras
5 - Lost Symbol - T. Smedshammer
6 - Intense America - Ti. Tetrick
7 - Wincinnatti - Y. Gingras
8 - Celebrity Katie - B. Miller
9 - Pantholops - A. Miller
10 - Thatsnotmyname - R. Pierce
Hambletonian Oaks
Elim. No. 2 (Race 4)
PP - Horse - Listed Driver
1 - Seducedbychocolate - D. Miller
2 - Southwind Amiga - B. Sears
3 - Cedar Dove - R. Pierce
4 - Bold And Fresh - R. Pierce
5 - Iron Lady - L. Ouellette
6 - Jezzy - Ti. Tetrick
7 - Migisi - C. Manzi
8 - Creme De Cocoa - D.R. Ackerman
9 - Lady Rainbow - R. Zeron
(Meadowlands)
Last Call For Hambletonian Charity Golf
A few slots remain for the 19th annual Hambletonian Charity Golf Tournament, Monday, August 1, at top-ranked Hackensack Golf Club in Oradell, New Jersey.
It's a rare opportunity to play one of the most elite private clubs in New Jersey as well as mingle with Hambletonian trainers, drivers, owners and breeders. Call 845-294-6330 or email [email protected] by Friday, July 29, and let John Mayo know you can play.
The tournament and gift auction, sponsored for the second consecutive year by owner Fran Azur, will benefit the Standardbred Retirement Foundation and the Harness Racing Museum and Hall of Fame. The Hambletonian week event has raised more than $1 million since its inception.
The fee is $350 per player, a tremendous value that includes greens fees and cart, locker room, range, lunch, cocktail hour, premium gift bag, dinner and on-course contests.
The cocktail and dinner portion of the evening, always one of the best parties of Hambletonian week, is open to all. For a mere $50, non-golfers can partake of Hackensack's exceptional dinner buffet and lavish cocktail hour, which includes the raffle and live auction. Cocktails commence immediately after the tournament at approximately 6:00 p.m. (EDT).
Registration will begin at 10:30 a.m. and the practice range and putting green will be open. The day will start with lunch at 11:00 a.m., and tournament play will begin with a shotgun start at 12:30 p.m. The format is a scramble. Prizes will be awarded to the top three winning teams, one randomly-drawn team and the Most Honest Score team. Contests include longest drive for men and women, closest to pin for men and women, closest to the line, and on the green 50/50.