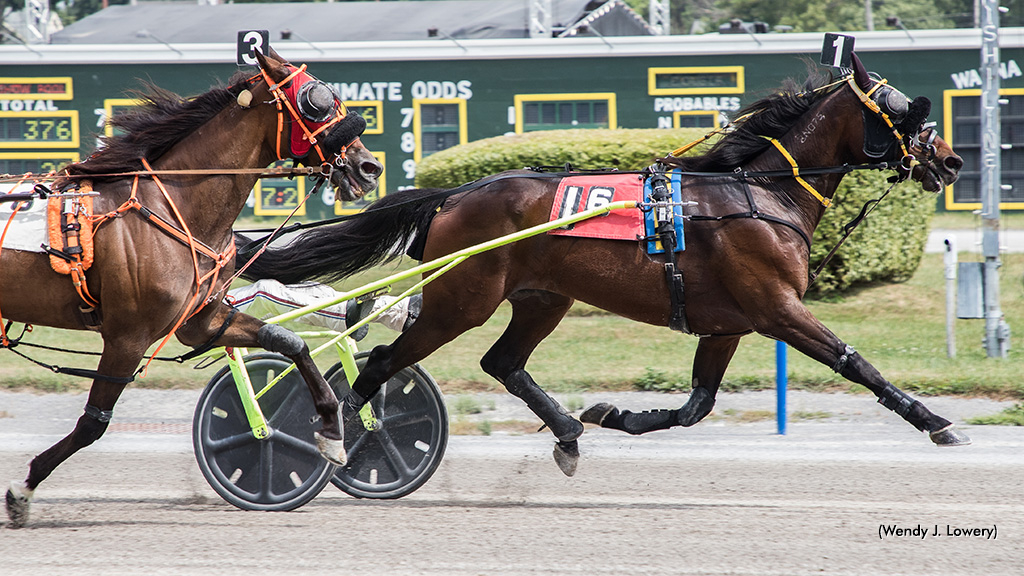 Published:
July 24, 2022 08:38 pm EDT
Over the years, Keystone Apache has done some of his best work at Batavia Downs and proof positive came after he went the distance in his 2022 homecoming to capture the $15,000 Open I Handicap Trot at Batavia Downs on Sunday afternoon (July 24).
Jim Morrill Jr. held position from his post-1 start and had a 2-1/4-length lead at the half as no one was pulling right lines. When they headed into turn three, Lougazi was out rolling first over from fifth but still was four lengths off the leader. Keystone Apache had amassed a three-length lead by the top of the lane and Morrill was wrapping him up. And despite a gallant late chase from Lougazi, the fleet-footed Keystone Apache was home clear by three-quarter lengths in 1:56. 
It was the fifth win of the year for Keystone Apache who is coming off a very successful meet at Oak Grove in Kentucky. Vogel & Was Nags and Team Rice Racing own the Maria Rice trained trotter. He paid $3.30 to win.
In the $14,000 Open II Handicap Trot, co-favourites Franks Watching and Inquiring Mind both left with the latter grabbing the lead at the quarter in a tepid :29. Morrill continued to grab leather on Inquiring Mind and backed the half to a mere 1:00.1 with Franks Watching on his back, laying in wait. All positions remained unchanged up the backside, into the last turn and to the head of the stretch where Franks Watching slipped into the passing lane and out-dueled Inquiring Mind to the line won by a nose in 1:59.2. 
Franks Watching is owned by Mary Warriner and is trained by Ryan Swift. Ray Fisher Jr. drove the $3.80 winner.
Driver Kevin Cummings had a big day on Sunday, scoring a grand slam during the afternoon. He won with Alexander Hanover (2:00.3, $5.80) and Freaky Flyer (2:00.1, $3.40), both of which were trained by the day's leading conditioner Rose Russo, along with Jumpininthejailhouse (1:58.3, $3.50) and Pennant Seelster (2:00.2, $33.40) to round out the four-pack. 
Live racing resumes at Batavia Downs on Wednesday (July 27) with post time at 6 p.m. Free full past performance race programs for all live race days can be downloaded by visiting the track's website and clicking the "Live Racing" tab.
(Batavia Downs)