Published:
July 24, 2012 10:55 am EDT
Baymount Incorporated, the company that had planned to build a new racetrack in Belleville, Ontario, has announced that it has rejected an offer by the Ontario Lottery and Gaming Corporation and is considering litigation.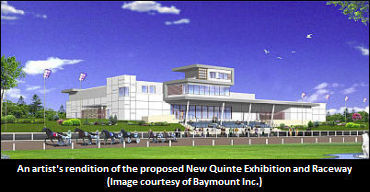 Baymount had previously announced on May 4, 2012 that its wholly-owned subsidiary, Belleville Racetrack Development Corporation ('BRDC'), had received a formal notice of termination of its Site Holder Agreement (originally executed on October 23, 2006) with the Ontario Lottery and Gaming Corporation.
The Government of Ontario and the OLG announced earlier this year a significant change to the provincial gaming policy with the elimination of the 'Slots-at-Racetracks' program. This change is part of a larger modernization plan for lottery and gaming in the province of Ontario. This modernization also includes a planned Casino for the Quinte West/Belleville area, which would effectively replace the planned Racetrack and Slots facility that was being developed by BRDC.
In the termination letter received by BRDC, the OLG suggested the parties meet to discuss the relevant financial considerations pursuant to the Site Holder Agreement. In the meantime, the Company has prepared an outline of the costs incurred, excluding land costs, and has submitted this to the OLG in advance of a meeting for discussion purposes. OLG formally responded by letter to the Company on Friday, July 20 with a proposal that was far below the Company's costs incurred on this project. The Site Holder Agreement calls for mediation as the first step to a resolution of any disputes. The Company plans to pursue mediation while also evaluating potential litigation against OLG and others.
The OLG's proposal that the Company not receive adequate compensation or significant recouping of expenses is unacceptable, and the Company will take all necessary steps to resolve this situation in the best interests of its Stakeholders.
In 2004, BRDC entered into an agreement with the Belleville Agricultural Society to build a facility to relocate the Quinte Exhibition and Raceway ('QER') in Belleville, Ontario. QER was one of the 18 racetrack licenses in Ontario eligible to participate in Ontario's 'Slots-at-Racetracks' program. With the cancellation of the 'Slots-at-Racetracks' program and the termination of BRDC's Site Holder Agreement with OLG, the Company will need to fully reevaluate its current business plans and will pursue all available legal recourse against the OLG and others to protect the interest of its Stakeholders.
(Baymount Inc.)