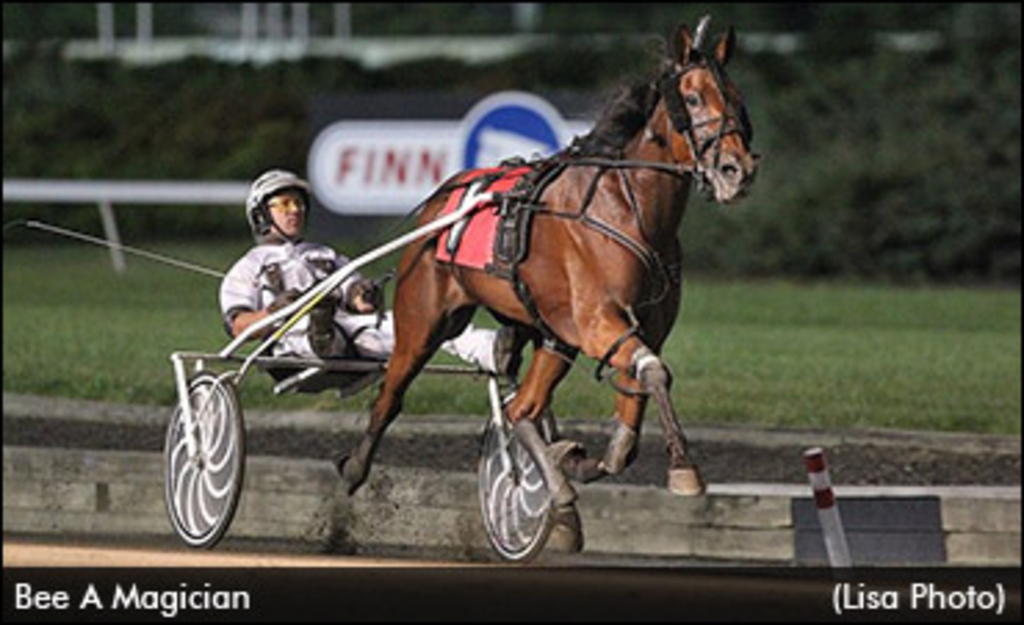 Published:
July 21, 2013 11:52 am EDT

Trainer Nifty Norman thinks Bee A Magician can conjure more spellbinding miles, but if she does it will not happen in the upcoming Hambletonian Stakes.
Bee A Magician, who on July 13 trotted the fastest mile ever for a three-year-old filly by winning the Delvin Miller Memorial in 1:51, will bypass the $1.2 million Hambletonian on Aug. 3 at the Meadowlands Racetrack in favor of the Hambletonian Oaks.
The $500,000 Hambletonian Oaks is restricted to three-year-old fillies and features eliminations on July 27 followed by the final on Aug. 3. The Hambletonian, open to any three-year-old trotter, for the first time since 1996 will be contested all on one day, with elims and the final on Aug. 3.
Bee A Magician has won all seven of her starts this year and earned more than $516,000 for owners Melvin Hartman, Herb Liverman and David McDuffee. For her career, the daughter of Kadabra-Beehive has won 17 of 20 races and banked $1.27 million.
"We've pretty much made up our mind," Norman said this week. "We had the plan and we're going to stick to going in the Oaks and race her against her own kind. We just feel that going two heats against the boys might be too much. You get a day like this where it's a hundred-odd degrees and it might be too tough.
"All the owners are on board with it. We just feel that we have to protect the horse as much as possible. I actually think the fillies might be tougher than the colts, but it's more the two-heats factor than the opposition."
If the Hambletonian were to be raced with eliminations one weekend followed by the final on the next weekend, Bee A Magician probably would have faced the boys.
"I think if it had been the old format we almost definitely would have tried the Hambletonian," Norman said. "That would be my take."
Bee A Magician has also won the Elegantimage this season and last year captured the Peaceful Way Stakes and Ontario Sire Stakes championship.
She won the Miller Memorial by 4-1/2 lengths over Frau Blucher to lower the world record for three-year-old filly trotters, which was previously held by Check Me Out at 1:51.2.
"The last performance was obviously her best," Norman said. "Even I was surprised. She's a good horse, but that was phenomenal. I don't think that's a (one-time thing); I think we'll see more of that. She acted like she was a little short after that mile and I think she actually might improve off of that."
In the current SC web poll, we ask where you would race Bee A Magician if you owned her. Bee A Magician: Hambo Or Oaks?.
---
This story courtesy of Harness Racing Communications, a division of the U.S. Trotting Association. For more information, visit www.ustrotting.com.