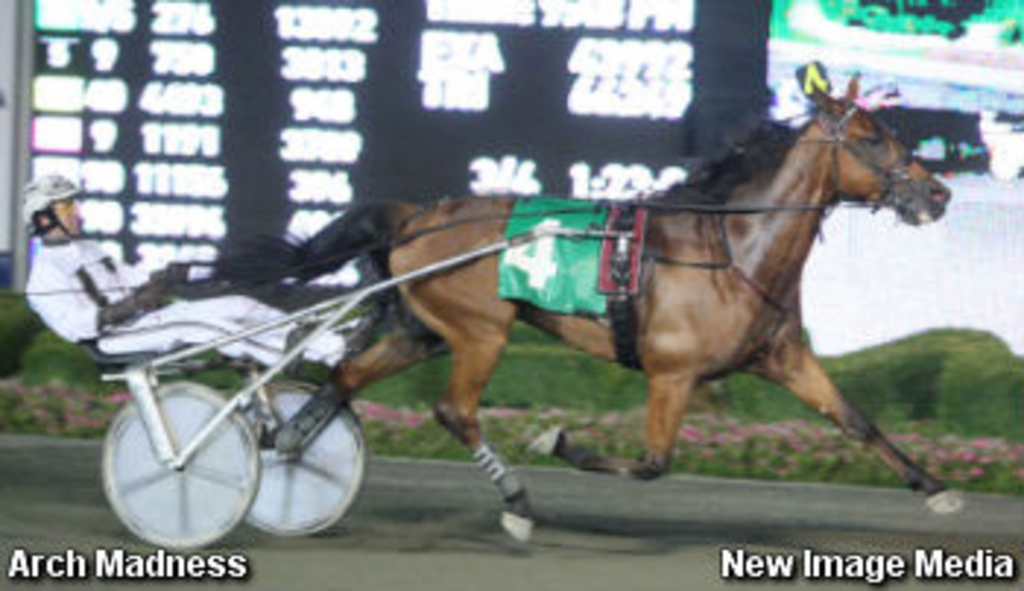 Published:
July 21, 2009 08:28 pm EDT
He has won the Breeders' Crown and been honoured twice in a row as Canada's top three-year-old trotter and
older trotter (2007 and 2008). Last year, his triumphs included capturing the $728,600 Maple Leaf Trot at Mohawk racetrack, by two and a half lengths over Enough Talk and Armbro Chronicle.
But so far this year, the million-dollar gelding named Arch Madness has been struggling to regain his prior form, while trainer Trond Smedshammer has struggled to put his finger on what has been bothering the superstar.
"He's had a couple of decent races this year, but on the whole he hasn't been performing as we expected," says Smedshammer. "We've 'scoped him and scoped him and there has been nothing really obvious. So finally we did a BAL (bronchial alveolar lavage, a veterinary technique which analyzes fluid rinsed from the deeper tissues of the respiratory tract) and it showed some minor issues, even though the scopes were clean. I put him on Lasix and raced him twice on it, and there does seem to be some improvement, so we'll keep him on it for now."
Arch Madness showed definite signs that he's on the road back to superstardom last weekend, in the third of three $50,000 eliminations for the 2009 edition of the Maple Leaf Trot, coming up on July 25. Guided from off the pace by Smedshammer, he powered through a :26.4 closing panel to seal the deal by a head over Jimmy Takter trainee, In Focus, in 1:53.4.
At the time, Smedshammer commented, "He's been on the front end enough, this horse, and he hasn't been quite himself, so we decided to race him from off the pace and try to get his confidence back."
Getting Arch Madness to play the waiting game isn't easy, he added, but it paid dividends in the form of earning the privilege of selecting the post position for the $720,500 final. With post position three firmly in his grasp, Arch Madness' pilot will have plenty of options come Saturday night.
Just who that pilot will be is still a bit up in the air. Though Smedshammer took the lines into his own hands on July 18, he's not certain whether he'll be doing so in the MLT final.
"I told Brian Sears he had the drive if he wanted it, but I haven't heard back from him as of Tuesday, so I'm not sure what will happen yet."
Either way, Arch Madness will probably deliver some good clues as to how he is feeling by his degree of good behaviour (or lack thereof). Known as a bit of a holy terror when he was younger, the five-year-old son of Balanced Image has developed an exemplary set of manners as he has matured, according to Smedshammer – but when things don't feel quite right, Arch Madness' attitude tends to revert to his previous bad boy days.
"He was really quite stupid at three," Smedshammer recalls, "But by the end of the season (he was) much better mannered. It's been kind of a pattern. This spring in the Classic final (June 13 at Mohawk) he was an absolute lunatic, trying to run off with David Miller in the post parade and again in the warm-up. We were lucky to get third that night. But he's regaining his manners now. He was very much down to business last week for the Maple Leaf Trot elims, and that seems to mean he's beginning to get back on his game.
Though Arch Madness was sent postward in the elims as the 9-5 favourite in his grouping, he may not find himself the favourite for the final. He'll be up against nine of the finest trotting horses on this continent and overseas – though Smedshammer isn't particularly worried about the Swedish invader, Triton Sund, who was second in his elimination to Sakic Seelster and is coming off a victory in the 160,000 Euro Copenhagen Cup.
"The horse to beat is the one I used to have, Lucky Jim," he speculates. "He has been a monster this year. The other one I think we have to worry about is the Canadian horse, San Pail. He kept the pressure on Lucky Jim all the way to the wire and I think he'll be a threat again on Saturday. But if Arch Madness is feeling good, he should be able to beat all of those horses.
"We're looking forward to seeing how he feels, and very excited about the prospect that he's getting back to being on his game."
The Maple Leaf Trot is the marquee event on a stakes-studded July 25 card at Mohawk, which also includes the $360,700 Armbro Flight stakes, for trotting mares, the $373,600 Roses Are Red Stakes for pacing mares and four Canadian Breeders Championships for three-year-olds.
(WEG)
To view Saturday's harness racing entries, click here.