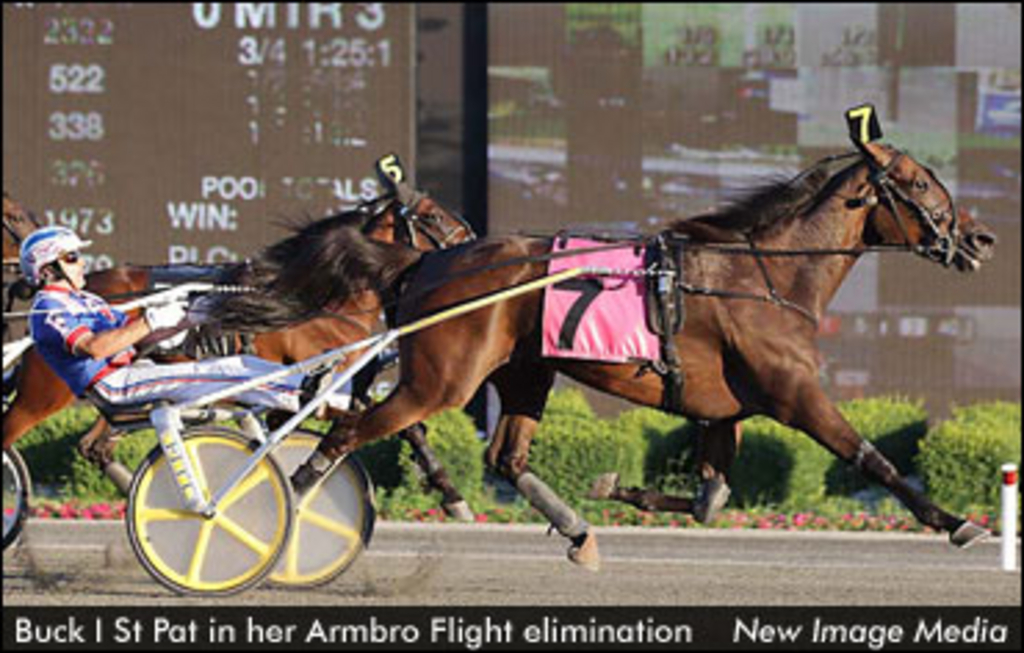 Published:
July 20, 2011 11:43 pm EDT
Ron Burke believes less is more when it comes to Buck I St Pat. So after watching the eight-year-old trotting mare knock heads with the boys through the early part of this season, the trainer plans to point Buck I St Pat toward stakes races against the ladies the rest of the way
.
Buck I St Pat made her first foray of the year into the division a victorious one by winning her elimination race for Saturday's $349,000 Armbro Flight at Mohawk Racetrack in Ontario. Buck I St Pat won last season's Armbro Flight in a stakes-record 1:52.
"I'm sure she appreciated getting to race against the mares again," Burke said. "She's maybe a step below what we've been facing. She went out (in her elimination) and did what we thought she would."
Driven by Sylvain Filion, Buck I St Pat won her $50,000 Armbro Flight elim by one length over Action-Broadway in 1:52.4. It was the mare's first triumph of the season. She was second in both the $200,000 Cutler Memorial and the $150,000 Maxie Lee.
For the year, Buck I St Pat has earned $127,300 in eight races. For her career, she has won 50 of 99 starts and banked $2.2 million for owners Howard Taylor, Edwin Gold, Abraham Basen and Ron Fuller. She has won the Dan Patch Award as best trotting mare each of the last three years; only Moni Maker (1997-2000) and Fresh Yankee (1969-1972) have won four-in-a-row.
"I don't mind (racing against males) once in a while, but we did it seven starts in a row," Burke said. "I think she might go against the boys one more time, but we're going to concentrate on staying in her class and finishing up the year strong.
"She's had some little things with her throat aggravating her. It's something she's battled the last three or four years. I'm going to start cutting back her starts and focus on the big money races against the mares and not race her much more than that. I've always said she's more like a Thoroughbred than any horse I've had. The gaps (between races) usually make her sharper."
The Armbro Flight is the first major stakes event of the campaign for the trotting mares. The $100,000 Perretti Matchmaker, the newly named $200,000 Muscle Hill (formerly Conway Hall), $100,000 Miss Versatility Series final, $85,000 Allerage and $250,000 Breeders Crown remain on the schedule.
Buck I St Pat will start the Armbro Flight from post four with regular driver Tim Tetrick. Miss Dangles, who won the other elim by a half-length over Frosty Flirt in 1:53.1, begins from post three.
---
This story courtesy of Harness Racing Communications, a division of the U.S. Trotting Association. For more information, visit www.ustrotting.com.