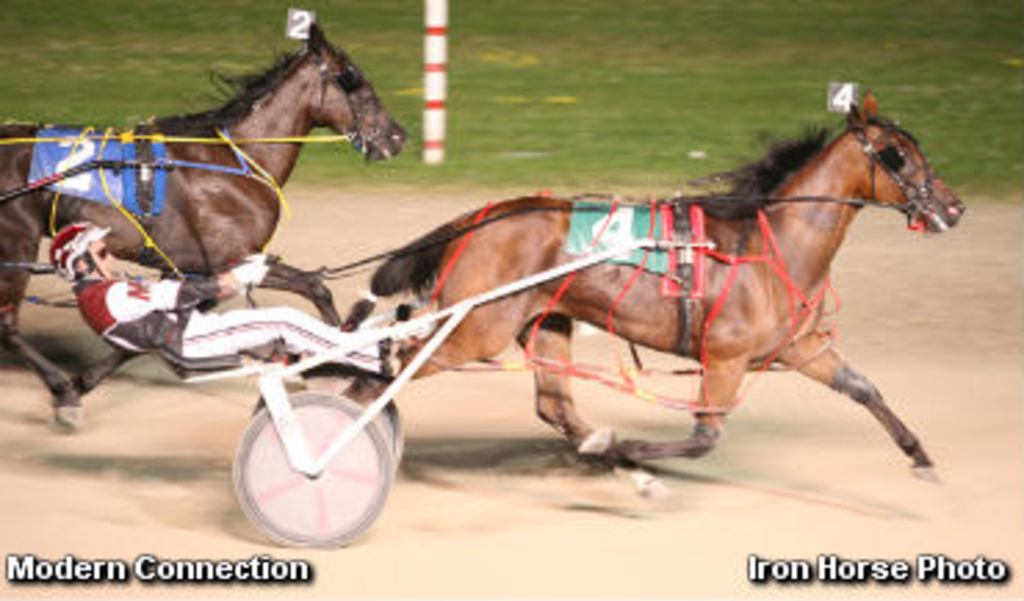 Published:
July 13, 2010 01:03 am EDT
Modern Connection celebrated the biggest payday of her career on Monday evening thanks to a sparkling score in the $130,000 Ontario Sires Stakes Gold Series Final for two-year-old pacing fillies
at Grand River Raceway.
The daughter of Modern Art-Cambest Connection, who was a 1:56.4 winner in her debut during last week's elimination round, took more than a full second off her career record when she smoked over the half-mile oval in 1:55.3 for driver Doug McNair.
Modern Connection settled into the four hole in the early part of the mile while Montenegro (Mike Saftic) rolled the field the to the quarter pole in :28.1. Race favourite Lyons Carrie (Jody Jamieson) failed to survive the first turn. She was driven off her feet in a bid to gain the pocket spot and wound up playing a big game up catch up for the rest of the mile.
Montenegro stepped through the second quarter in :29.4, which put her at the mid-way point in :58. Shipps Xanadu (Randy Waples) was positioned in the two-hole with Modern Connection a first-over third going into the paddock turn. Shipps Xanadu started to gap from the leader as the field moved into the backstretch, and that afforded McNair the luxury of dropping his charge into the garden spot.
Montenegro still had the ball in her court at the three-quarter pole in 1:26.1, with Modern Connection tailgating on her bumper. McNair popped off the pylons with Modern Connection as the field neared the head of the lane, and she used a :28.4 closing kick to post the one-length score over Montenegro in 1:55.3. Shipps Xanadu, who was beaten five lengths, finished third.
Joe Seekman conditions the youngster, who has picked up cheques totaling $85,000 for Michigan partners Yousif S Yousif of Chesterfield and Ameer Najor of Detroit. The filly is eligible to Grand River Raceway's marquee race for Ontario Sired Two-Year-Old Pacing Fillies, the Battle Of The Belles. That event, which is the filly companion race to the Battle Of Waterloo, will be contested on Industry Day on Monday, August 2.
To view Monday's results, click here.