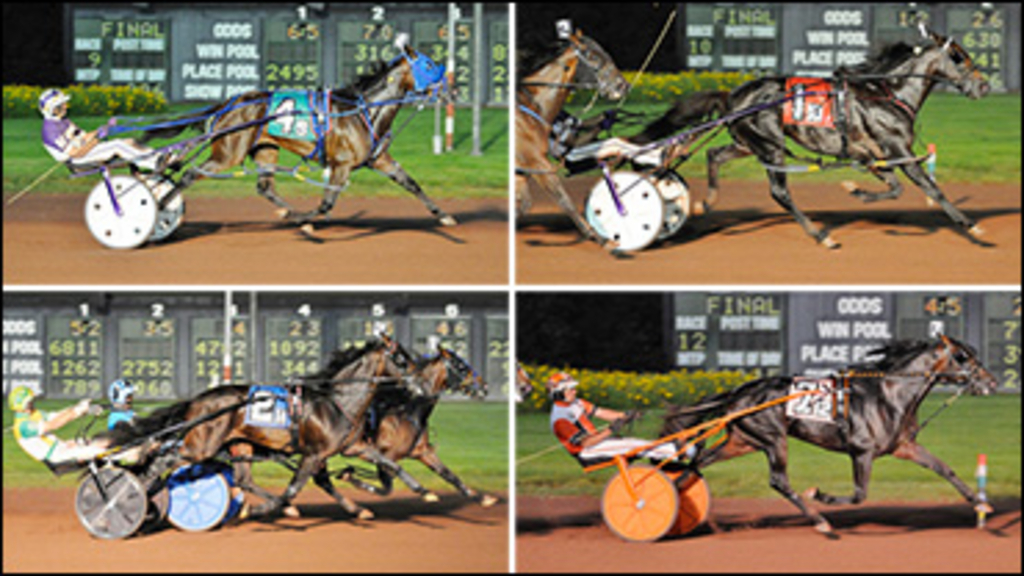 Published:
July 1, 2017 08:50 pm EDT

The $2 million Sun Stakes Saturday card at The Downs at Mohegan Sun Pocono featured brilliant performances by stars Agent Q, Fear The Dragon, Keystone Velocity and Devious Man.
In the first of the big four finals, Agent Q overpowered her three-year-old pacing filly foes to win the $300,000 James M. Lynch Memorial for driver David Miller and trainer Aaron Lambert.
Miller sent the Western Terror-Teenage Paige filly first-up after Idyllic Beach (Yannick Gingras) took command at the :26.1 quarter pole and progressed through middle splits of :55.2 and 1:23.1 to move up on even terms with that foe. Agent Q swept by Idyllic Beach turning for home and drew off by three lengths to win in a career-best time of 1:51 flat. Early leavers Caviart Ally (Andrew McCarthy), at 196-1, and Brazuca (Corey Callahan) finished second and third, respectively, while Bettors Up (Doug McNair) was fourth after tracking the winner's cover.
"I expected there to be some leavers," said Miller in a post-race interview. "In the first turn, we were going too hard to try to retake and my mare is pretty game so I took my shot coming first-up with her. She is very sharp right now."
One of three elimination winners, Agent Q was sent postward as the 8-5 second choice. Favourite Tequila Monday finished eighth.
Agent Q now boasts seven first-place finishes and nine runner-up efforts from 17 career starts. She has banked $788,230 lifetime for owners Martin Scharf, Rochetti Cassar Racing and Robert Muscara.
In the $50,000 Lynch consolation earlier on the card, favourite Roaring To Go and Brett Miller made a big move on the backstretch and opened up a quick four-length lead turning for home, but YS Tallia ($8.20) moved out late to steal the glory in a career-best 1:51.4 performance for owner/breeder Yves Sarrazin of La Presentation, Que. Simon Allard drove the Western Ideal-Bolero Tallie filly, who is trained by his brother Rene Allard. Risky Romance (Andrew McCarthy) finished two lengths behind in third.
David Miller earned back-to-back stakes wins as he worked out a perfect second-over trip aboard 1-2 favourite Fear The Dragon in the $500,000 Max C. Hempt Memorial for three-year-old pacing colts.
Brian Brown trains the Dragon Again-Armbro Cinnamon colt, who went over the million-dollar mark in career earnings for owner Emerald Highlands Farm.
There was a three-across battle for the lead off the gate with Fear The Dragon's stablemate Downbytheseaside (Brian Sears) parked from post eight and forging ahead at the :25.4 quarter mark over fellow elimination winner Santafes Coach (Anthony Napolitano) and Boogie Shuffle (Scott Zeron).
The other elimination winner, Miso Fast (Matt Kakaley), then made his move from fourth with Fear The Dragon tracking his cover from fifth. Downbytheseaside continued to lead the way past the half in :55.1 with Miso Fast applying pressure alongside down the backstretch to three-quarters in 1:22.1.
Miso Fast began to edge ahead into the final turn while Fear The Dragon fanned three-wide and then blazed by down the stretch for the 1:49.3 victory. Funknwaffles (Corey Callahan) chased 'The Dragon' home and finished to his outside three-quarters of a length behind. Donttellmeagain (Tim Tetrick) came on for third ahead of Miso Fast and Downbytheseaside.
"He loves to come from behind and David had his choice of where he wanted to land, and he landed in the perfect spot," said Brown after the race. "The speed hasn't been great tonight and when my other horse gets parked a quarter in :25.4 that was enough to do him in and pretty much set the whole thing up for Fear The Dragon."
North America Cup champion Fear The Dragon rebounded from his elimination loss to Miso Fast and is now seven-for-eight on the year. Lifetime, he boasts victories in 12 of his 19 races.
Brown said Fear The Dragon will likely have the next two weeks off, with the Adios being his next stakes engagement (eliminations July 22 at The Meadows).
In the $75,000 Hempt consolation, 6-5 favourite Heavens Gait and David Miller went first-up on the clubhouse turn and swept to command down the backstretch ahead of eventual third-place finisher Summer Side (Tim Tetrick) before holding off Every Way Out (Brian Sears) by a neck in 1:50.4. John Cummins owns and bred the Rock N Roll Heaven-Booya Beach colt while Nicholas Devita handles the training duties.
Keystone Velocity collared Mel Mara in a thrilling stretch drive for the 1:49.1 victory in the $500,000 Ben Franklin for free-for-all pacers. The battle of the elimination winners ended with the pair separated by just a head.
Nine-year-old pacer Keystone Velocity also reached the million-dollar earnings milestone and provided the Allard brothers -- driver Simon and trainer Rene -- with their biggest victory.
With Shamballa scratched sick, Boston Red Rocks (Brett Miller) was the outside leaver from post eight and he charged across the track to take the lead into a :26.1 first quarter. However, his lead was short-lived as insiders Keystone Velocity and then favoured Mel Mara (Corey Callahan) swept by.
Mel Mara carved out middle fractions of :54.1 and 1:22 with All Bets off (Matt Kakaley) advancing first-over followed by Rockin Ron (Yannick Gingras) and Dealt A Winner (David Miller), the other elim winner.
Mel Mara was still one length clear on top turning for home, but Keystone Velocity dove inside down the stretch and gained with every stride to snatch the victory from his rival. All Bets Off finished more than three lengths behind in third.
In a tribute to the late Quebec horseman Herve Filion, who was honoured earlier in the night at Pocono with a memorial race, Simon rode back to the winner's circle after his Franklin win standing in the sulky while revealing a 'Super Man' logo underneath his driving colours.
"This horse makes me pretty comfortable because he can race either way, he's such a nice horse," said Simon. "I didn't like the third quarter, I didn't know if I was going to get him, but 'Keystone' has been a great horse his whole life. When he has a target, he just says 'I'm doing it.'
"I used to talk to [Herve Filion] on the phone once in a while and he told me, 'Kid, don't worry about it, just drive your drive'...He said 'just do it'...so tonight I just did it."
Keystone Velocity earned his fourth straight victory and 25th lifetime. The son of Western Hanover and Venus Killean is owned by Allard Racing Inc. of Saint-Esprit, Que. and New York partners Kapildeo Singh and VIP Internet Stable LLC.
The $75,000 Franklin consolation was won by Lyons Snyder (Scott Zeron), who pounced from the pocket for the 30-1 upset defeating pacesetter Luck Be Withyou (George Napolitano Jr.) in 1:49.2 by one and a quarter lengths. Rockeyed Optimist (Andy Miller) finished third after his first-over journey. Trained by Jimmy Takter and owned by New York's Jeffrey Snyder and Geoffrey Lyons Mound of Brantford, Ont., the four-year-old son of Well Said followed in the two-hole through hot fractions of :25.4, :54.2 and 1:21.2 before launching his attack in the stretch.
Devious Man pulled off a 15-1 upset victory in the $500,000 Earl Beal Jr. Memorial for three-year-old trotters as he shot through along the pylons to win by one and a quarter lengths in 1:52.4 over favourites Long Tom and the filly Ariana G.
Campaigned by the husband and wife, driving and training team of Andy and Julie Miller, the Credit Winner-Miss Garland colt brushed to command during the :27.1 first quarter then ceded the lead to elimination winner Long Tom (Tim Tetrick).
The Empire Breeders Classic champion followed in the pocket through middle panels of :56.1 and 1:24.1 while Ariana G (Yannick Gingras), the first filly to contest the Beal in the race's seven-year history, took her shot and advanced from fifth.
With the pressure mounting turning for home, Long Tom trotted on pulling clear of Ariana G, but Devious Man ultimately persevered inside by one and a quarter lengths. Long Tom held second and Ariana G finished third.
"I worked out the trip I wanted; I left the gate a little and he crossed over to the front and then Timmy moved and I got to let him go just before the half and sat on his back until the open stretch," said Miller. "He's really fast off of cover and he enjoyed the trip I gave him.
"He raced good a couple weeks ago in the Empire Breeders and he's just a super nice horse."
Devious Man is now four-for-five on the year with his only loss a head defeat in his Beal elimination last week behind double-digit upsetter Perfect Spirit, who finished fourth in the final. He now boasts 11 career wins in 17 starts and earnings totalling $911,643 for his New Jersey connections, Stroy Inc. and Andy Miller Stable Inc.
The $75,000 Beal consolation ended in a 45-1 shocker as the Donato Hanover colt Backstage Pass and driver Tim Tetrick rallied home from the backfield to prevail by a nose in a career-best 1:55 mile for trainer Mike Simons and owner Jessica Smith. Pressured throughout, the popular race leader Muscles Jared (Brian Sears) kept a resurgent Giveitgasandgo (Corey Callahan) at bay to hang on for the second-place honours.
Saturday's undercard also featured the $25,000 Herve Filion Memorial Winners Over Pace, with all drivers parading in the colours of the late Canadian Hall of Famer in his memory prior to the race won by Scott Rocks ($16.40) and driver George Napolitano Jr. The seven-year-old Rocknroll Hanover gelding is owned by Susan Oakes and Chuck Pompey. The Chris Oakes-trained Scott Rocks followed the move of Major Uptrend (Tony Morgan), who retook the lead on the backstretch, and then paced by in front of the grandstand to score his third win in a row in 1:50.1. Mister Daytona N (Andrew McCarthy) finished second ahead of Major Uptrend.