Published:
July 1, 2013 11:39 am EDT

This is our seventh feature profiling our Heart of Harness Racing calendar photographers.
July's photo of Dalhousie Dave at Classy Lane Training Centre in Puslinch, Ontario was taken by Kendra Bogle of Milton, Ontario. Kendra is a groom for the Tony O'Sullivan Stable.
"I take my camera every where I go now," explains Bogle. "That is how I got that shot of Dalhousie Dave. It was mid way through the morning at work, and I look out my door to the paddock across from where I was and there he is standing so perfect. So I ran out and took his photograph."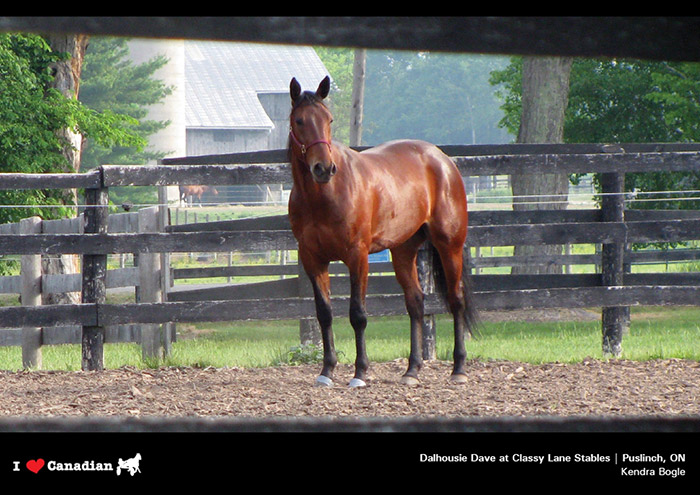 Kendra has always been involved in art, from painting and sketching, to sculpting and photography. She took photography classes in high school back when you had to develop the photos in a dark room. "I fell in love with how a photograph can capture a moment or how the light hits an object a certain way. I didn't get too serious about it again until a couple years ago when my parents bought me a camera for Christmas. It was a Canon Powershot. I started taking pictures and after posting them on Facebook and seeing people's responses to them I have gotten more involved since. It was actually Heather O'Sullivan who pointed out that I should send the photo in for the calendar."
Kendra has been involved in harness racing for the last 10 years, but has been around horses since she was three when her Aunt Pat (Cater) sat her on her world champion trail horse, Leo Sands, for the first time. Kendra says she has been hooked ever since. She started riding lessons when she was 10 and still rides and owns a quarter horse.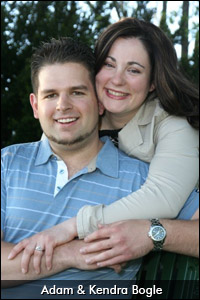 The riding led her to racing. "I was working for a trainer Kris Simpson, and she lived beside Ron Waples. They needed a groom and I was interested. Ron Waples taught me a lot about harness horses. I worked there for six months before I went to go work for Cal Campbell. I also worked for Jonas Stuztman and now I work for Tony O'Sullivan." Kendra explained. "I love my horses I work with. There are always a few horses that stick out when I think about the ones I have worked on - Jessica Joy while I worked for Cal Campbell. And quite a few since I have worked at Tony's - Blissful Smile, Classic Rock N Roll, and Sing For Me George are just a few of my favourites."
When Kendra finishes her work at the O'Sullivan Stable, she heads straight to the riding barn to "play" with her own horse, EPR Ironman who she has nicknamed Scooter.
Horses are a major and permanent part of Kendra's life...whether she's at work or during her personal time, she surrounds herself with horses and she wouldn't want it any other way.