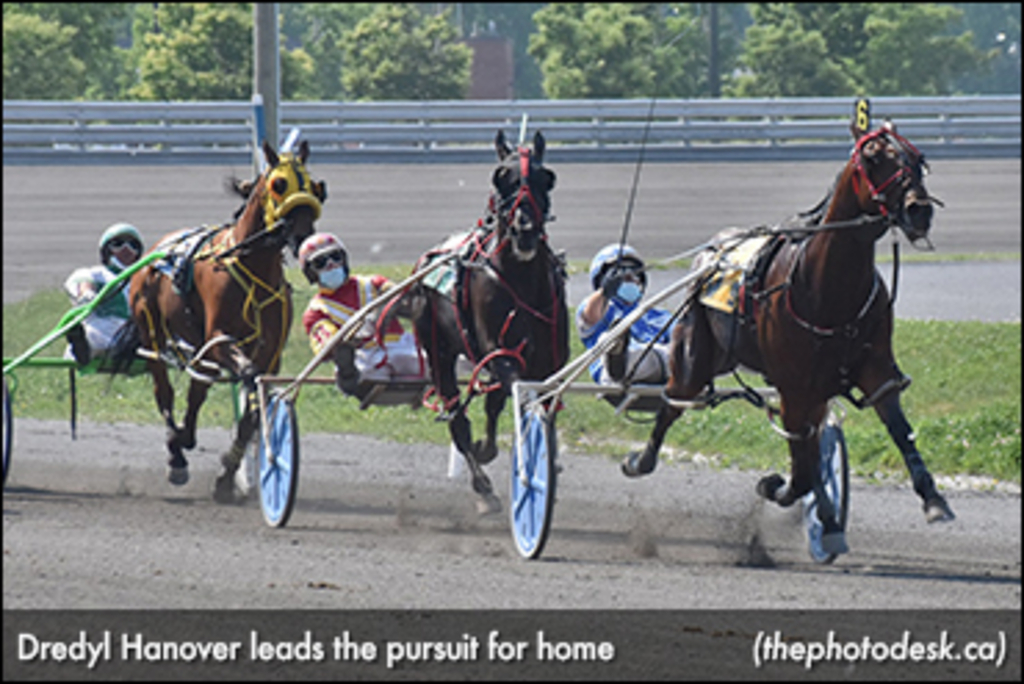 Published:
June 6, 2021 04:46 pm EDT
Samuel Fillion, who is just beginning his second year as a professional driver, captured two of the three featured events on Sunday (June 6) at Hippodrome 3R, including Dreydl Hanover's 1:54 score in the Preferred Handicap Pace — the fastest mile to date this season in Québec.
The new speed standard was established in the Preferred Handicap Pace, in which Fillion sent Dreydl Hanover to the front by the opening quarter in :26.2 with Veneno (Stephanie Brosseau) getting the pocket seat. They raced to the half mile in :56 as Big Petes Style (Daniel Laplante) came first-over to challenge, giving outside cover to Hooter Shooter (Stephane Gendron).
That outside flow could not gain any ground on the leaders as Dreydl Hanover sped to three-quarters in 1:24.3. From there, it was a two-horse race, but even with live cover, Veneno was not up to the challenge as Dreydl Hanover won by 2-1/2 lengths in 1:54. Mickeymaksomespeed (Jonathan Lachance) closed to be third.
It was the third win this season for Dreydl Hanover and his second straight win in the Preferred class. An 11-year-old gelding by Cams Card Shark, Dreydl Hanover is trained by Francis Richard for owner Francois Morin and paid $7.70 as the wagering favourite.
For Fillion, it was a personal best afternoon with four winners.
Bucketlist Hanover ($4.20) wired the field in the Preferred Handicap Trot. Also driven by Fillion, Bucketlist Hanover went right to the lead from the rail, cut fractions of :27.3, :57.2 and 1:26.4, and held the pocket-sitting Frido PV (Yves St. Jacques) at bay, pulling away in the stretch for a two-length triumph in 1:56.1, the fastest trotting mile this season at H3R.
It was the second straight win for Bucketlist Hanover. The eight-year-old gelded son of Cantab Hall is trained by Gilles Boucher for owner Paul Lehoux.
In the Preferred Handicap Pace for mares, Y C Easy saw her two-race win streak come to a close as Big Diamond and driver Stephane Gendron vaulted from the pocket to a 1:56.4 triumph.
Shemaksmefelunreal, a 12-1 long shot, left from the rail for driver Marie Claude Auger and cut all the fractions with Big Diamond sitting the two-hole.
After leading to the opening quarter in :27.3, Shemaksmefelunreal cut the mile to the half in :58 and then was challenged by Jans Legacy (Stephane Brosseau) first-over with Y C Easy (Jonathan Lachance) second-over and 8-5 favourite Topsill Beach (David Pilon) third-over.
In the backstretch, Lachance tipped Y C Easy three-wide with Topsill Beach following the outside flow and then going four-wide by the three-quarters in 1:27.1.
Shemaksmefelunreal was still the strong horse starting down the stretch, but Gendron pulled from the two-hole with Big Diamond and came after Shemaksmefelunreal, collaring her before the wire to win by a long neck. Topsill Beach closed well to be third.
It was the first win of 2021 for Big Diamond, a four-year-old mare by Big Jim trained and owned by Isabell Darveau. She paid $10.40 to win.
An accident marred the fourth race, when Bellafornow, driven by Francis Picard, broke stride from fourth place just after the eighth pole and fell to the track, causing a chain reaction as the rest of the field ran into the accident.
All horses involved in the accident walked off the track on their own power, but two drivers, Marie Claude Auger and David Pilon, were taken to hospital. It was reported that Auger had a possible concussion and Pilon a possible broken ankle. Driver Mario Cote injured his foot but did not go to hospital.
The race was declared no contest immediately by the judges, and all wagers were refunded.
Next week, there will be no Friday race program. Instead, Hippodrome 3R will host a Saturday (June 12) race program featuring the Québec Regional Fair Circuit. Post time is 12:30 p.m. For more information, visit www.hippodrome3r.ca.
To view Sunday's complete results, click the following link: Sunday Results – Hippodrome 3R.
(Québec Jockey Club)