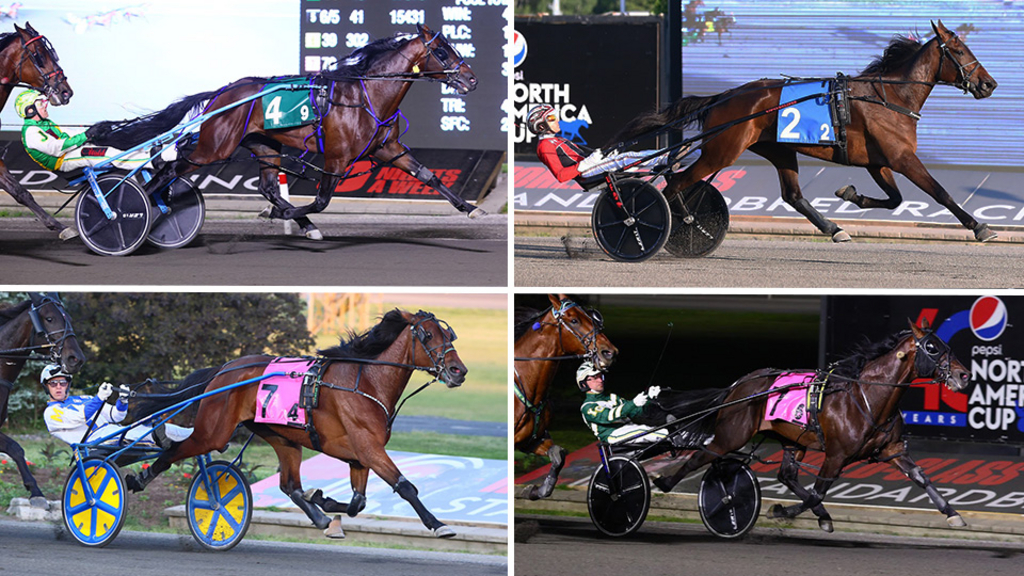 Published:
June 3, 2023 11:52 pm EDT
Last year's two-year-old pacing colt of the year, Stockade Seelster, and two colts from the first crop of Stay Hungry, Redwood Hanover and Annapolis Hanover, captured the three $75,000 divisions of the Somebeachsomewhere Stakes on Saturday evening (June 3) at Woodbine Mohawk Park -- a night which also featured the Graduate and Miss Versatility Series.
The Somebeachsomewhere Stakes served as a preview of next week's highly anticipated Pepsi North America Cup eliminations.
In the first division, Redwood Hanover and James MacDonald got the call at the :25.4 opening quarter, but local star No Control buzzed by him just past that point and hit the half in :54.1. ​There, driver Dexter Dunn pulled the right line on favourite Fulton from fifth to start his advance.
Fulton was eye to eye with the leader at the three-quarters in 1:22.1 and breezed by as they headed down the stretch. Closing hard, fast and late was Redwood Hanover, and that pair paced away from the field with Redwood Hanover getting up to win impressively in 1:49. ​Fulton, who came in two-for-two on the year, had to accept his first 2023 defeat with a strong second. Dupree Hanover, Ace Of Aces and Verdun collected the remaining cheques.
Trainer Anthony Beaton co-owns the winner with Mac Nichol, McKinlay & Fielding and David Mercer. Bred by Hanover Shoe Farms, Redwood Hanover was a $50,000 yearling purchase. Lightly raced last year at two, Saturday night's win was his fourth in five trips behind the gate in 2023 to put his seasonal bankroll just over $70,000 on the year.
"We were pretty confident coming in, he's been great so far this year," noted Beaton. "There were a couple tougher ones in here tonight but he stepped right up. He's a big, strong, tough horse. He paced strong right through the wire."
Annapolis Hanover grabbed control early in the second split and paced by the first quarter in :26.2. Bamboozler popped out from fifth and swept up quickly to the front by the :55.2 half and was by the three-quarters in 1:22. Down the lane, Annapolis Hanover came out from the garden spot and hauled down the leader to hit the wire first in 1:49.3. Bamboozler was right there for place while Ants Marching finished third.
Mitchell York of Cranberry, Pa., trains and owns Annapolis Hanover, who earned a life mark with the win. This was the colt's first trip north of the border and first start outside of Pennsylvania. He's yet to finish out of the top three in six tries for just over $84,000 in earnings this year. Lifetime, he sports $315,200 -- making his $15,000 yearling tag look like a great bargain.
"He's a really nice horse, he's really handy, you can do anything you want with him, my plan worked out perfect. I thought he had a real good chance as long as things went our way, which they did," said winning driver David Miller.
As for the trip, he noted: "He relaxed really good when he got to the lead, when Dexter [Dunn driving Bamboozler] came, he was pacing pretty good. He [Annapolis Hanover] was being a bit lazy in the last turn but by the time we came to the head of the stretch, he got back on his back and grabbed back a hold of me and I thought we were in good shape."
In the final division, there was a three-wide battle for the lead to the quarter with Moment Is Here prevailing to the point in a quick :25.3. Jody Jamieson pulled favourite Stockade Seelster out from fourth and took over the front just past the :54.3 half before hitting three-quarters in 1:22.4. Moment Is Here challenged down the lane, but Stockade Seelster held on to win in 1:50.1. Moment Is Here took second with Gung Ho third.
Last year's top pacing colt in both Canada and the US, Stockade Seelster was recording his first win as a three-year-old having finished second, by a nose, two weeks ago in his sophomore debut. Both his trainer and driver are pleased with his efforts to date.
"I was confident in the horse, it's just his second start of the year. He was strong at the wire and he wasn't letting anyone by him tonight," said Jamieson.
"We took him to Classy Lane Farm last Saturday," said trainer Dr. Ian Moore. "Jody trained him and I trained another of my three-year-olds. He trained very well. I gave him an extra training on Thursday this week and buzzed him pretty good over the half-mile track Shamrock Training Centre.
"He was much better in the paddock tonight. His race two weeks ago, he was actually trembling, he wasn't quite himself, a little nervous maybe. Tonight, he was really relaxed, very calm, he warmed up excellent so I'm really pleased. He seems to be a lot more manageable this year -- he wants to work with us and not against us -- so we're looking forward to the next couple of weeks," he added.
Owned by Sally and Paul MacDonald, the Ontario Sires Stakes star is edging nearer to millionaire status as he now has more than $989,000 banked from 13 outings.
Graduate Series Opens, Miss Versatility Continues at Mohawk Park
On a card where many glamour boys got their tightening miles ahead of the $1-million Pepsi North America Cup, aged horses sparred in their own stakes as Woodbine Mohawk Park hosted the kickoff to the Graduate Series and the second leg of the Miss Versatility on Saturday night.
Jiggy Jog S jetted around the Campbellville oval in the lone $99,750 opening preliminary of the Graduate Series Trot, uncorking a 1:50.3 mile under wraps on her seasonal bow.
Sent off as the 2-5 favourite from post two, Jiggy Jog S sprinted off the wings and barrelled slightly off the pegs through the first turn to land on the lead in :26.2 with Slay sitting the pocket. No challengers marched against Jiggy Jog S, so the Ake Svanstedt trainee coasted past a :55.1 half and kept the tempo hot through the final turn to clock three-quarters in 1:22.4. The four-year-old daughter of Walner straightened strongly and plowed down the lane to post a five-length victory on idle. Pretender pushed first over through the final turn to snag second from Slay while Looks Like Moni settled for fourth.
Dexter Dunn, the regular pilot of Jiggy Jog S through her million-dollar sophomore campaign, guided the Jorgen Sparredal Inc.-owned mare to her 11th victory from 25 starts and padded her bankroll to $1,300,168.
"She got off the gate real good; nothing else really came – that was a pretty hot first quarter anyway," said Dunn. "She wandered around a little on the front like she can do, but I asked her at the top of the stretch and she kicked really good. She just sort of cruise controlled the last eighth of the mile.
"She had such an incredible year last year. She's come back – first time I've sat behind her [this year] – but her rear end's gotten a lot bigger and stronger. She could be in for hopefully another good year."
Jiggy Jog S paid $2.60 to win.
The single $53,200 division of the Miss Versatility second leg got stolen by Canada's trotting queen Adare Castle, who sneaked soft early fractions to ready for a stretch sprint and deliver as the 3-2 favourite in 1:52.
James MacDonald motored Adare Castle from post six to the top with Swans Eye landing in the pocket and Raised By Lindy into third through a :27 first quarter. With no threats looming up the backside, Adare Castle coasted to a :56.3 half and waited for action to come into the final turn.
Raised By Lindy slipped off the pegs and rolled along the rim to come within a length of Adare Castle passing three-quarters in 1:24.4 and drew to equal terms with the pacesetter in the lane. Adare Castle dug her heels in at the cones and reclaimed a narrow lead into the final eighth to hold her ground and keep a half-length advantage at the beam. Swans Eye swerved to the center and snagged second at 61-1 with Raised By Lindy settling for third and Warrawee Xenia charging from last for fourth.
"She's a special horse – I think maybe one of the quietest $1.3 million a horse can make," winning driver James MacDonald said after the race. "She just goes out there and does her business and finds a way to the winner's circle almost every time she races. She's amazing.
"[Raised By Lindy]'s a great horse. I was just hoping my horse could hang on," MacDonald also said. "I got good fractions and usually when she's on the front, she's tough to get all the way by. I was confident when Yannick [Gingras] didn't head me early that I probably was going to be able to hold them off. Mine's so iron tough – his raced great; it's a great field of mares. But Adare Castle is just a special horse."
Winning her 19th race from 28 tries, Adare Castle moves closer to the $1.3 million mark with $1,264,861 earned for trainer Mark Etsell and co-owners Robert Newton, Graham Hopkins and Peter Porter.
Adare Castle paid $5 to win.
Captain Cowboy brought sparks to the toteboard with the sea parting at the pylons and providing the Ron Burke pupil a lane to fire and take the first $66,500 division of the Graduate Series opening pace at 22-1.
Driver Yannick Gingras blasted Captain Cowboy to the fore and led through a :26.4 first quarter before soon finding himself shuffled to third. Layton Hanover pulled pocket to take the lead and then relinquished control to 9-5 co-favourite Energetic Hanover before a :55.3 half, all while the other 9-5 co-favourite Stonebridge Helios got rolling first over.
Energetic Hanover continued rolling around the final turn as Stonebridge Helios crept into third at three-quarters, timed in 1:22.4. Stonebridge Helios soon folded and pocket-sitter Layton Hanover followed, but Energetic Hanover held control on fumes as he veered from the pegs. Captain Cowboy then had open racetrack to charge through and collar Energetic Hanover by a neck at the finish. Rocks Shining Star burst down the center of the track to finish third and Trendy Teen took fourth.
"I really liked him early last year, [things] just didn't pan out as good as they had hoped for him, but when Ronnie [Burke] bought him I thought it was a great buy," Yannick Gingras said of Captain Cowboy, whom Ron Burke bought at the end of the stallion's sophomore season. "He's had up and down years, where maybe he wasn't so consistent, but he was real good last week at The Meadowlands. I thought if he repeated that effort, he had a great chance in here. I wanted to trip him out and be up close to the pace. I wanted to sit second or third if I could and see what was going to happen. Obviously, it opened at the inside, we got a little lucky, but the horse responded and raced really well."
Captain Cowboy collected his ninth win from 36 starts and has now earned $396,354. The four-year-old son of Captaintreacherous competes for owners Burke Racing Stable LLC, Weaver Bruscemi LLC, Knox Services Inc. and Beasty LLC. He paid $47.40 to win.
More fireworks burst following the second Graduate Series pace with a 17-1 pylon-skimming stunner supplied by Dreamfair Arnie B for Team Cullen in 1:50.4.
Dreamfair Arnie B bolted from post seven to the lead before settling for the pocket after a :26.3 first quarter to 3-2 favourite Birthday. Birthday strolled to a :56.1 half and faced pressure to three-quarters in 1:24 as Pleaseletmeknow came calling first over. The pressure mounted and Birthday backtracked through the lane while creating a gap for pocket-sitter Dreamfair Arnie B to power through, and the Jodie Cullen trainee sprinted to seize the lead in the final eighth and hold 1-1/4 lengths at the finish. Cold Creek Queso kicked off a shuffled trip to take second from Pleaseletmeknow in third and Birthday finished fourth.
"We were struggling with some sickness with the horse, so we asked for Jon [Drury] to leave with him [last week]. He's always been better when he leaves, but he just wasn't 100 per cent healthy since we started him back," winning driver Travis Cullen said after the race. "So he's starting to come back to himself.
"He wanted to leave a lot more tonight," Cullen also said. "He's always had a lot of gate speed, but this year he wasn't really wanting to leave. I think he was just taking a little time to get into shape."
John Lamers owns Dreamfair Arnie B, a four-year-old stallion by Sportswriter out of the Hall of Fame mare Dreamfair Eternal who won his seventh race from 32 starts and has now earned $164,122. He paid $37 to win.
To view Saturday's harness racing results, click the following link: Saturday Results - Woodbine Mohawk Park.
(with files from Woodbine)