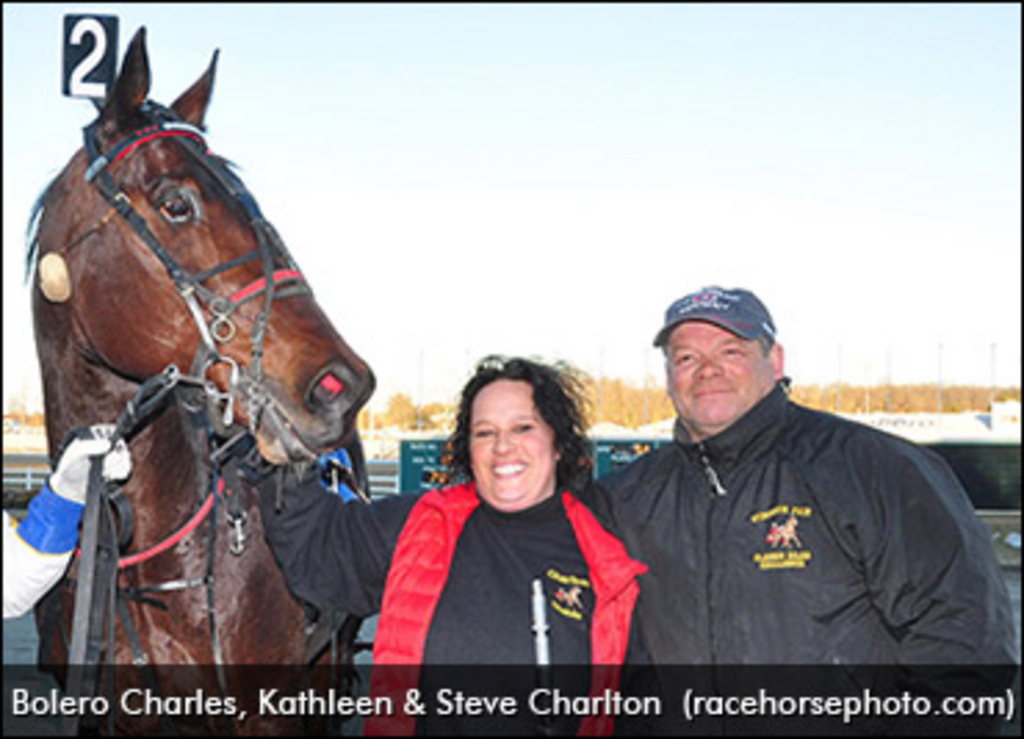 Published:
June 3, 2014 09:12 am EDT
"It takes a unique individual to work 15 hours a day and it doesn't always work out...you want to throw in the towel but still have that fighting spirit to carry on."
Racehorse owner Tommy Larocque's complimentary words towards Steve and Kathleen Charlton of Clifford, Ontario, are just a few of many in describing the couple. Well-liked and respected by their fellow horsepeople, the Charltons have left a mark in the horse racing world.
It's a family affair in the Charlton barn as Steve trains, Kathleen owns, and their foundation mare was a foal out of Canbec Integra, owned by Kathleen's stepfather. Steve got his start in the business out East before relocating to Ontario soil.
"I grew up in Nova Scotia," he said. "My Dad introduced me to it; he owned, trained and drove horses back home."
Kathleen, a native to Quebec, was training and driving her own horses in Montreal when she met Steve. She is adamant about consistency in drivers, as utilizing someone regularly gives them a better understanding of the horse and their drive. Steve Charlton became the regular, and the rest they say is history.
The Charlton stable is unique in the business, as most do not house a world record holding pacer and a promising new sire. Even less common is an occurrence when they are one and the same. Major Hottie, the holder of the impressive 1:48.3 free-legged record, is not the only remarkable part of this barn.
In a stable of over ten horses, eight are sired by Steve and Kathleen's trainees Bolero Charles and Major Hottie. These two are no newcomers to headlines with many impressive wins in their careers thus far, much like fellow stablemate Zeus Lightning who was driven to victory in Rick Zeron's 7,500th win at Mohawk in 2012.
Though neither stud has passed on distinctive physical characteristics to their offspring, the attitude of each is evident. Major Hottie's offspring tend to be calm and very smart, much like he is; Bolero Charles has always been a more aggressive individual.
"I have to walk him with the snap on the end of a hockey stick," Steve commented with a laugh.
Kathleen is heavily involved in the breeding component of their operation. Come foaling season, sleep becomes elusive as she watches over the pregnant mares. She foals their mares and builds a bond with their future racehorses.
"It's special when a horse you've raised since they were a foal reaches the track. When you hear the announcer say the name you chose, it means so much. We used to buy yearlings, but it's not the same."
Horses in their care often display impressive longevity in their racing careers, something that is not common in the industry. This is only one of the many things their caretakers focus on.
Steve emphasizes that commitment to care in his operation. "Tender loving care is what's important. The bottom line is you just have to keep them happy. I prefer to keep them turned out as much as possible, a more natural environment."
Bolero Charles is an incredible example of the dedication of the Charltons and the love they have for the horses in their care. After spending several years in Kathleen's care, the decision to enter the stud into claiming races was made. On that fateful night he was claimed, Kathleen asked the new owner to contact her if, for whatever reason, they were no longer interested in keeping him.
After an unexpected injury, the new owner kept true to the promise she made Kathleen and Bolero Charles returned to the Charlton stable.
"When he broke his foot, she called me and then I called Steve. Steve was out at the track and I told him to pick 'Charlie' up. Steve asked me if I was crazy, I just said 'go get my horse!'"
'Charlie' was slowly nursed back to health under Kathleen's watchful eye, an agonizing nine months of stall rest before he could slowly start exercising again. With time, he was jogging, back to the races and dominating Preferred classes at Flamboro Downs and Western Fair.
"Everyone said I was crazy because he's aggressive, but he's got a big heart. I broke my arm when he was injured; he and I nursed each other back to health. He is family and I am just as stubborn as he is."
Their hard work and dedication to the horses in their stable can be attested to by owner Tommy Larocque, who joined forces with the Charltons ten years ago after meeting in Montreal in the 1980s. Larocque was involved in the business in a small way at the time, cleaning stalls around the racetrack at Blue Bonnets. Since then, their partnership has blossomed with success.
Kathleen is an experienced rider, a talent she put to use as the last outrider in Windsor before moving to Mohawk Racetrack. She rides 'Charlie' and talented trotter Zeus Lightning and utilizes her indoor arena in inclement weather. She feels riding is a good change for them from simply jogging around the track.
Their refusal to give up has led them to success. Steve has career earnings of over $6.5 million in over 20 years as a trainer and with Kathleen, many memorable racing moments.
"It's a tough business, you have to love it," said Kathleen.
(A Trot Insider Exclusive by Hannah Beckett)