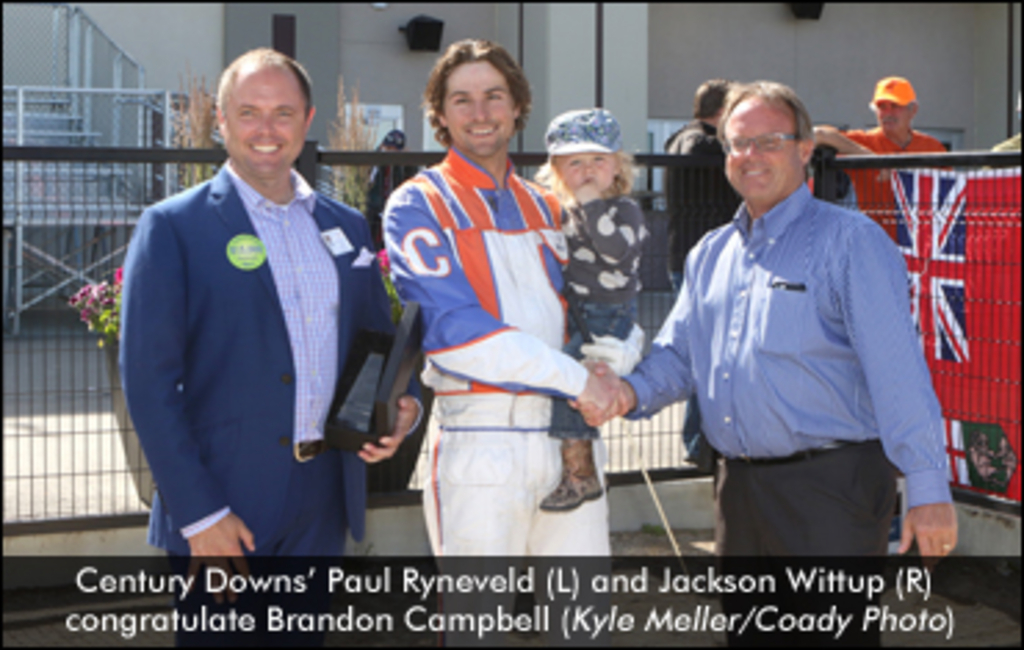 Published:
June 26, 2016 02:30 pm EDT

Brandon Campbell secured the Western Regional Driving Championship title over Jim Marino with his third victory in the final leg of the eight-race competition on Sunday, June 26 at Century Downs Racetrack and Casino. Both Campbell and Marino will advance to the National Driving Championship.
Campbell ranked within the top three drivers throughout the entire competition and drove three winners to propel him to first-place in the standings. He accumulated 69 points while Marino finished second with 61 points.
Campbell initially took the lead in the point standings in the second leg with his first win aboard Full Moon Dodger ($13.80). He later retook the lead in the fifth leg after two consecutive third-place finishes and maintained his position with another victory aboard Dickies Motel ($12.40) in the sixth leg.
Marino, who climbed to second-place with top-three finishes in half of the event races, won the seventh leg with Wild Chic ($14) to take a four-point lead ahead of Campbell (58-54), whose mount Hotel Motel did not finish after falling in the final turn. Both horse and driver were not seriously injured and Campbell rebounded in the last leg as he prevailed in a photo finish in rein to Heart N Hustle ($10.90) to secure the Western Regional Driving Championship title.
Campbell and Marino will now join the top two point-earners from the three other regional competitions at the National Driving Championship on October 14 at The Raceway at Western Fair District in London, Ont. The winner of the National Driving Championship will represent Canada in the 2017 World Driving Championship, which will be hosted in Canada.
Campbell will be making his third appearance at the National Driving Championship after winning the 2014 Western Regional over Marino and advancing off a second-place finish in 2011.
"I was very confident going into it and I thought I would get it again and it feels great," said the 32-year-old Calgary-based horseman of his expectations this time around.
"This is my third time at it now. Last time I was third and I'm shooting for the win this time. I want to go represent Canada. James MacDonald and Trevor Henry from Ontario, they're good, good drivers, so I got competition, but I'm going in it to win it."
Ontario Regional Driving Championship winner James MacDonald and runner-up Trevor Henry have advanced from Friday's competition, which was held at Grand River Raceway, along with Jason Hughes and Corey MacPherson, who finished first and second in yesterday's Atlantic Regional held at Red Shores Racetrack and Casino at Charlottetown Driving Park. The final Quebec/Eastern Ontario Regional will be hosted by Hippodrome 3R on Tuesday, July 12.
OFFICIAL POINT TOTALS
1. Brandon Campbell - 69
2. Jim Marino - 61
3. Don Howlett - 51
4. Paul Davies - 48
5. Dave Kelly - 48
6. Mike Hennessy - 34
7. Gerry Hudon - 34
8. Travis Cullen - 31
Dave Kelly and Don Howlett each made appearances atop the leaderboard after wins in the first half of the competition. Paul Davies and Mike Hennessy also drove one winner each.
The Western Regional Driving Championship consisted of races three through 10 on the Saturday program.
To view Sunday's harness racing results, click on the following link: Sunday Results - Century Downs.
RACE RECAPS
Leg 1: Dave Kelly took the early lead in the point standings with a first leg victory aboard Mach Away ($6.40). The favourite was an easy wire-to-wire winner in 1:57. Fast Lane Ferrari (Travis Cullen) followed in second, but was placed eighth for a pylon violation on the final turn. Wigesjet (Don Howlett) tracked Market For Romance (Brandon Campbell) three-wide down the backstretch and edged out that rival at the finish to inherit the runner-up role.
"The boys told me she trained real good all week," noted Kelly after the victory. "[Trainer] Gerry [Hudon] said she was best used to leave out of there with her and get to the front. I figured the boys would be leaving a little harder from the outside, but she got it pretty easy and cut it her own way and she did the rest.
"When I looked back just coming off the turn here, I opened up a couple lengths on them and got a little daylight. After that, it seemed like the more you pulled on her, the more she wanted to go."
Leg 2: After a starter's recall due to broken equipment, Brandon Campbell made a power move down the backstretch with Full Moon Dodger ($13.80) en route to victory in a big 1:54.2 mile. He sent Full Moon Dodger three and four-wide from the back of the pack and quickly picked off rivals before drawing away by six lengths into the stretch. Ticket To Roll (Gerry Hudon) and Mjjz R Us (Howlett) finished second and third, respectively. With the victory, Campbell moved ahead of first leg winner Kelly in the point standings.
Leg 3: There was another lead change in the third leg as Don Howlett struck with race favourite Rain Gauge ($6.10). They made the front after a quick opening quarter and held off first over advancer Captain Hazardous (Jim Marino) to score in 1:55.1. Starface (Kelly) came on for third.
"It feels great to get to the winner's circle, that's for sure," said Howlett of returning to action before the Manitoba fair circuit begins next week in his home province. "Actually, I drove this horse a lot last year on the fairs and he's a lot better today.
"There's always a doubt when that one's breathing down your neck, but he got lots of speed up early and he hung on."
Leg 4: Paul Davies was victorious in the fourth leg with favourite Greek Ruler ($3.70) going wire-to-wire in 1:55.3. The 11-year-old Astreos gelding rebuffed first over challenger Sonic Spark (Campbell) past the third quarter mark en route to his 50th career win. Pocket-sitter Promise To Lynette (Marino) finished second ahead of Sonic Spark.
Howlett maintained a slight lead in the point standings while Campbell edged ahead of Kelly and Davies climbed two spots to fourth-place with his winning boost.
Leg 5: Mike Hennessy scored his first win of the competition in the fifth leg with favourite Acesndeuces ($4.70). They moved out from third after the half and reeled in pacesetter Western Fortune (Marino) in deep stretch for the 1:57 victory, with pocket-sitter Twin B Right Way (Campbell) locked in third.
"I was following the two horses that I thought were the main danger," said Hennessy of his winning trip. Gerry [Hudon with Haroun Hanover] was parked and didn't have a whole lot so I knew I was going to get to wait to make my move and it looked like the time was right when I did. I kept my feet there and kept Brandon locked in, which was nice. He tried to give me a little wheel, but I wasn't going to let him push me around. It was a good victory, I really thought I had a shot today.
"The first four races I didn't have a whole lot I really thought I could get there and win with, but the back half of the card is looking a little up for me and we got it rolling," noted Hennessy, who ranks sixth in the point standings.
Meanwhile, Campbell earned enough points with his third-place finish to take over the top spot.
Leg 6: Campbell extended his lead in the standings with his second victory of the competition aboard Dickies Motel ($12.40) in the sixth leg. They came through between horses off a pocket trip to prevail in 1:56.1 over the late-closing Terra True (Cullen) and odds-on favourite Viola (Marino), who had taken over the lead from pacesetter Yanotherhos (Hennessy) at the third quarter pole and finished third.
Leg 7: Jim Marino shot to the lead with Wild Chic ($14) after a big backstretch brush from fifth to first in the seventh leg and shot to the top of the leaderboard in the process. Favourite Crack The Cognac (Cullen) had just moved to the front before Wild Chic went by and she finished second. Epic Era (Davies) came from last and edged out early leaver Rodeo Blues (Kelly) in a photo for show.
"They raced hard up front and I was lucky enough to get a good spot," said Marino after the race. "I had the seven-hole off the gate and I got away a little closer than I thought I would, and when I moved up the backside, she really responded.
"It's been a really close race all day. The thing is with these [driving challenges] you have to make the best of your good posts and try and get lucky when you have a bad post and that's how you win one of these things."
Marino moved from second to first in the standings and holds a four-point lead going into the final leg ahead of Campbell (58-54), whose mount Hotel Motel did not finish after an incident in the final turn.
Leg 8: Campbell rebounded in the final leg as he prevailed in a photo finish in rein to Heart N Hustle ($10.90) to take the Western Regional Driving Championship title. After getting away sixth, they advanced first over during the third quarter and collared the pacesetting Whysantanna (Howlett) at the wire in 2:00. Mystery Affair (Davies) followed in the pocket to finish third.
The victory put Campbell back atop the leaderboard with 69 points over runner-up Marino, who ended with 61 points after a finishing sixth in the final leg.
SCORING
The Regional Driving Championships and the National Driving Championship will adapt the point system utilized in the World Driving Championship. Points will be awarded on the order of finish as follows:
Number of Starters: 8
15 (1), 10 (2), 7 (3), 5 (4), 4 (5), 3 (6), 2 (7), 1 (8)
Number of Starters: 7
14 (1), 9 (2), 6 (3), 4 (4), 3 (5), 2 (6), 1 (7)
In the event of a scratch, the driving rep drawn to a horse shall drive the 'also eligible' horse.
In the event of a horse being scratched or where no horse is available, five (5) points shall be awarded to the driver concerned. If a horse is disqualified or a horse and driver fail to complete the race, they will receive one (1) point.
In the event of a dead heat for any placing in any race, the points for the horses involved will be added together and divided equally among the drivers concerned (for example, if there's a dead heat for third between two horses, the points for third and fourth-place will be added and divided among the drivers).