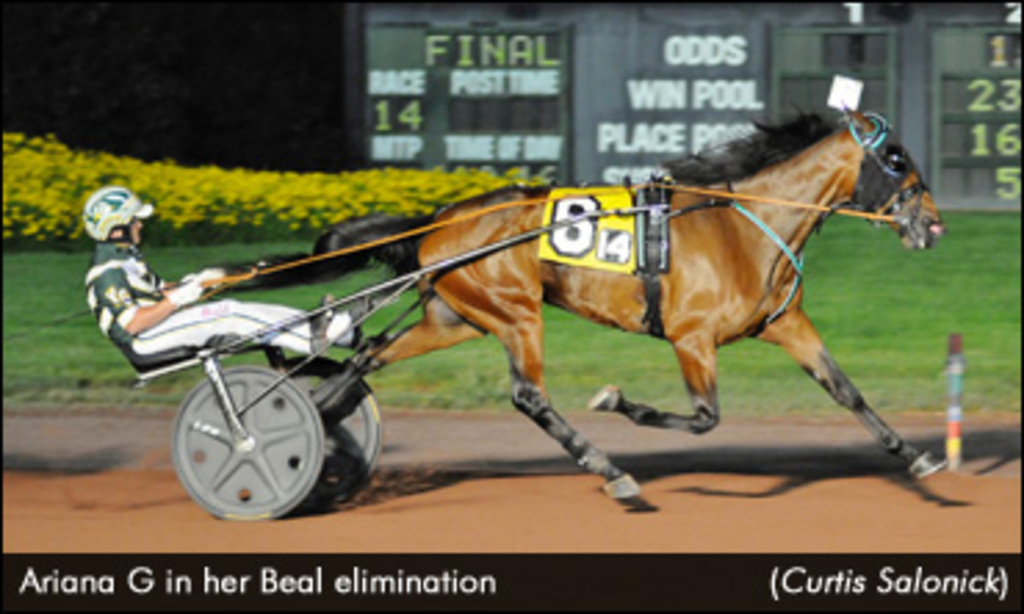 Published:
June 24, 2017 06:45 pm EDT

The elimination round for next weekend's Sun Stakes Saturday was contested on Saturday, June 24 at The Downs at Mohegan Sun Pocono featuring impressive performances by many of sport's brightest stars.
Sun Stakes Saturday will be held on July 1 featuring the $500,000 Ben Franklin (free-for-all pacers), $500,000 Max C. Hempt Memorial (three-year-old pacing colts and geldings), $500,000 Earl Beal Jr. Memorial (three-year-old trotters) and $300,000 James M. Lynch Memorial (three-year-old pacing fillies).
Tonight's card consisted of three eliminations for each stakes events with the top three finishers in each race advancing to next weekend's finals. Trot Insider has recapped all of the action below.
---
James M. Lynch Memorial (three-year-old pacing fillies)
In the first Lynch elimination, the American Ideal filly Tequila Monday (Brian Sears) just held off the pocket-pulling Idyllic Beach (Yannick Gingras) in a two-horse breakaway down the stretch to match her lifetime mark of 1:50.4 for trainer Chris Oakes and owners Susan Oakes and Chuck Pompey.
Leaving from the inside post, 1-5 favourite Tequila Monday had the first elimination field of seven lined up in post position order behind her and led through panels of :26.3, :55.3 and 1:22.4 before 8-5 second choice Idyllic Beach launched her attack at the top of the lane and made it a photo finish. Inverse Hanover (David Miller) followed four lengths back in third.
Brazuca (Corey Callahan) kept her perfect sophomore record in tact as she moved to the lead at the quarter pole and held off fillies closing in on both sides down the stretch for the 1:52.3 triumph by three-quarters of a length. Big City Betty (Jim Marohn Jr.) closed inside and Misqued (Steve Smith) swept up on the outside in the final quarter to finish second and third, respectively.
Brazuca rushed from third to first ahead of early leaver Roaring To Go after a :26.1 first quarter and went unchallenged through middle splits of :55.1 and 1:23.1 before fending off her late attackers in the lane. The 3-5 favoured daughter of Bettors Delight notched her third straight victory this year for the Cancelliere brothers -- trainer Thomas and owner John. Roaring To Go ended up in a dead-heat for fourth with Risky Romance.
Agent Q (David Miller) delivered on her pari-mutuel promise as the 3-5 favourite in the final Lynch elimination, holding clear of Fan Hanover Stakes champion Bettors Up (Brett Miller) and Caviart Ally (Andrew McCarthy) for the career-best 1:51.1 triumph.
Trained by Aaron Lambert, Agent Q overtook the quick-leaving Caviart Ally and carved out fractions of :27.2, :56.1 and 1:24.1 en route to the one and a half length victory. Bettors Up moved first-up from third down the backstretch and edged out Caviart Ally for the runner-up honours. The winning Western Terror filly is owned by Martin Scharf, Rochetti Cassar Racing and Robert Muscara.
$500,000 Earl Beal Jr. Memorial (three-year-old trotters)
New Jersey Sire Stakes champion Long Tom (Tim Tetrick) left his rivals behind as he turned for home with a widening lead after first-over challenger Rubio (Yannick Gingras) broke stride. The Marcus Melander trainee won by six and a quarter lengths in 1:52.3 with Sortie (Andrew McCarthy) and Lucky Matter (David Miller) rounding out the top three finish order.
Sent postward as the 6-5 favourite, post six starter Long Tom was the third and final sophomore to make the front past the :27.1 quarter mark after outsider President Lindy and Giveitgasandgo each touched down on top. From there, Amg Stable Oy's Muscle Hill colt led through a half-mile in :55.3 before being confronted by Rubio, who went off-stride at the 1:24 third quarter mark and left him all alone on the front-end.
In the second Beal elimination, SRF Stable's Perfect Spirit (Yannick Gingras) shot through along the pylons to steal the glory from favoured Empire Breeders Classic champion Devious Man (Andy Miller) in the final strides of a 1:54.1 mile, with Dover Dan (Corey Callahan) third. The Ake Svanstedt trainee posted a 23-1 upset with his late-mile heroics.
Perfect Spirit fired first off the gate from post seven and crossed to command during a :28 opening quarter, but was shuffled back to third along the inside as Dover Dan took over in the front of the grandstand and then Devious Man went by on the backstretch past the :56.4 half-mile mark. Devious Man rebuffed first-over challenger Southwind Woody past three-quarters in 1:25.1, but was collared late by the swift-maneuvering Andover Hall colt Perfect Spirit.
The award-winning Jimmy Takter-trained filly Ariana G (Yannick Gingras) beat the boys in the final Beal elimination, scoring in 1:53.4 over Bills Man (Corey Callahan) and Moonshiner Hanover (Scott Zeron).
Marvin Katz and Al Libfeld's homebred Muscle Hill miss worked her way to the lead through a :27.3 opening quarter then stole a second quarter breather to the half in :57.4. The 1-9 favourite continued to front the field past three-quarters in 1:26.1 and trotted home one and a half lengths clear of first-over mover Bills Man under no urging.
$500,000 Max C. Hempt Memorial (three-year-old pacing colts and geldings)
Santafes Coach (Anthony Napolitano) pulled off a 21-1 upset when he stormed home off cover and defeated the pylon-skimming Ozone Blue Chip (Brett Miller) and pacesetter Boogie Shuffle (Scott Zeron) by a neck in the first Hempt elimination. Leo Iordan trains the Bettors Delight colt, who took a new lifetime mark of 1:51.1, for breeder Edward De Rosa and co-owners Matthew Iovaldi and Ralph Woythaler.
Boogie Shuffle came away with the lead amidst a four-horse cavalry charge off the gate through a :26 quarter during which favourites Blood Line and Every Way Out each broke stride. Boogie Shuffle continued on to the half in :54.3 and three-quarters in 1:22.2 with eventual fourth-place finisher Western Joe challenging first-over before Santafes Coach fanned wide off the cover and persevered in the drive to the wire to post a $45.80 win payout.
Miso Fast (Matt Kakaley) was the dragon slayer in the second Hempt elimination handing North America Cup champion and overwhelming 1-9 favourite Fear The Dragon (David Miller) his first taste of defeat this season. The Ron Burke-trained Roll With Joe colt paced his first sub-1:50 mile to score the 11-1 upset for owners Burke Racing Stable LLC, Our Horse Cents Stables and J And T Silva Stables LLC.
Miso Fast left from post four into a pocket spot behind insider Summer Side through a :27 first quarter before Fear The Dragon swept from third to first at the three-eighths mark. Fear The Dragon raced on to the half in :55.4 before Miso Fast glided by and opened up three lengths on the way to three-quarters in 1:22.3. Miso Fast built up a five-length leading cushion into the stretch before Fear The Dragon began to reel him in, but the favourite was still one and a half length away at the wire in 1:49.2. Funknwaffles (Brian Sears) began to advance on the backstretch and finished third.
Downbytheseaside (Brian Sears) survived a first-over journey to win the final Hempt elimination in 1:49.2 by half a length with Donttellmeagain (Tim Tetrick) and Eddard Hanover (Matt Kakaley) coming through between horses for second and third, respectively. The Somebeachsomewhere colt, who was entering the race off a third-place finish -- his first loss this year -- in the North America Cup, is owned by Country Club Acres Inc., Joe Sbrocco, Richard Lombardo, and Diamond Creek Racing.
The popular Brian Brown trainee went first-up from third into the backstretch after Photobombr Hanover, who put up :26 and :54.1 opening panels. Downbytheseaside continued to apply pressure to the pacesetter down the backstretch, eventually edging ahead at the 1:21 third quarter mark and pulling clear. Donttellmeagain lunged late to come within half a length of the winner at the wire.
$500,000 Ben Franklin (free-for-all pacers)
Dealt A Winner (David Miller) journeyed first-over to a 1:49.1 four-length victory in the first Ben Franklin elimination, with 4-5 favourite Boston Red Rocks (Tim Tetrick) following his cover to finish second and a from-last Shamballa (Scott Zeron) edging out a pocketed Check Six and pacesetter Soto for third.
After Soto posted opening panels of :26.4 and :55, Miller made the winning move with Dealt A Winner. Sent postward as the 7-2 fourth wagering choice, the five-year-old Cams Card Shark gelding swept from third to first at the 1:21.3 third quarter mark and drew off for the bounce back victory after a 10th-place finish in Mohawk's Gold Cup Invitational last weekend. Mark Silva trains the winner for owner Jeffrey Snyder.
Rallying home off cover, Levy Series champion Keystone Velocity prevailed on the far outside in an impressive 1:48.3 second Franklin elimination for the Allard brothers -- driver Simon and trainer Rene -- and owners Allard Racing Inc., Kapildeo Singh and VIP Internet Stable LLC. All Bets Off (Matt Kakaley) finished a neck back in second with Mach It So (Tim Tetrick) a half-length behind in third.
The season-debuting Freaky Feet Pete looped early leaver Mach It So by the :26.4 quarter mark and sprinted through middle fractions of :54 and 1:20.3 before being swarmed in the stretch by the pylon-skimming Mach It So and first-over challenger All Bets Off, with nine-year-old Western Hanover son Keystone Velocity fanning out wide and getting up in time for the narrow score as the 6-1 third wagering choice. Favourite McWicked ended up fourth just ahead of Freaky Feet Pete.
In the final Franklin elimination, Mel Mara (Corey Callahan) made the lead in front of the grandstand and never looked back en route to a four-length victory in 1:48.4. Dylan Davis trains the eight-year-old son of Lis Mara for Robert Cooper Stables LLC and J And T Silva Stables LLC.
Callahan sent the 1-2 favourite up from fourth to take the lead ahead of early speedsters Luck Be Withyou and Rockin Ron after a sizzling :25.3 opener and proceeded to the half in :53 and three-quarters in 1:21.2. He remained clear of a first-up Wakizashi Hanover and paced away down the stretch. Rockin Ron shot through for second and trailer Rock N Roll World (Brian Sears) closed late for third ahead of Luck Be Withyou.