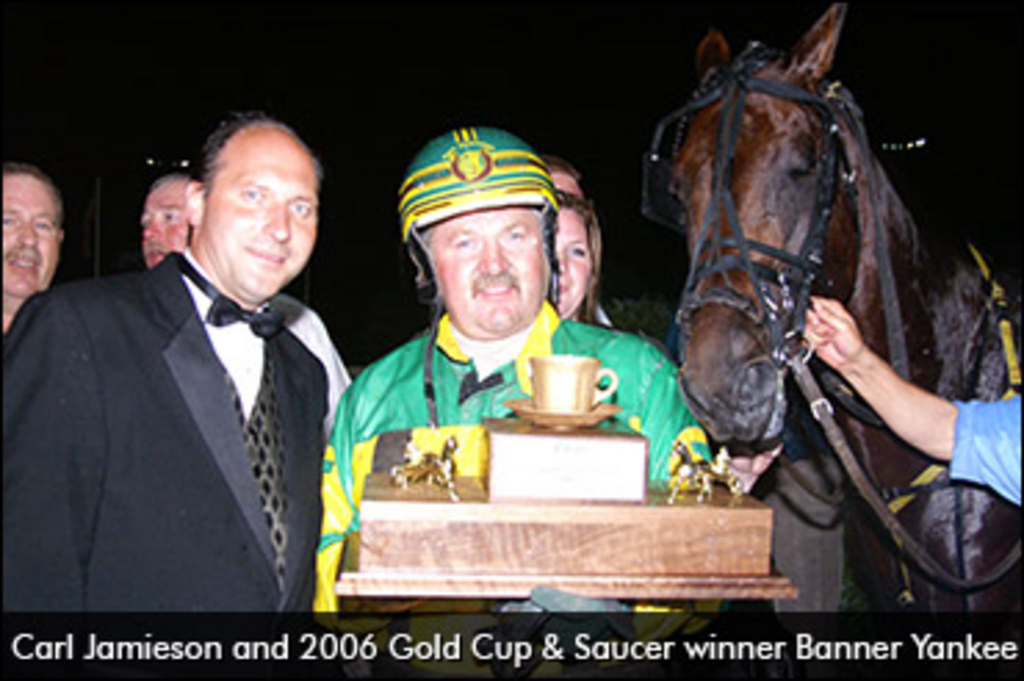 Published:
June 23, 2015 08:38 am EDT

"I was so emotional; I had to hide behind the starting gate as I tried to talk to my dad in the winner's circle, with tears falling down my face!"
Jody Jamieson is no stranger to making harness racing history. Starting out as a toddler in his father's lap learning to jog horses on the family farm, horse racing became a fast passion. Growing up in Nova Scotia, he could regularly be found at Truro and Summerside where his father, uncle and grandfather raced.
By age seven, he was jogging horses on his own at Sackville Downs in Halifax. Eleven years later, he drove four races at the Paris Fair racetrack, debuting what would become an incredible career. With his first pari-mutuel win sitting behind O'Brien Award winner Elegant Killean, Jody has become a name synonymous with the sport worldwide.
Jody has gone on to represent Canada in the World Driving Championship five times, securing two victories on international soil. He has captured the O'Brien Award for Driver of the Year on three separate occasions, as well as over $109 million in lifetime earnings with wins in excess of 7,100.
"I've won the Little Brown Jug, the North America Cup, Breeders Crowns, the Metro Pace and many other stakes races across Canada and North America. Yet, none of those wins are my favourite.
"My favourite was a win where I wasn't driving nor was I even in the same province."
With four drives at Flamboro Downs and another nine at Mohawk Racetrack, August 19, 2006 was a busy night for Jody. He had drives in both the Eternal Camnation and Fan Hanover eliminations, major engagements in the stakes calendar for pacing fillies. However, several provinces to the East, something even bigger was about to happen.
"My favourite memory in harness racing was listening to my Dad win the Gold Cup & Saucer in PEI with Banner Yankee!"
An early achiever as a two-year-old, Banner Yankee secured five wins in seven starts during his freshman campaign. The Grinfromeartoear ridgling built upon this early success, becoming a fearsome competitor over the next seven years.
Starting from the three hole in the Gold Cup & Saucer at Charlottetown Driving Park, he looked to build upon the third place finish in his trial five days prior. With Jody back in Ontario, Carl took up the lines for the final.
"I'll never forget it; we were standing in the paddock at Mohawk listening on a friend's phone as the race began. Joining my circle of those listening to the race via flip phone were John Campbell, Brian Sears and George Brennan."
Banner Yankee left quickly off the gate, setting an opening quarter of 27.3. Opting to leave Copperfield G hung out to the half in :56.2, he then battled off Zooka and Silent Swing before stopping the clock in 1:54.1.
"We listened as Banner Yankee and Dad navigated to the lead and held off all the challengers to win the race. I'll never forget the feeling I had when he crossed the line first. I got home that night and cried uncontrollably as I watched the replay of my Dad winning the greatest race on Earth."
This was a memory shared by Jody Jamieson and entered in the I Love Canadian Harness Racing Fan Club's Favourite Racing Memory contest. This is one of five stories that will be featured leading up to the Bring A Friend weekend that will be happening nationwide from July 9-12.