Published:
June 23, 2012 02:51 am EDT

Driver Ryan Holliday kicked off Grand River Raceway's new guest announcer series From Bike To Mic on June 22.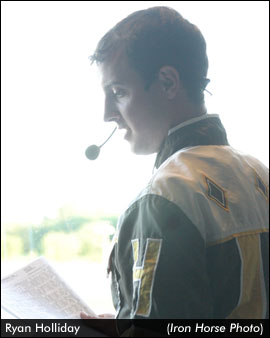 Confessing jitters during a pre-race interview, the 25-year-old Mount Forest, Ont. resident later congratulated track announcer Gary Guy on making it look easy, saying, "It's tough...harder than I thought it would be."
It was clear sailing for Holliday's call of the nine-horse field in race five. "Coast to coast like butter on toast!" Holliday exclaimed with glee as Windemere Sheldon held off J J S Jet to score his third win of the year in a new career-best of 1:57.4.
Holliday later nailed a win of his own, steering Bridge Jumper to his first win of the season for trainer Kathryn Cochrane and owner Steven Besterd in a new lifetime mark of 1:57.3.
Holliday is a career winner of 221 races. He's currently ranked third in the Hanover Raceway dash standings and among the top 10 at Grand River Raceway. He's on-point to record his first 100-win season with 52 victories thus far.
The next guest announcer on From Bike To Mic will be announced on Wednesday.
(Grand River Raceway)