Published:
June 21, 2011 02:08 pm EDT
Spoonman, a fan favourite at many racetracks as the Ontario Standardbred Adoption Society's ambassador, has passed away
.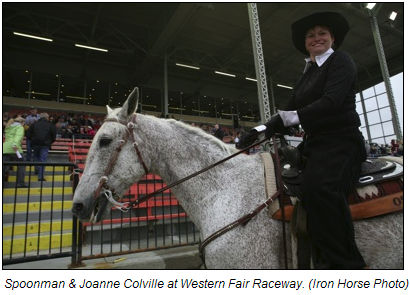 The 15-year-old suffered from a severe bout of colic recently that could not be corrected and led to him being euthanized.
A winner of $59,000 during his racing career, the son of Laag was owned by Annemarie Colville, sister of OSAS' event co-ordinator Joanne Colville. His recent appearances included at Western Fair Raceway during the track's Molson Pace Night and the Tri-Pride Night at Grand River Raceway.
Joanne is currently training her uniquely coloured horse The Painted Pony to take over Spoonman's responsibilities at the various shows and tracks.
"He's coming along well and I'll use my western pleasure mare at the various events until he's ready," Joanne noted.
Please join Standardbred Canada in offering condolences to the connections of Spoonman.
(OSAS)