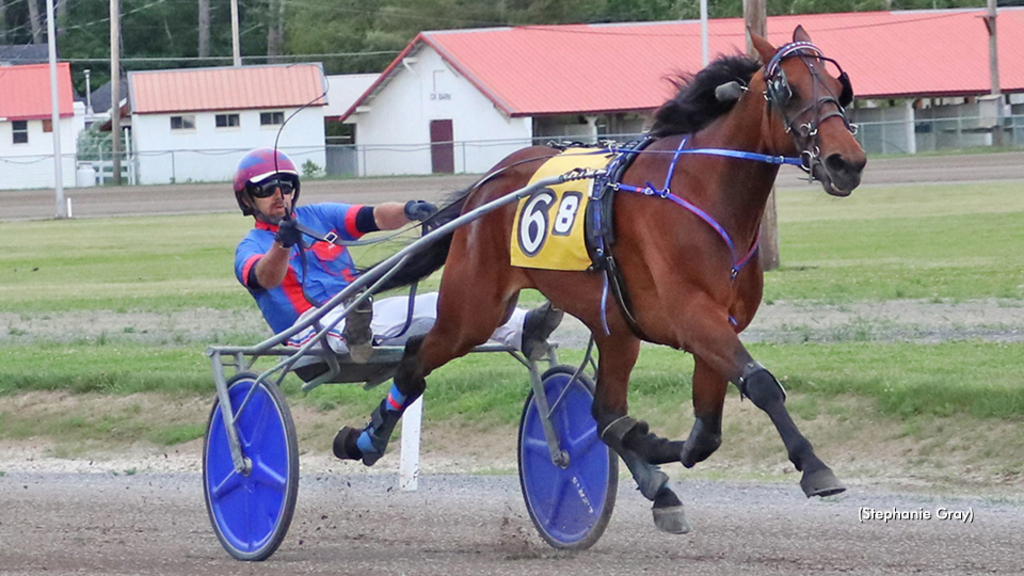 Published:
June 19, 2022 08:31 pm EDT
Driver Andy Harrington provided Prescott the opportunity to capture back-to-back victories in Cumberland's $6,000 Open II Trot on Saturday (June 18). Despite the outside post position, Harrington fed the horse racetrack and he responded admirably to win the feature in 1:58.4.
Hustling the six-year-old son of Yankee Glide from the start, Harrington had to work his way past a string of pylon-sitting foes to get up next to the front-stepping Mister Muscle. As the pair dashed to a :28.4 opening panel, Matty Athearn closed off the pocket with Warrawee Preferred, forcing Harrington to continue to the front while parked around the second turn. 
Clearing at the head of the stretch, Prescott got a :59.1 breather as the outer flow started to develop. The first to move was Richsnortherndream, followed immediately by Little Macabee. Down the backside the final time, Richsnortherndream raced anxiously at the heels of the leader as they hit the three-quarters in 1:28.3.
At the head of the stretch, Aaron Hall had Little Macabee in full flight and was bearing down on the leaders. Prescott held off the late charges to prevail by a length and paid $10.60 to win. Wagering favourite Little Macabee finished second and Richsnortherndream was third.
Prescott is trained by Sara Gibbs for owner Robert Gibbs.
In Maine Amateur Driving Club (MADC) action, current point leader Jason Bertolini added a cushion to his growing lead, taking the sole division with his own Led Schneppelin in 2:00.2, a new seasonal best.
Bertolini left alertly with his trusty steed and kept most of the field at bay with a swift :28.3 opening panel. After looking over his shoulder and seeing no one coming, Bertolini was able to moderate the pace and hit the half in a leisurely 1:00.3. Seeing this, David Crochere pulled CBF Bantam first over to make a mighty challenge for the lead. Bertolini let out a few notches while the Crochere pulled the ear plugs enabling the challenger to poke a nose in front. 
At a 1:28.3 third panel, Bertolini would give no quarter and hung any would-be spoilers out to dry. In the final stretch drive, CBF Bantam faded, but Karl Butterfield and Tryonsbettorsella N slipped up the rail to challenge, but ultimately had to settle for second. "Sherriff" Zack Gray swooped in with Pembroke Newt to be third.
The 11-year-old son of Memphis Flash is owned, trained and was driven by Jason Bertolini and paid $4 to win.
The Maine Amateur Driving Club is sponsored by the North Yarmouth Blue Seal Feed Store and the Windham Blue Seal Feed Store, with leadership and support from Aimee Nichols, their dedicated territory sales manager.
Both Drew Campbell and Dan Deslandes enjoyed driving doubles on the program. After 22 racing dates, Drew Campbell leads all drivers with 26 wins at Cumberland this season.  Bruce Ranger is a close second with 25, with Dan Deslandes and Kevin Switzer Jr. are tied for third at 24.
Racing resumes on Friday (June 24) at First Tracks Cumberland at our regular post time of 4 p.m. (EDT). There will also be a second round of baby races, held prior to the regular card at 2 p.m. on Friday. 
In less than two weeks, First Tracks Cumberland will host Family Fun and Value Day at the iconic Southern Maine oval. On Saturday (July 2), fans can enjoy a meet and greet with their favourite harness drivers, specials on food and drink, as well as the inaugural Cumberland Derby where fans can enter to win $500 in total cash prizes based on their picks and the official order of finish in the designated race.  Giveaways and a big day of harness racing will also be provided.
The final race on both Friday and Saturday features a 20-cent Hi-Five (Pentafecta), with a low takeout of 16 per cent.  Cumberland's extended pari-mutuel meet races through July 23.
(First Tracks Cumberland)