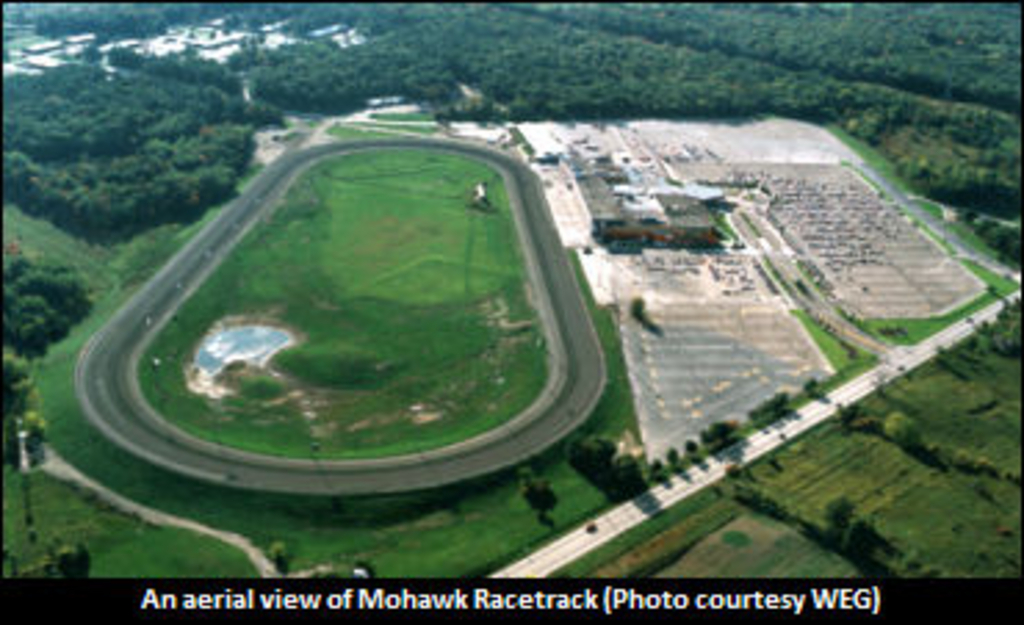 Published:
June 17, 2016 05:07 pm EDT
No less than 12 fields of two-year-olds took to Mohawk Racetrack Friday morning (June 17) for a juveniles-only qualifying session that was raced under perfect conditions at the Campbellville, Ont. oval.
The 12 races featured pacers exclusively, and the quickest of the wins times recorded during the session was done so by a filly.
The filly in question is Candlelight Dinner, an American Ideal bay that showed her foes what she was made of once she got revved up.
The $110,000 Lexington Select yearling purchase lined up for Race 6 for trainer Casie Coleman and driver Jonathan Drury.
After having started from Post 7, Drury opted for a cautious approach early. He situated Candlelight Dinner off the tempo in the early going, and the duo was eight lengths off the engine in fourth in the early going.
Drury asked his charge in the second quarter off the :30.3 opening stanza. The pair was overland in the lead by the time they tripped the 1:00 half-mile marker.
Candlelight Dinner cleared to the point on the final turn and opened up some daylight before clicking off three quarters in 1:28.3.
The filly turned her three and a half-length advantage into a seven and three-quarter-length gulf in the final quarter, which was clocked in 27 seconds.
Candlelight Dinner stopped the clock in 1:55.3. The Friday qualifier was the first charted mile of Candlelight Dinner's career.
Steve Stewart (of Paris, KY) and Birch Hollow Farms (Cupertino, CA) bred Candlelight Dinner, who is owned by Mac Nichol (Burlington, Ont.).
Candlelight Dinner is out of Time N Again, a Jate Lobell mare that raced well at Cal Expo before being retired to the breeding shed.
Candlelight Dinner is a full sister to millionaire Romantic Moment. Time N Again has also produced Band Of Angels ($487,000), Sand Windsor ($308,000) and Jeneral Patton ($244,000), among others.
Candlelight Dinner's victory was one of Coleman's four wins during the session.
To view the harness racing results from the Friday qualifying session at Mohawk, click the following link: Friday Results – Mohawk Racetrack (Qualifying).
A list of the other victorious two-year-olds from the Friday session appears below.
Race 1
Windy Sport (black, filly)
(Sportswriter – Wind Warning – Camotion)
1:57.1
Race 2
Emotions (bay, filly)
(Rock N Roll Heaven – Mariah Blue Chip – Sealed N Delivered)
1:57.3
Race 3
Ohello Blue Chip (bay, filly)
(American Ideal – Cheer My Dear – Bettors Delight)
1:56.4
Race 4
Sports Leader (brown, filly)
(Sportswriter – Mustang Kensley – Western Hanover)
1:59
Race 5
Anderson Seelster (bay, filly)
(Camluck – Aqua Rosa – The Panderosa)
1:57.4
Race 6
Candlelight Dinner (bay, filly)
(American Ideal – Time N Again – Jate Lobell)
1:55.3
Race 7
All It Takes (bay, colt)
(Mach Three – Camber Hanover – Allamerican Native)
1:58.1
Race 8
Sports Column (bay, colt)
(Sportswriter – Lady Leslie – Walton Hanover)
1:57.1
Race 9
Brave World (bay, colt)
(Royal Mattjesty – Fit N Bad – Badlands Hanover)
1:56.2
Race 10
Kissing Well (bay, colt)
(Well Said – Kissmekissmekissme – Incredible Finale)
1:57.3
Race 11
Frontier Seelster (bay, colt)
(Artistic Fella – Feel The Rhythm – Rocknroll Hanover)
1:58.1
Race 12
Beyond Delight (bay, colt)
(Bettors Delight – Outtathisworld – Rocknroll Hanover)
1:58.2