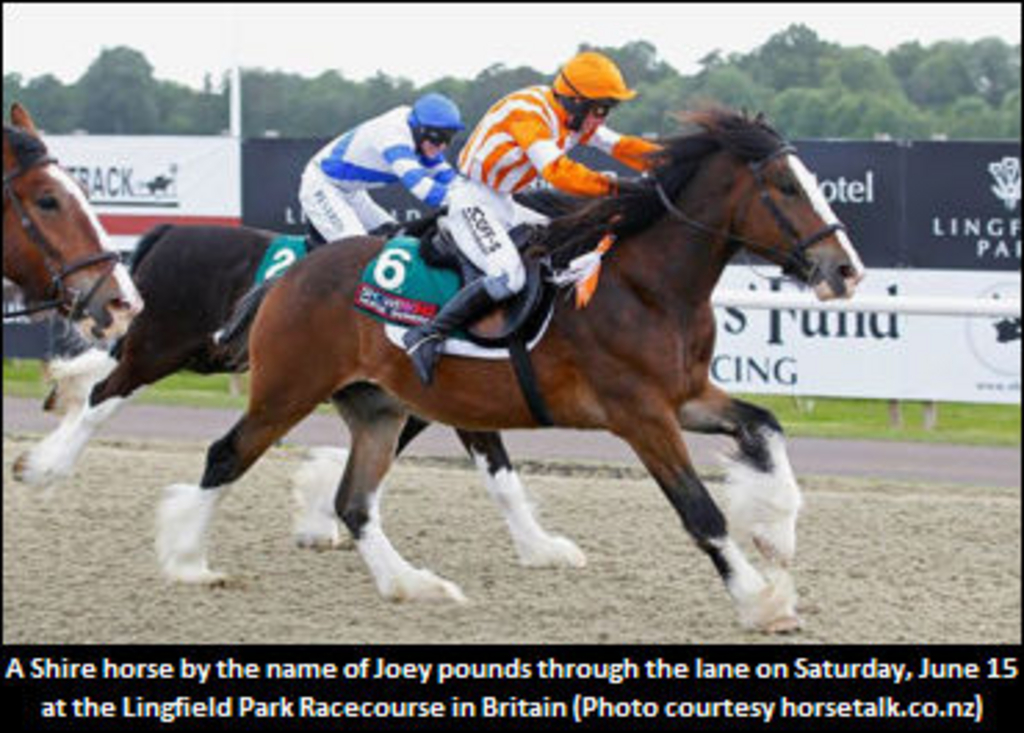 Published:
June 17, 2013 03:14 pm EDT

Those who pay attention to horse racing on a regular basis are used to seeing some different things on the track from time to time. Harness racing at varying distances, trotters and pacers racing under saddle, even camel and ostrich racing have started to become more common sights. Given those examples, it should not be characterized as 'strange' to see Shire horses thunder down the stretch, but to some it is.
A field of eight Shire horses pounded through the homestretch this past Saturday (June 15) at the Lingfield Park Racecourse in Britain. The event was part of the track's annual Countryside Raceday and was utilized as a vehicle to raise awareness for the breed, which has been designated as 'at-risk' by the Rare Breeds Survival Trust.
When all was said and done, it was the Mark Grant-ridden Joey that hit the wire first. All of the eight horses in the field are owned by Hurst Green Shires.
As a report on horsetalk.co.nz explains, the Shire horses stand between 17.3 and 18.2 hands tall and can weigh up to 1.1 tons.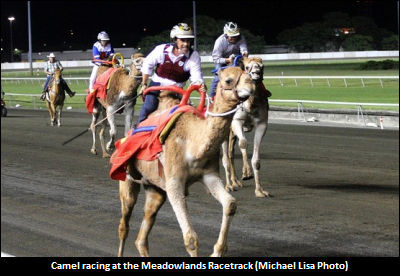 Speaking particularly about camel and ostrich racing, Joe Hedrick of Hedrick's Promotions has told The Wall Street Journal that "What draws people to it is the uniqueness of it — and it's definitely unique."
Hendrick was speaking in advance of scheduled camel and ostrich racing that are to take place at the Meadowlands Racetrack in New Jersey this coming Saturday (June 22).
"I like trying wacky promotions. We're trying to get people to the racetrack," said Meadowlands Racetrack GM / CEO Jason Settlemoir, who went on to add, "It's a promotion. My generation got lost in the marketing and advertising of horse racing. And, in any good business, whether it's a sports business or entertainment business, a baseball team or a football team, you've got to be able to promote."