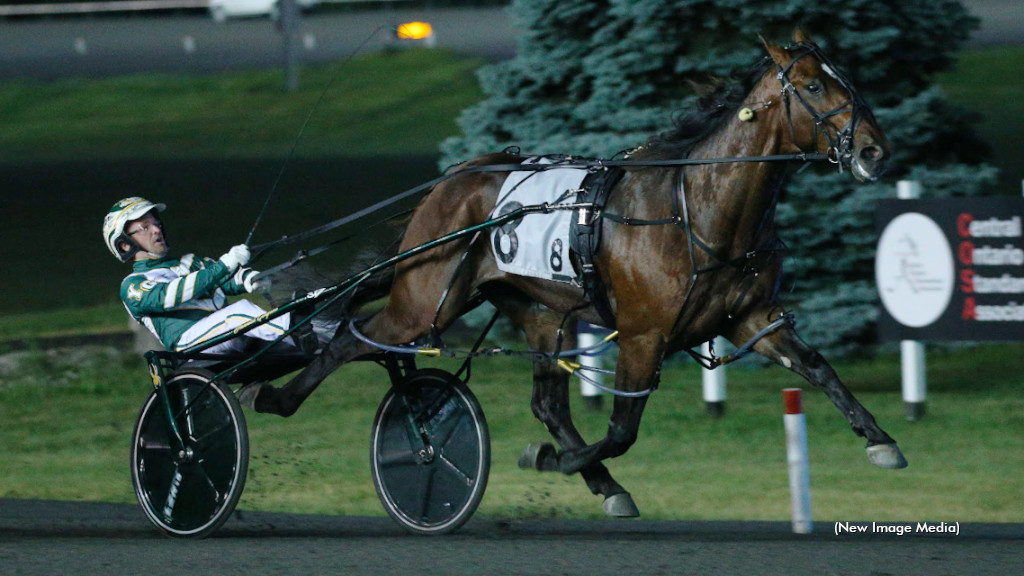 Published:
June 16, 2022 10:29 am EDT
Nearly 14 years ago to the day, Brent MacGrath and Schooner Stables had their pacing star Somebeachsomewhere put on a tour of force in Canada's biggest race. Many of those same connections return in 2022 with one of their hallmark horse's final progeny following his untimely passing from cancer in 2018.
The Somebeachsomewhere homebred Beach Glass, with just one loss on Canadian soil from five native efforts, secured Post 4 in the $1-million Pepsi North America Cup final after winning his elimination in 1:51 with Yannick Gingras in the bike for the first time since Paul MacDonell stepped down from the drive. Beach Glass starts as the 3-1 morning-line second choice just inside of 8-5 morning-line favourite Pebble Beach, who swept home to win his North America Cup elim in 1:49.4.
"Pebble Beach does look like the horse to beat, for sure," MacGrath said to The Canadian Press. "We're side by side, which is a good thing. We should stay close to him, I'd think that would be the strategy. At the end of the day, we do have to find a little bit more time and we should.
"I expect he'll find what he needs to be competitive."
Beach Glass comes into the "Cup" with just seven starts to his name, the first of which came in late September with a 1:54.1 romp on debut at Woodbine Mohawk Park. He then tried his hand against racing's top stock in the Breeders Crown at The Meadowlands, where he was second in the elimination but then sixth in a dead heat in the final. 
"This horse started [racing] in September when those other colts had six or seven races into them," MacGrath said. "They were seasoned and in better shape and better conditioned and were more experienced. He has to learn his lessons on the racetrack so I think every race means something right now. He's still progressing and still learning."
In his elimination, driver Yannick Gingras worked to keep Beach Glass' attention and his mind on task while on the lead, and said to the trainer after the race that he felt the half-length victory was a result on the colt waiting on other horses.
"He's getting stronger every week," MacGrath said of Beach Glass. "It [the elimination] seasoned him a little bit, sharpened him up. He needed the work, he needed the education, he needed the whole package, he needed the retention. That is the life of a top three-year-old and he passed the test so I'd think he'll be better this week. He really did come out of the race stronger and sharper than he was last week, which they should . . . he's ready to race."
The precocious prospect for MacGrath and the Schooner II team will now have the opportunity to carry the torch of their champion, and is just one of two in the race sired by the late stallion (Frozen Hanover is the other). 
"It would be huge [to win]," MacGrath said, "especially for his last crop for his father, who died prematurely. It's hard to cry when something like that happens, especially when he was as good to you as 'Beach' was. But then to end up with this horse, it's really hard to believe."
To view Saturday's entries, click one of the following links:
2022 Pepsi North America Cup card — Entries || Program Pages (courtesy of TrackIT).
(With files from The Canadian Press)