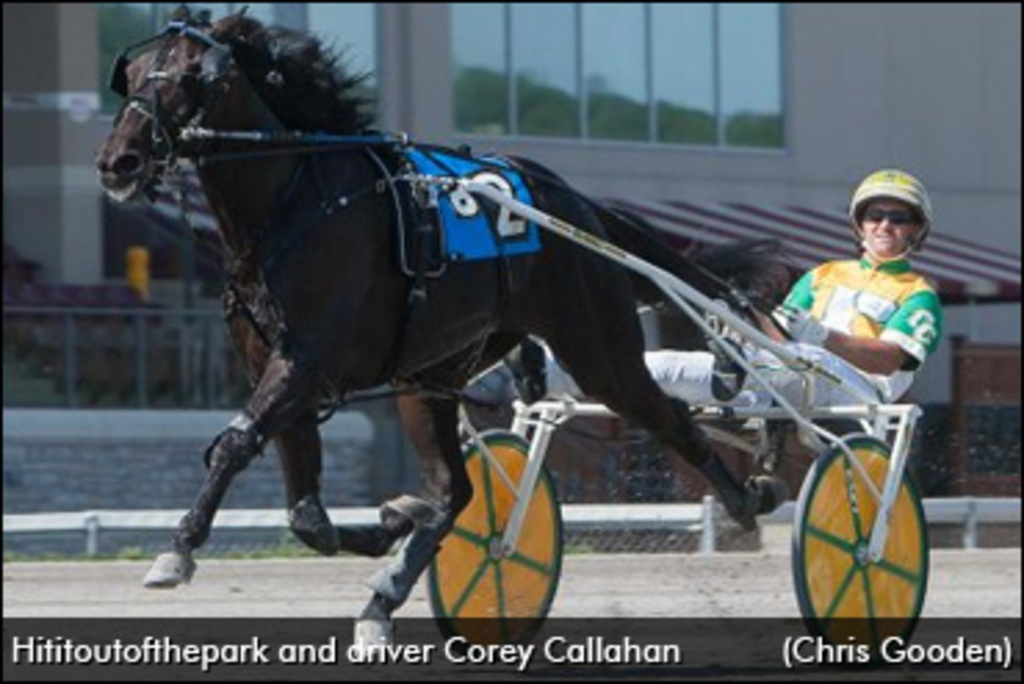 Published:
May 7, 2016 04:17 pm EDT
Some sophomores who had been flying "just under the radar" at two took advantage of breaks by the divisional favourites as Pennsylvania All-Stars kicked off the afternoon portion of a Kentucky Derby doubleheader at The Downs at Mohegan Sun Pocono.
Three $30,000 divisions for state-bred three-year-old trotting colts and geldings were featured on the first of two cards bookending the Kentucky Derby.
In the opening cut, Tyson picked a good time to break his maiden. In control of the situation for the last half, Tyson's :28.3 quarter closed out a 1:55.4 mile for driver Corey Callahan, trainer Trond Smedshammer, and the ownership combine of the Purple Haze Stables LLC, American Viking Racing Stable, Anderson Farms, and Marc Goldberg.
The altered son of Donato Hanover stayed steady throughout the mile while his main rivals kept knocking themselves out of competition -- first 2-5 chalk Love Matters, then quick-leaving Pilgrims Tide (6-1), and finally pocketsitting Hollywood Highway (7-1), who had yielded command to 9-2 second choice Tyson and his move in front of the stands the first time. Tyson went on to an easy 2¼ length win over Edinburgh, with Will Self rallying for a distant third.
Mikkeli Hanover, named after the Finnish countryside oval where Varenne once set the world standard for five-eighths mile tracks, might have a little ways to go to come close to the talent level of that one. According to driver Yannick Gingras, he's still a little green and yet he was able to lower his mark three seconds by winning his division by a length in 1:56.3.
The Andover Hall colt, the 7-1 third choice, made a second move to go to the lead past the 5/8, then benefited when favourite Massive Clout -- who had followed him down the back and had retucked in the pocket behind him -- made a break on the far turn, leaving Mikkeli with a four to five-length lead late on the turn. Second choice Granite State and Marion Gondolier came on with late bids, but they had to settle for minor honours behind Mikkeli Hanover, who is trained by Ron Burke for his Burke Racing Stable LLC, Weaver Bruscemi LLC, Crawford Farms LLC, and Panhellenic Stable Corporation.
The third division was also the fastest, and it produced a second All-Stars winner for driver "Captain" Corey Callahan in 14-1 shot Hititoutofthepark. He worked to the lead at the quarter, shook off the first-over challenge of favoured Make Or Miss (that colt eventually broke), and then staved off potential rocket rocket Lagerfeld by a head in 1:55, lowering his lifetime best by a tick, with Cloud Nine Hanover third. The Yankee Glide ridgling, a five-time winner at two, is conditioned by John Butenschoen for owners Give It A Shot Stable, Kurt Welling, and VIP Internet Stable LLC.
The evening card, which is scheduled to start just after the windup of the Thoroughbred classic, is highlighted by the inaugural editions of a pair of Pennsylvania-sired stakes for three-year-old pacers, the $561,500 Pennsylvania Classic Final for the males and the $313,800 Miss Pennsylvania Final for fillies. Both morning line favorites, the filly Darlinonthebeach and the colt Check Six, won the fastest elimination of their respective events a week ago, both clocked in 1:50.4. Also on the night card is the $50,000 Van Rose Invitational Pace, a showdown between red-hot rivals Rockeyed Optimist and Bit Of A Legend N.
(with files from PHHA/Pocono)