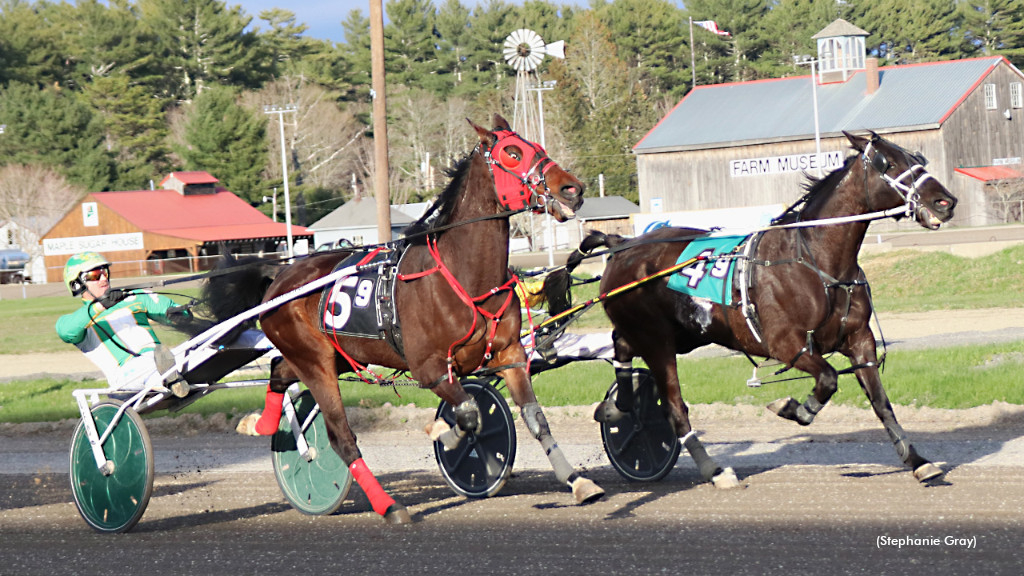 Published:
May 5, 2022 03:15 pm EDT
Some folks get on the roller coaster of harness racing and the valleys seem to roll on forever. Just when a glimpse of a mountain top appears as a mirage on the horizon, a thunderous storm wipes out any supposed success. Thirty-five-year-old Ryan Berry has truly lived through these ups and downs of the sport.  In fact, he did so just last weekend.
Berry's newest acquisition, an Ontario-sired trotter named Warrawee Preferred, won his second race in a row in the top Open classes at Cumberland, scoring handily for driver Matt Athearn on Friday (April 29) in the next to last race of the afternoon.
Fast forward less than 24 hours later and tragedy struck.  His favourite horse, 11-year-old Spaghetti Eddie, was pulled up in the first race on Saturday (April 30) and would not endure the catastrophic injury. 
And just like that, the highs and lows of harness racing were painfully evident.
"In 2013, I was stabled at Rod Allen's farm in Ocala, Florida," said Berry.  "I trained him down at two for [his then-owner/breeder] Ed Telle and had been following him ever since."
Berry continued, "I finally got a chance to buy him three years ago out of Ohio.  That horse kind of grew on me, even back then.  I jumped at the chance to get him."
Spaghetti Eddie p,4,1:51f won 34 of 212 races lifetime and earned $254,689 in a career that spanned a decade, with visits to nearly every track on the east coast and parts of the mid-west.  A son of The Panderosa, his dam is a full sister to Escape The Wind p,1:48.3 ($2,129,244).
"I was surprised that he got around a half [mile track].  He had big, softball-sized knees and pounded them…even on a big track," Berry recalled of Spaghetti Eddie.  "He just had a lot of heart.  We will miss him dearly."
Although deeply saddened by the loss of Spaghetti Eddie, while stabled at the Cumberland Fairgrounds, Berry has plenty to keep his mind, and his hands, occupied.  His dad Steve and girlfriend Stephanie Parsons both help with the five or so in his barn.  In addition, Berry works for the Athearn Stable with their 30-plus head of racehorses. 
"I pretty much do everything," noted the Maine native.  "Ride, rub, clean stalls, whatever it takes." 
Having been the trainer of record of his own stock for 703 purse starts over the last dozen years, Berry has quietly garnered 81 victories to date.  While last year was his best season ever, with 20 wins and $65,676 in purse earnings, he sees hope on the horizon.
"[Warrawee Preferred] is a nice horse to be around.  But it is a challenge to keep him sound and quiet.  He gets nervous and hot out on the track.  Matty [Athearn] gets along real good with him.
"Matty's like a brother to me.  I have worked with the Athearn family for over 10 years and we help each other get through the rough patches."
Warrawee Preferred was assigned the outside post six and has been installed as the 3-1 morning line favuorite in Friday's $6,000 Open II Trot.  The 'Oaks Day' card features 10 races, half of which are trotting races, with the aforementioned Open Trot programmed as race seven.
Saturday's 'Derby Day' card is filled with nine events, including one division of the Maine Amateur Driving Club, as well as a host of other competitive pacing proceedings.
Racing fans and bettors will be able to watch and wager on this weekend's iconic programs from Churchill Downs.  Each card starts at 10:30 a.m. (EDT) and features the Kentucky Oaks on Friday (May 6) and the 148th running of the Kentucky Derby on Saturday (May 7). 
Full Churchill Downs programs will be available and betting windows will be open for the first post at 10:30 a.m., which is broadcasted live from Louisville, Kentucky.  There will be TV monitors covering all the Thoroughbred action and the Trackside Pub concession stand will also be open in the Fairgrounds grandstand.
A new post time of 4 p.m. (EDT) on both the Friday and Saturday has been introduced.  Post time for the $1.25 million Kentucky Oaks at Churchill is slated for 5:51 p.m. on Friday (May 6).  The following day, the 20 runners in the $3 million Kentucky Derby will spring from the starting gate at 6:57 p.m. on Saturday (May 7).
(With files from First Tracks Cumberland)