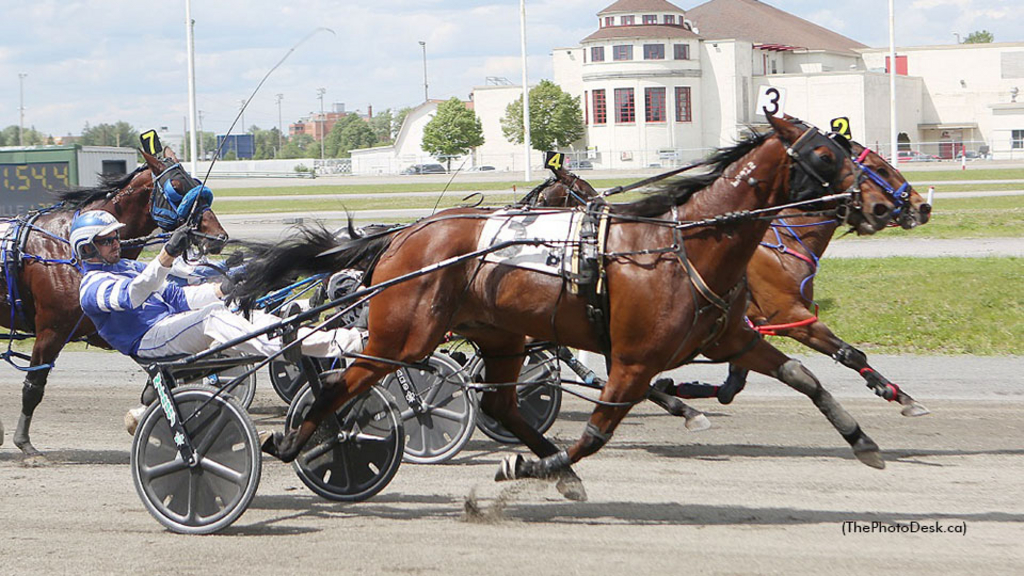 Published:
May 29, 2022 04:24 pm EDT
The race favourites did not fare well at all on Sunday (May 29) afternoon at Hippodrome 3R, especially in the three co-feature events.
In the $5,500 Preferred 3 Pace for fillies and mares, it was the grey, La Petite Grise, who was the 1-9 race favourite for driver Pascal Berube and she raced like her odds figured, until the finish line.
Leaving from the second tier in post nine, La Petite Grise worked her way to the outside at the start and came first-over against Fancy Girl (Francis Picard) and finally cleared after a :27.3 opening quarter-mile.
Coming to the half-mile, Shemaksmefelunreal (Kiwon Waldron) started up first-over with Whitemountaincammy (Stephane Brosseau) sitting contently on the wood in fourth place. They went by the half in :57.2.
In the backstretch, Shemaksmefelunreal was not gaining on La Petite Grise, who tripped the teletimer at the three-quarters in 1:27.
As Le Petite Grise looked strong starting down the stretch, Brosseau had room, moved Whitemountaincammy in the clear and came charging down the lane to beat La Petite Grise by a half-length in 1:56.4. Fancy Girl was third.
The win was the first in four starts this year for Whitemountaincammy. The four-year-old mare by Yankee Cam is trained by Louis-Philippe Turcotte for owner/breeder Yves Gaudet of Nortre Dame Des Bois, Que. She paid $21.90 to win.
In the $6,000 Preferred 2 & 3 Handicap Trot, P C Heisenberg with driver Marie-Claude Auger was first in front with X O X O, who was sold last week and was being driven for the first time by Kiwon Waldron, trotting first-over and clearing to the lead during the :29.4 first quarter.
X O X O and Waldron were then comfortable on the lead going to the half-mile in :59.1. It was just before the half that driver Pascal Berube came first-over with the race favourite, Stella Alpha, and Laa Dee Gaa (Stephane Brosseau) followed second-over.
As they reached the three-quarters in 1:29, Stella Alpha was unable to overtake X O X O. Waldron then urged his mare in the stretch and they pulled away for a two-length triumph in 1:59.4. Laa Dee Gaa got by Stella Alpha for second place.
The time of the mile was a lifetime mark for X O X O, a four-year-old mare by Angus Hall, now owned by D Racing Stable Inc. of Middletown, New York. The win was her second from five starts this year. She returned $9.40 to her backers at the betting windows.
The biggest upset of the day came in the $7,000 Preferred 1 & 2 Handicap Pace featuring the 7-5 favourite National Debt (Pascal Berube) starting from post eight.
Spectrum Seelster and driver Francis Picard started off the show scooting to the early lead from post two with Western Phil (Jocelyn Gendron) grabbing the two-hole spot to the first quarter in :27.2.
Kiwon Waldron then was flushed out first-over in rein to Mickeymaksomespeed with Siddhartha and driver Steeven Genois taking the second-over trip past the half-mile marker in :56.3.
As they raced to the three-quarters in 1:25.1, Siddhartha and Genois were not waiting anymore on Mickeymaksomespeed and tipped three-wide. National Debt was third-over on the outside but had trouble keeping up with Siddhartha.
They went three-across around the final turn and down the stretch with Siddhartha and Spectrum Seelster battling it out to the finish. In the end, Siddhartha prevailed over that foe by a neck in 1:55. Histoire Enchantee (Simon Delisle) closed well to be third.
A six-year-old gelded son of So Surreal, Siddhartha earned his first win in six starts this year. He is owned and trained by Louis-Philippe Turcotte, who also won with Whitemountaincammy. Siddhartha paid $6.70 to win.
Track Notes: Only three race favourites were able to win in 10 races on Sunday. Both Pascal Berube and Steeven Genois had driving doubles and Louis-Philippe Turcotte had a training double. Hippodrome 3R will begin live harness racing on Fridays starting next week, June 3. Post time will be 4 p.m.
To view Sunday's harness racing results, click on the following link: Sunday Results - Hippodrome 3R .
(With files from Quebec Jockey Club)