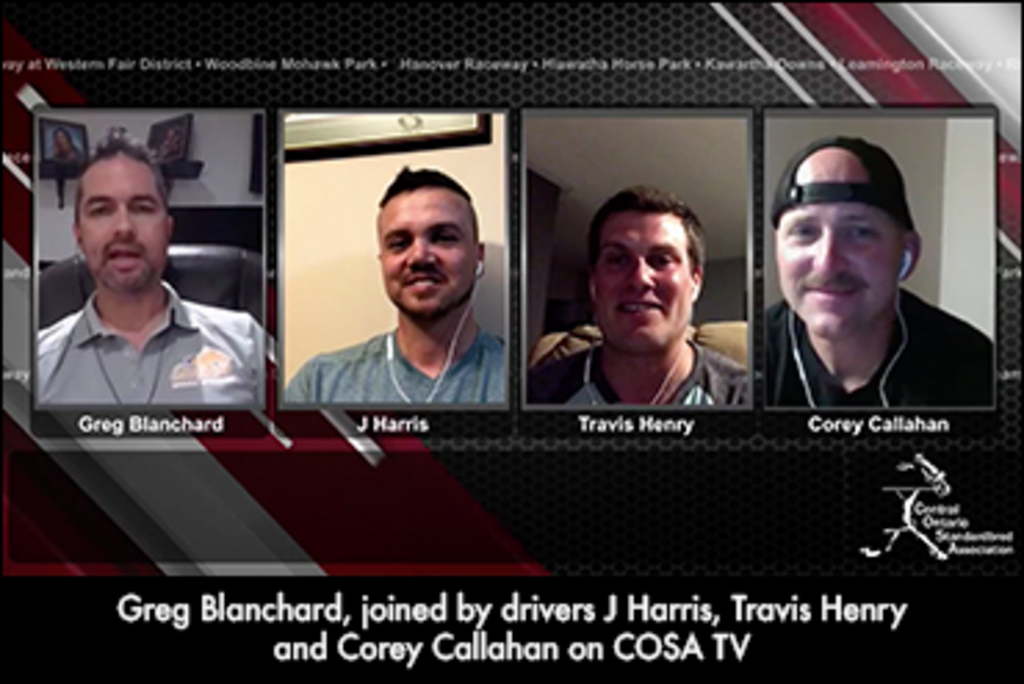 Published:
May 27, 2020 05:27 pm EDT

Drivers Corey Callahan, J Harris and Travis Henry discussed how they're readying to return to the racetrack — and exchanged a few chirps! — in Wednesday evening's (May 27) edition of COSA TV.
Harris and Henry have had some time already to prepare for the resumption of racing in Ontario, with both Woodbine Mohawk Park and Grand River Raceway slated for action next Friday (June 5). Callahan related that plans are starting to materialize in the Mid-Atlantic as well, with qualifying dates on the horizon in his vicinity.
"We got good news today in New Jersey," Callahan told COSA TV moderator Greg Blanchard. "We are qualifying on Friday at Gaitway, Saturday at The Meadowlands, and then a couple different farms. We're supposed to start racing next Friday, June 5. Everybody seems pumped."
And while Callahan drives primarily in New Jersey and Pennsylvania during the warmer months, his home state is moving toward a restart as well.
"Delaware was one of the early ones to get cleared, and they're going to start (at Harrington) on June 15," he continued. "It's going to be three nights a week and nine races a night."
In the 2-1/2 months since racing was shelved, Callahan has been enjoying time at home with his wife Joanna and their four children. Noting the challenges of distance learning, he quipped, "Teachers do not make enough money!"
North of the 49th parallel, Harris and Henry — longtime friends who grew up together while their families raced at Flamboro Downs — have experienced similar ennui through a relatively sedentary April and May.
"It's been brutal for me," said Harris. "It's very weird to sit home and do nothing. But I've been in the barn in the mornings training some horses."
Henry, who maintains a five-horse stable with his wife Maddi, has probably been most active of the three. "We just go to the barn every day and then whatever at night," he said. "Lately it's been cutting the grass every two or three days."
The trio also touched on their thoughts on how the day-to-day elements of racing horses will differ compared to pre-pandemic procedures, and both Callahan and Harris touched on what interactions with their fellow horsepeople may consist of:
"From a driver's standpoint, what's the interaction going to be like?" Callahan said. "Are we going to be secluded and then go out to jump on the horse?"
"The interaction's going to be different, and they're going to rush us in and out," said Harris. "Trainers are only getting an hour in the paddock with the horse, so warming up horses will be a big change. We're all going to evolve with it; we're very capable that way. It's just going to be getting used to it."
The bulk of the two-hour roundtable centred on highlights from the gentlemen's driving careers. Callahan, who got a somewhat late start to his driving career at age 26 after playing collegiate hockey at the University of Kentucky, launched onto the Grand Circuit scene in 2012 with a pacing-bred trotter called Googoo Gaagaa.
"I remember when Richard Hans was first bringing him along, he said, 'I've got this awesome trotter,' but he was by Cams Rocket. He won a couple races early on ... went 6-for-6 as a two-year-old. I didn't drive him then, but he set a track record of 1:56 at Ocean Downs. I think that record still stands.
"I picked him up at three, and it was a lot of fun. There were big-time guys trying to buy him. It's fun when you can be the giant slayer with some hillbilly horse. He was a class act."
At the time, Callahan was piloting mostly raceway stock throughout the Mid-Atlantic, but Googoo Gaagaa — who was sold to Swedish interests in 2019 — vaulted him into the upper echelon of drivers.
"That meant a lot. At that time, I wasn't driving horses for Butenschoen, Takter, Campbell — any of those big-name guys. To have a horse like that and show that you have the confidence to get them there helps a lot."
Harris spoke in depth about his experience driving Rockin In Heaven to a runner-up finish in the 2018 Gold Cup and Saucer and the festival atmosphere surrounding Old Home Week.
"That is the most electric thing I have ever been involved with," he shared. "The whole place goes dark, it's a spotlight on you, and you hear 20, 25 thousand people screaming. I had goosebumps just going through the post parade."
And away from the Red Shores Charlottetown grandstand, it's just as vibrant across all of Prince Edward Island.
"There's a lot of partying going on. Everybody in PEI knew what horse racing was, and if you were in from out of town, they assumed you were there for horse racing. Every night, the grandstand is packed, everyone's there exchanging stories. It was one of the most incredible weeks I've had in my life."
This edition of COSA TV, which is presented by the Central Ontario Standardbred Association, appears in its entirety below.