Published:
May 27, 2010 12:42 am EDT
A field of 12 will go to post Saturday, May 29 in the 14th edition of the $500,000 Hoosier Cup for three-year-old pacers. The race, slated as the 13th on the 14-race program, has an estimated post time of 9:30 p.m.
and will assist in boosting purses over the $1 million mark for the evening.
Offering a new format in 2010, the Hoosier Cup will include the top 12 entrants by money earnings for one dash for the cash. Topping the list of entrants is World Of Rocknroll, who heads into the race from post 12 accompanied by driver Ron Pierce.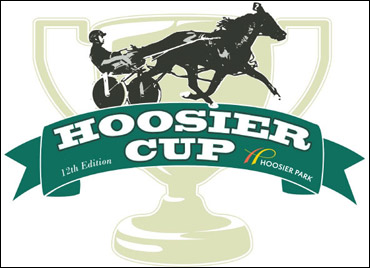 World Of Rocknroll is currently two-for-two in 2010, winning his last race at The Meadowlands in a time of 1:51.2. The royally bred son of Rocknroll Hanover is out of the great race mare Worldly Beauty, who earned nearly $2 million in her career. Trained by Richard Norman, World Of Rocknroll will be part of an entry with Foreign Officer, who just paced his last mile at The Meadowlands in 1:49.3. Yannick Gingras, winner of the 2006 Hoosier Cup behind Total Truth, will make the trip to Indiana to drive Foreign Officer from post eight. Both World of Rocknroll and Foreign Officer have been chosen as the early morning line favourites at odds of 2-1.
The richest horse in the field is one of two horses representing the George Teague Jr. Stable. Windfall Blue Chip comes into the race with more than $263,000 in career earnings. The son of Art Major finished third in his last start at Tioga Downs and heads to Indiana with four wins in eight starts lifetime. Peter Wrenn, Hoosier Park's leading driver, has been named to drive Windfall Blue Chip from post nine at odds of 4-1.
Teague will also start Im Gorgeous, who begins from post two for Corey Callahan, last year's winning driver of Mr Wiggles in the Hoosier Cup. Teague will go for his third Hoosier Cup title in the past five years. His win with Total Truth in 2006 in a time of 1:50.1 remains as a track record for three-year-old pacing colts and is a stakes record for the Hoosier Cup.
To commemorate Total Truth's accomplishments in the Hoosier Cup, owners Pat and Maryann Callahan will sponsor the Total Truth Pace, slated as the 10th race on the program. The winner of the Indiana Sires Stakes preliminary round for three-year-old pacing colts and geldings will receive a blanket for the win.
In addition to the Hoosier Cup, 12 preliminary divisions of the Indiana Sires Stakes will be on the program. Each division will go for $40,000 and will bring the state's best trotters and pacers closer to the $200,000 finals set for Saturday, July 10 as part of a special Hoosier Champions Night where purses will once again catapult past the $1 million mark.
Hoosier Cup Night will begin at 5:30 p.m. The complete field for the Hoosier Cup, in post position order with initial driver choices and odds includes: Touch The Rock (Dave Magee) 5-2, Im Gorgeous (Corey Callahan) 4-1, Wayne The Lefty (TBA) 8-1, Morgan Shark (Travis Seekman) 7-2, Perrito Caliente (Ricky Macomber Jr.) 7-2, Aracache Hanover (TBA) 6-1, McMantle (TBA) 15-1, Foreign Officer (Yannick Gingras) 2-1, Windfall Blue Chip (Peter Wrenn) 4-1, Hare Force Two (Peter Wrenn) 15-1, Allthatgltrsisgold (Dave Magee) 3-1, and World of Rocknroll (Ron Pierce) 2-1. Hoosier Park Racing & Casino starts nine horses wide, putting the last three horses as trailing starters in the 12-horse lineup.
The race has three entries including the George Teague-trained entrants of Im Gorgeous and Windfall Blue Chip, the Joe Seekman trained pair of Morgan Shark and Perrito Caliente, and the John Fodera-owned horses Foreign Officer and World Of Rocknroll.
(Hoosier Park)