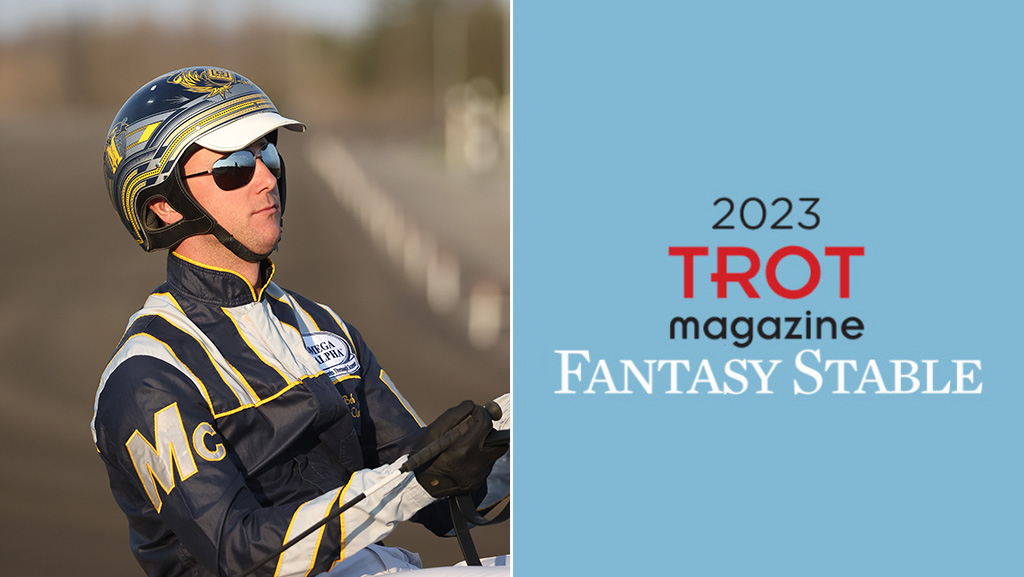 Published:
May 25, 2023 12:15 pm EDT
With entries set to close on Friday, May 26 for the 2023 TROT Magazine Fantasy Stable, O'Brien Award-winning driver Bob McClure has shared an in-depth analysis of his top picks.
McClure's selections and insights for each category are listed below.
RACEHORSES
GROUP A - I went with Sylvia [Hanover]. Obviously, she won the Dan Patch and the O'Brien Award last year. If she comes back bigger and stronger, which I'm sure she will, I think she'll have another big year.
GROUP B - I went with Test Of Faith. When she's on her game, she's pretty much near unstoppable. She's been dominant for two years now and personally, I don't see that changing. I know there are some talented mares starting out their aged careers who will give her a go, but she's still the best until proven otherwise. I'm glad we all get to see her continue to race.
GROUP C - I went with Adare Castle. I got the chance to drive her right at the beginning of her career, before James [MacDonald] took over, and both he and Mark [Etsell] have done a tremendous job on the driving and training side. She seems to have come back stronger at four and I think she's in for another big year.
GROUP D - I went with Allywag Hanover. I mean, for starters, he beat Bulldog [Hanover] once last season, and had the unfortunate task of having to chase him in the few stakes engagements he had. He proved he could go with Bulldog and it would've been really fun to see what would've happened last year if Allywag was staked to everything and they had squared off six or seven times, as opposed to just a couple. I imagine he'll be heavily staked this year and now that Bulldog is retired, the open pace division is Allywag's for the taking.
GROUP E - I went with Charleston. I remember this filly making life tough on Sylvia Hanover everytime I raced against her. She never got the better of me but she definitely had to make me work a little harder. I expect her to come back stronger as a three-year-old and give me a hard time again this season. She's really fast and she's one of the top fillies in her division.
GROUP F - I went with Zanatta. A good friend of mine owns this filly and I just remember her racing in the Three Diamonds to close out her two-year-old campaign. She was driven by a good buddy of mine, Daniel Dube, and she won in 1:50.1. She's another filly I'll have to go up against this year and she'll definitely make things tough on me again if she builds off her last two starts and comes back even better this season. There's a lot of talent in the three-year-old pacing division, and having driven against all the top fillies, I ranked them a little higher than the rest in certain groups.
GROUP G - I went with Charlie May. He just seems like a great open horse that will always be in the thick of things in every race he's in. He's a horse I've always enjoyed watching and one I have great respect for. So long as he's racing, he'll always be a threat.
GROUP H - I went to Cheesy Smile. She's my little sports car. She's one of the fastest horses at her peak that I've driven. She's an absolute sweetheart to drive and I can't say enough about this filly. I've trained her a couple of times and have qualified her once already, and John's [Pentland] got her looking absolutely amazing. Closing out her two-year-old campaign with a OSS Super Final win was great and I'm really looking forward to the year that's in store this season.
TWO-YEAR-OLDS
GROUP I - Obviously, guessing on two-year-olds can be a crap shoot, but in Group I, the first two-year-old pacing colt I went with was Stay Cool Hanover. He's a son of Stay Hungry and we saw how fast some of those could go last year from his first crop. Not to mention, this colt is a half-brother to Scarlett Hanover, a very talented mare, who's had a successful racing career. So there is some talented pedigree in there and the price tag indicates that.
GROUP I - The second two-year-old pacing colt I went with was San Jose. He's a $300,000 yearling purchase and a son of the great Captaintreacherous. He is a half-brother to Pebble Beach, who had a great career in just two years and dominated here when he raced at Mohawk. I believe this is just the third foal from the mare, and with the first of them being Pebble Beach, you have to think the talented genes will show up with this guy.
GROUP J - For the first two-year-old filly pacer, I went with Caviart Belle. She's another Captaintreacherous and she is just the third foal from the mare Eloquent Grace, who has produced Ervin Hanover and Energetic Hanover, who have both proven to be talented racehorses. This filly is a full sister to both of them, so if she shows she's got their speed, she'll be good. 
GROUP J - For the second two-year-old filly pacer, I went with Beautiful Roz. She's by Always B Miki and it's just the first foal from Precious Beauty, who Gregg McNair trained here in Ontario at one point. Her second dam produced some amazing horses, such as Sportswriter and Tall Dark Stranger, so hopefully this filly can find some of that.
GROUP K - For my first two-year-old trotting colt, I'll go with Vic Zelenskyy. He was an expensive purchase and he's by Greenshoe, who I defeated in the Hambletonian final with Forbidden Trade. Just the third foal out of the mare but his second dam produced some talented trotting colts. He cost $550,000, so there's definitely lots to like. 
GROUP K - For my second two-year-old trotting colt, I went with Diplomacy. He's a son of the great Muscle Hill and is a full brother to Looks Like Moni, a horse I'm familiar with now that he was purchased by TheStable and has raced amazing here at Mohawk. He's only the second foal out of the dam, Thats All Moni, so I think it's a good gamble expecting him to have as much talent as his brother.
GROUP L - On the trotting filly side, the first one I went with was Kelsie Awaiting. She's a daughter of Walner and he's produced lots of great ones, obviously. Not only that, but she's a full sister to Walner Payton, who was a very strong trotting filly at two last year. That's good enough for me.
GROUP L - The second trotting filly I went with was Slip Sliding Away. She's a daughter of Father Patrick out of the mare Ice Attraction, who was a very talented trotting mare. This is just her first foal, but her dam was good and the second dam produced some talented horses too. 
PEOPLE
GROUP M - Ake Svanstedt shows up with top trotters every single year and he's got a stable full of really talented horses as well. It's hard not to expect he'll have a big year.
GROUP N - As for Shawn Steacy, I've been fortunate enough to pick up more drives for him over the last year, especially on some really talented horses. He's got some youngsters coming back from two to three who should be poised for big years, including aged horses like Warrawee Xenia, who I've been fortunate enough to sit behind. The Steacys do an excellent job, they're a great stable and most of all, great people. I think they're in for a huge year. 
GROUP O - Dexter Dunn is so good at what he does, of course, and because of it, he's going to pick up a lot of great drives. It seems like he is driving a top horse in just about every division.
GROUP P - Todd McCarthy is another very talented driver who picks up a lot of great horses too. Obviously, he won the North America Cup last year and he'll be sitting behind Allywag, who I also have in my stable, so my thought process is that he will have a big year and it doesn't hurt to add the driver who will be sitting behind him either.
GROUP Q - I pick myself. I mean, if I don't believe in myself, who will? I am really high on a lot of the horses I'll get the opportunity to sit behind this year. I missed some time last year, unfortunately, but I still thought I had a great year all things considered and I'm happy with what I've done this year so far. I'm hoping I can deliver for all my connections.
GROUP R - I know every one of those guys personally as they're all racing here in Ontario, but I went with Jody Jamieson. He's a very talented driver and has been for years, and he's going to be busy with some live drives this summer, so I know he'll have a great opportunity to rack up some purse earnings for my stable.
---
Contest entry is now open until 5 p.m. (EDT) on Friday, May 26. Stables cannot be altered once submitted.
The contest is based on total earnings of selected horses and five per cent of the earnings of selected trainers and drivers between May 26, 2023 and Dec. 31, 2023. Follow along all year long!
For the purposes of the fantasy bankroll, the winners (horses only) of the 2023 Breeders Crown Finals will each receive a $200,000 contest bankroll bonus. Once again, in the two-year-old categories, you must select TWO horses in each.
At the end of the year, the first three finishers (based on total stable earnings) will be awarded betting vouchers in the amount of $500 (first place), $300 (second place) and $100 (third place).
Full contest rules are available here. To enter, complete the form below.
---