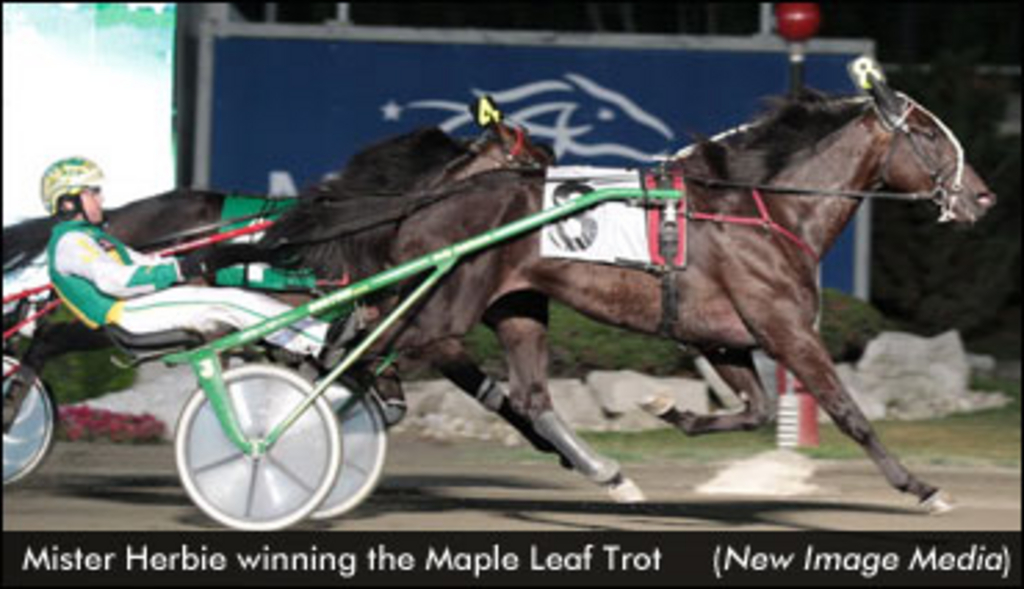 Published:
May 2, 2013 09:51 pm EDT
A number of stakes winners were in action during Thursday's qualifying session at Woodbine Racetrack including O'Brien Award winner Mister Herbie, who was a 1:54.4 winner in his assignment for trainer Jeff Gillis.
With Jody Jamieson at the lines, Mister Herbie sat second through an opening quarter of :28.2 before accelerating to the lead and throwing down middle splits of :59.1 and 1:26.4. He used a :28-second closing quarter to win by 10-1/4 lengths.
Gillies shares ownership on the five-year-old son of Here Comes Herbie-Independent Lassie with Mac Nichol of Burlington, ON and Gerald Stay of Buffalo, NY. It was the second qualifier of the season for the gelding, who went 6-for-12 last year while banking more than $955,000 in the process. The 16-time winner has banked $1,285,263 to date.
Princess Lilly, who finished her rookie campaign with five straight wins including her 2:00 triumph in the $100,000 OSS Grassroots Final at Grand River Raceway, minded her manners en route to a 1:57.1 victory in what was her fourth qualifier of the year for trainer Ben Baillargeon. Mario Baillargeon had her sitting second through fractions of :28.4, :59.1 and 1:30.2 before summoning up a :26.3 closing quarter from the three-year-old daughter of Muscle Mass-Golden Goose who rallied to the win by 1-1/2 lengths.
The filly, who is owned by Les Ecuries Piramidan of Gatineau, QC, put together a 6-1-0 record from eight starts last season. She stashed away an impressive bankroll totalling $118,000.
Its No Secret, who made just over $275,000 in last year's freshman campaign for trainer Shawn Robinson, won her first qualifier of the season in 1:55.3 with Anthony MacDonald in tow. The three-year-old daughter of Badlands Hanover-Secret Departure sat fourth through first-half fractions of :28 and :58.1 before improving to third at the three-quarter pole in 1:27.2. She used a :27-second closing panel to secure the win by three-quarters of a length in an eye-catching clocking of 1:55.3.
Bob Hamather of Exeter, ON bred and owns the six-time winner who won a pair of OSS Gold Series finals last season.
Other qualifying winners on Thursday were Zorgwijk Nova (1:58.4), Fudge (1:55.2), Bullet Point (1:53.2) and Solar Surpsise (1:56.2).
To view Thursday's qualifier results, click on the following link: Thursday Results - Woodbine Racetrack.