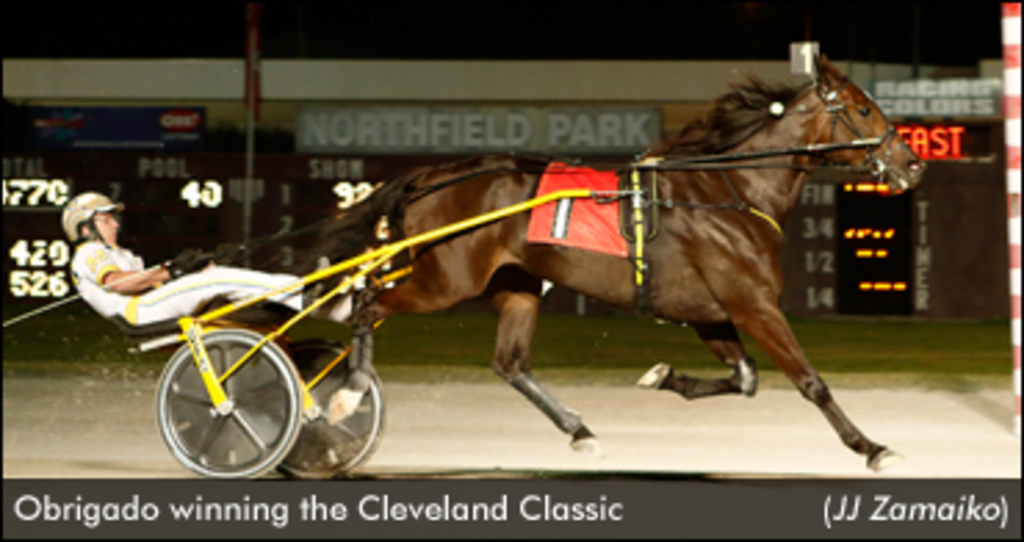 Published:
May 19, 2017 09:05 pm EDT
The 2016 Dan Patch Award-winning older trotter Obrigado returned to work on Friday (May 19), winning his first qualifier of the year at Vernon Downs.
Trainer Paul Kelley qualified the seven-year-old Boy Band-Malimony gelding during the Friday morning session in 1:58.1. Obrigado followed the George Ducharme-trained sophomore, Muscles Jared, in the pocket through fractions of :31, 1:00 and 1:28.1 before trotting home in :29.4 to prevail by a quarter-length.
"Everything went well, just an easy first qualifier," Kelley told Trot Insider. "We had to buck pretty strong headwinds today, but that's okay. He will likely qualify again next week at The Meadowlands with Mark MacDonald. He's really had a great winter and I expect him to be very tough again in 2017. He's a very happy horse."
Obrigado ended his award-winning 2016 campaign with 42nd career win in the $400,000 TVG Free-For-All Championship at The Meadowlands to push his bankroll over $1.6 million. In addition to winning the Maxie Lee Memorial, Charlie Hill Memorial, Crawford Farms Open and Dayton Trotting Derby, Obrigado turned in a world record-equalling 1:53.2 performance around Northfield Park's half-mile oval in the Cleveland Trotting Classic.
The champion trotter is owned by the Paul Kelley Racing Stable, SRF Stable, Linwood Higgins and Stable 45.